UVA Bans Jason Kessler, Organizer of Deadly Charlottesville Rally
Kessler was met with protesters as he visited UVA's law library twice in eight days to allegedly prepare for upcoming court cases.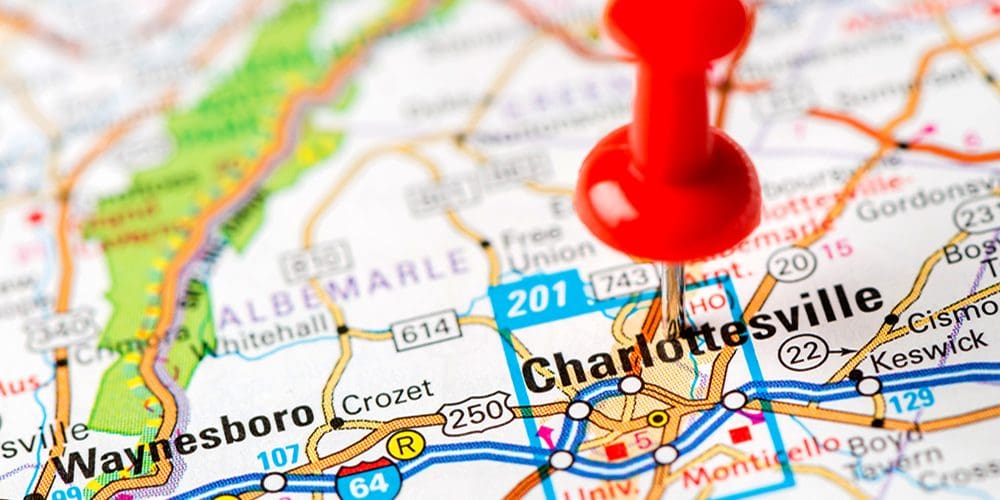 The University of Virginia has banned Jason Kessler, the organizer of last summer's deadly white supremacist rally in Charlottesville, from its campus after multiple students say they were threatened by him.
School officials made the announcement Thursday after two disturbances at the school's law library involving Kessler, who is a UVA graduate, reports Savannah Now.
Kessler visited the library twice in eight days to allegedly prepare for upcoming court cases. During an April 18 visit, Kessler was met with protesters telling him to leave and holding signs stating, "Blood is on Your Hands" and "Murderer".
Kessler organized last August's "Unite the Right" rally to protest the removal of the statue of Confederate General Robert E Lee.  According to the group's Facebook page, the rally was intended to unify the far-right wing and "affirm the right of Southerners and white people to organize for their interests."
Demonstrations became increasingly violent and Governor Terry McAuliffe declared a state of emergency.
One woman, 32-year-old Heather Heyer, was killed and 35 others were injured when James Field, a self-proclaimed neo-Nazi, accelerated his car into a crowd of counterprotesters. Two other people, Virginia State Patrol troopers Lieutenant H. Jay Cullen and Trooper Berk M.M. Bates, died when their helicopter crashed while "assisting public safety resources with the ongoing situation in Charlottesville," the agency said in a press release.
A week after the crash, Kessler wrote on his Twitter page, "Heather Heyer was a fat, disgusting Communist. Communists have killed 94 million. Looks like it was payback time." The tweet was later deleted.
Following his April 18 visit, Kessler posted to social media, calling the protesters "stalkers" and "Alt-Left scumbags" who were harassing him. He also posted videos of his encounters with protesters and police officers called to the library to monitor the situation.
Later that afternoon, Kessler returned to the library and was met with more protesters. One protester, who was not a student, was arrested by university police and charged with trespassing after he refused to leave when asked by a school administrator. Kessler was not asked to leave the library.
UVA Students Express Concerns, Kessler Issued No-Trespass Warning
The next day, students met at town hall to express their frustration that Kessler was allowed to use the library and was not asked to leave.
Law school Dean Risa Goluboff later ordered access to the library be limited to students, faculty and staff, writing in an email to the community that her highest priority was "to ensure the physical safety and security of our community." A no-trespass warning was also issued to Kessler on Thursday night.
"The warning was issued due to multiple reports from students that Mr. Kessler threatened them, targeted them through cyber-bullying and cyber-harassment, and targeted them based on protected characteristics," university officials said.
Kessler posted a video to Twitter on Friday, dismissing the allegations against him and indicating his attorneys would be handling the matter as he was being harassed by students and school employees, including a library employee who he says "called a lynch mob against me while I'm trying to study."
Under school policy, campus police are able to issue a trespass warning to anyone who has engaged in criminal activity or "conduct that threatens the health, safety or property of a member of the University," reports The Washington Times.
An anonymous third-year law student said the school's decision to ban Kessler sends a strong message but that she is also worried it might provoke his supporters and bring more of them to campus. She also said Kessler's free speech rights are not being violated by the ban because "he has a history of coming to our campus with lit tiki torches and violently threatening our students … The threat of physical harm outweighs the free speech issue."
Kessler has said he does not consider himself a white nationalist, which he is often referred to.
In March, Kessler filed a federal lawsuit against Charlottesville for denying him a permit to hold a Unite the Right anniversary rally this August. He also posted to social media on April 20 that Fields is innocent of the charges against him.