Safety Tips For Sharing the Road and Sidewalks on Campus
Traveling on campus? Check out these safety tips from Purdue University about staying safe when sharing the road with pedestrians, bikers & motor vehicles.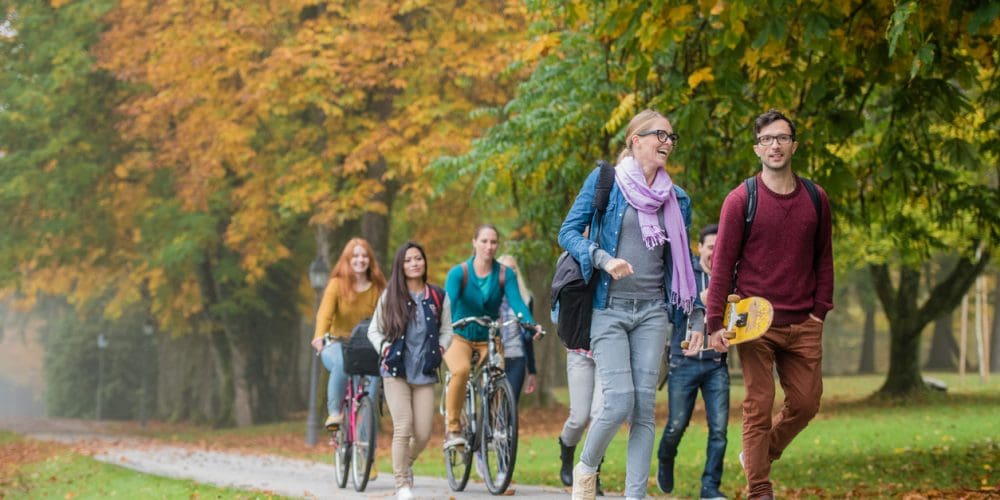 Purdue University police are reminding the West Lafayette campus community and visitors to travel attentively when on campus as pedestrians and those using other forms of transportation cross paths in heavily traveled areas.
"The University has a large population moving about in a relatively small area, and everyone has somewhere to go and a preferred method of getting there," said John Cox, Purdue University police chief. "We have pedestrians, bicycles, motor vehicles and electric powered vehicles, which are gaining popularity, all traveling in close proximity to each other."
A number of important rules and regulations each group should be aware of are highlighted below:
Motor Vehicles
"One issue we see a lot is when motorists drive past the stop bars placed on the pavement at intersections. Pulling past and stopping beyond these painted lines can prevent pedestrians from crossing in crosswalks and may prevent larger vehicles like buses from making their turns," Cox said. "This creates a situation where intersections and crosswalks become blocked."
Cox reminds motorists to avoid stopping or parking in bus pull-off locations because buses need this space to load and unload passengers without blocking traffic flow.
Motorists should know that bicycles and scooters are permitted to be operated in the roadways, and motorists may only pass one of these devices if three feet of clearance is available on the passing side, as defined by the city of West Lafayette regulations. Drivers should pay attention when navigating intersections where pedestrians, bicycles and EVPs are present as traffic signals may be activated to allow those individuals the right-of-way to cross.
Drivers should always be mindful of the posted speed limit on roadways and the 10 mph speed limit in all parking garages on campus, unless otherwise posted. Use caution in areas with bicycles, scooters, buses, pedestrians and other EVPs, and account for potential traffic congestion by allowing extra travel time.
Pedestrians
"State law guides us when it comes to pedestrians crossing at signalized intersections or marked mid-block crossings," Cox said. "Essentially, pedestrians must follow pedestrian signals at signalized intersections, and they may enter a marked mid-block crossing when doing so will not create a hazard for approaching motor vehicles."
Four-way stops at intersections with marked crosswalks are to be used in a similar fashion as marked mid-block crossings, except pedestrians and vehicles should take turns at those intersections.
Cox reminds pedestrians that even when the way is clear, they must always use caution while crossing a roadway in the event that a vehicle, bus, bicycle or EPV is unable to stop. Using sidewalks and pedestrian portions of shared-use paths and following all signs and crosswalk signals will promote the safety of those on foot.
Bicycles, Skateboards and Electric Powered Vehicles
"Members of the campus community may not realize that all university regulations, and Indiana laws that apply to motor vehicles also apply to bicycles and some EPVs, such as scooters," Cox said.
Operators of these devices should utilize designated bike paths or the bicycle portion of shared-use paths when available as the safest option, and Cox notes that many of these have recently been added or improved on campus as part of the State Street Redevelopment Project. Bicycles and scooters may operate on roadways when bike paths are not present, and all traffic signals and signs must be obeyed, including stopping at automatic signals and stop signs.
Use of hand signals for turning or stopping is important to alert motorists and pedestrians of intended actions, regardless of traveling on roadways or bike paths. Bicyclists are required to have lights installed and use them when riding after dark to increase safety and cultivate awareness for surrounding travelers.
Operators of bicycles, skateboards and EPVs should walk their devices when in heavy pedestrian areas and follow directional signage at intersections, which indicate how to proceed safely. Some intersections include signage that tells these groups to follow either the pedestrian or motor vehicle crossing signal. Unless otherwise posted, the use of bicycles, skateboards and EPVs is prohibited on sidewalks, and parking of these devices is restricted to bicycle racks or bicycle pads provided for this purpose.
Cox says everyone is responsible for knowing and following university and state laws that are in place for their chosen mode of transportation. "It comes down to having patience and courtesy, knowing what's going on around you and anticipating the actions of others."
Cox encourages each person to incorporate small changes into their travel routine, including making eye contact with others and reducing or eliminating distractions like the use of earbuds and mobile devices.
Additional information for operators of motor vehicles, bicycles and EPVs is available in the University's Traffic and Parking Regulations. Safety tips for various modes of transportation are available at www.purdue.edu/bikes under the "Riding on Campus" drop-down menu.