Toxic Environment Created by Oregon State Volleyball Coach, Players Say
Other players or former players have disputed the claims, calling Mark Barnard a father figure who always puts athletes' health and well-being first.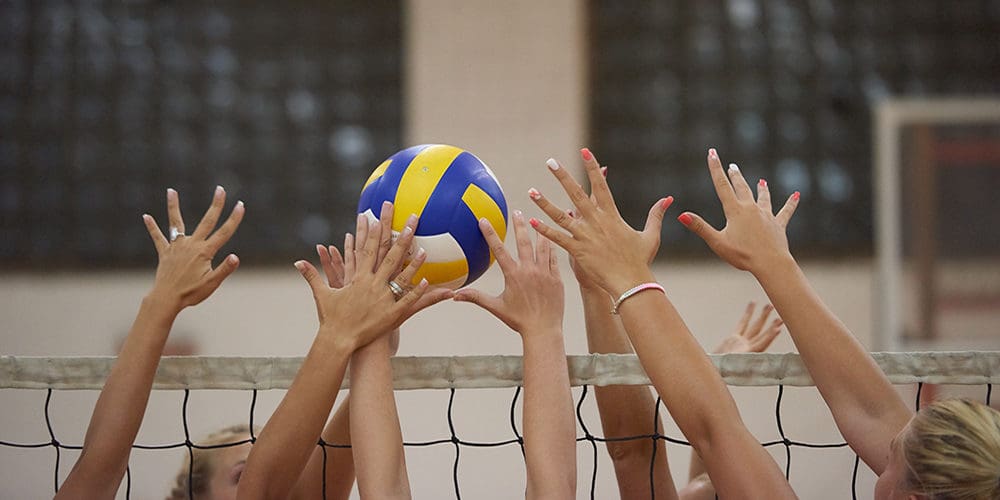 The head volleyball coach at Oregon State University (OSU) runs an abusive and toxic program, according to several athletes and others with connections to the program.
According to interviews and complaints made to the school, Mark Barnard, who has been part of OSU volleyball for over 15 years and was promoted to head coach in 2016, pits players against each other in team meetings, threatens to rescind scholarships for players not performing well, and pushes athletes beyond health warnings in practice as a form of punishment, reports AP News.
Former player Amya Small, with two other players and three former Division I athletes with ties to the program, said the coaching staff regularly bullied players in practices. Most did not want their names used, according to AP, because they feared they would jeopardize the status of the 12 athletes currently on the team.
Small said the abuse led her to take dozens of pills eight months ago with the intent to overdose but that she ended up calling 911.
"My teammates showed up for me that night. I love my teammates. It's just Mark that makes it terrible," she said.
Two athletes and two parents also said that in end-of-season meetings last year, players were brought into Barnard's office in small groups and asked which of their teammates were holding back the program. After comparing notes, teammates said Small was one of two team members the coaching staff was allegedly targeting.
The AP interviewed three Division I coaches and administrators about using scholarships as leverage. They agreed it is not unprecedented but that pulling scholarships is typically reserved for players who break the rules or don't make grades — not for performance-related issues.
Players and parents said Barnard had a pattern of promising four-year scholarships during recruiting but then offering letters of intent that only covered one year.
"I thought I was signing up for four years, and it didn't seem right when they gave me the letter," Small said. "But I was a high school kid and I wanted to play, so I signed."
Others who spoke to AP said they think Barnard has created a toxic environment that led to unusually high rates of injury. Nine players missed significant time due to injuries or illness during the 2018 and 2019 seasons. During that time, the team's record was 23-43 and they finished last in the Pac-12 twice after making the NCAA tournament in 2017.
According to AP, the rate of turnover is higher at Oregon State than at most schools. At least six OSU players have left the team since the start of 2019 alone. Comparatively, another losing team in the Pac-12 that has 18 players on its roster has only lost three players since 2018.
University Spokesman Steve Clark said following the complaints, "appropriate action was taken" by athletic director Scott Barners after an investigation conducted by the school's Equal Opportunity and Access office.
Other Players Dispute Allegations
Since the AP released its findings on July 30, KEZI spoke with five former athletes, two of whom played last fall for OSU, in addition to several others with close ties to the program. They believe certain events within the AP report were mischaracterized, missed important context, or were outright false.
"Of all people, this is not an article that should be written about Mark," said Katelyn Driscoll. "I was thinking back, 'Was there even one instance that any of these accusations could have been brought to light?' and there's not one that I can truly even think of."'
Six former players also described Barnard as a father figure and someone who always puts the health and well-being of his athletes first, according to KVAL.
Others who said practices were difficult or that they had issues with other staff members also said they never felt Barnard deliberately put them in physical danger.
"I mean, it's Pac-12 volleyball," Kory Cheshire said. "You have to be intense. I'm intense even. All the players are intense, so I think people get misconstrued with that intensity."
Others, including four OSU players on the active 2020 roster, along with several former players, have taken to social media to voice their support for Barnard.
"I felt betrayed by the comments against him, confused by the accusations leveled at him, and compelled to speak up – not just for him, but for the rest of us who see things differently and can't even relate to the person he's been made to be," senior Maddie Goings said on Instagram.
Tayla Moore, who played under Barnard when he was an associate head coach, said of all the coaches she had at OSU, Mark was "the one who cared the most while pushing me to be the best athlete I could be."