Kent State 'Gun Girl' Visit to Ohio University Sparks Protests
Kaitlin Bennett became known for posting graduation photos with her openly carrying a semi-automatic rifle on the Kent State campus.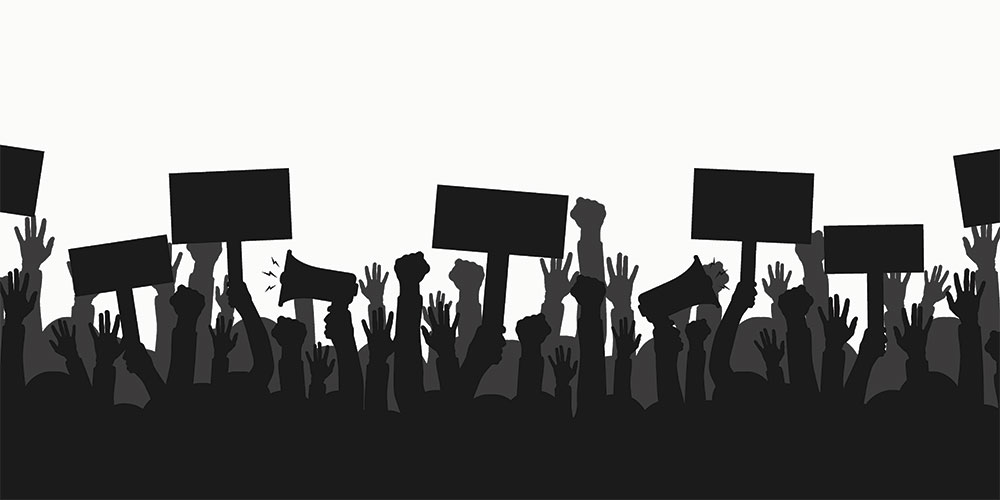 Gun rights activist Kaitlin Bennett is calling on President Donald Trump to strip federal funding from Ohio University after she says she was harassed by students while shooting a video on the Athens campus.
Bennett, who was dubbed the Kent State "gun girl" in 2018 when she posted her graduation photos while openly carrying a semi-automatic rifle on the campus, told Fox News that she was at Ohio University Monday to shoot a "President's Day Trivia" video when she and her friend were confronted by protesters.
"So, we were just asking simple questions like, 'Who were the first three presidents?' A mob quickly formed around us. They didn't want me there," she said.
Footage of Bennett on various parts of campus circulated social media, showing students yelling and throwing items at her, including toilet paper. In one video, Bennett is seen being carried out by her private security guard.
Bennett posted a video on her Twitter of an angry crowd cursing and throwing liquids and various items at her vehicle.
"This is what happens when a Trump supporter goes to a college campus. Leftists at @ohiou started a riot when @Joelpatrick1776 and I showed up, and the @oupolice let it happen," she captioned the video. "I think @realDonaldTrump should strip funding from universities like this that harbor terrorists."
Bennett can be heard in the video criticizing campus police for letting the protesters harass them.
"He told me he cannot help me. He has nowhere for me to go," she said of one of the officers. "These cops are watching this happen. There's another one."
Ohio University Police said in a statement that the "unexpected" presence of an activist on campus drew large crowds of students who "also chose to exercise their first amendment rights." Bennett disputed campus police's claim that they received no prior notice of her arrival, alleging the department "refused to help and lied in their press statement about what happened," according to NBC News.
Campus police also denied Bennett's claims that the incident escalated to a "riot."
"Contrary to allegations circulating on social media, the incident did not rise to the level of a riot," they wrote. "The officers on duty had to prioritize their response to the events as they unfolded, rightly putting everyone's personal safety ahead of all other concerns."
University administrators said it takes concerns about "complex situations like this" seriously and that its primary focus is on the safety of students and visitors.
"We are a public institution and we take that responsibility very seriously by respecting the rights of all persons to express themselves in a lawful manner," officials wrote in a statement.
Bennett tweeted that she would return to the campus with "an army of gun owners for an open carry walk through campus."
Bennett was prohibited from carrying a firearm on the Kent State campus when she was a student. After graduating, she was considered a visitor and legally allowed to openly carry the rifle on campus.
Read More Articles Like This… With A FREE Subscription
Campus Safety magazine is another great resource for public safety, security and emergency management professionals. It covers all aspects of campus safety, including access control, video surveillance, mass notification and security staff practices. Whether you work in K-12, higher ed, a hospital or corporation, Campus Safety magazine is here to help you do your job better!
Get your free subscription today!
5 responses to "Kent State 'Gun Girl' Visit to Ohio University Sparks Protests"