The Coronavirus and College Athletics: Which Schools Canceled Fall Sports?
Some colleges, including Ivy League schools, have canceled fall sports altogether, while others plan to limit stand capacity by 50%.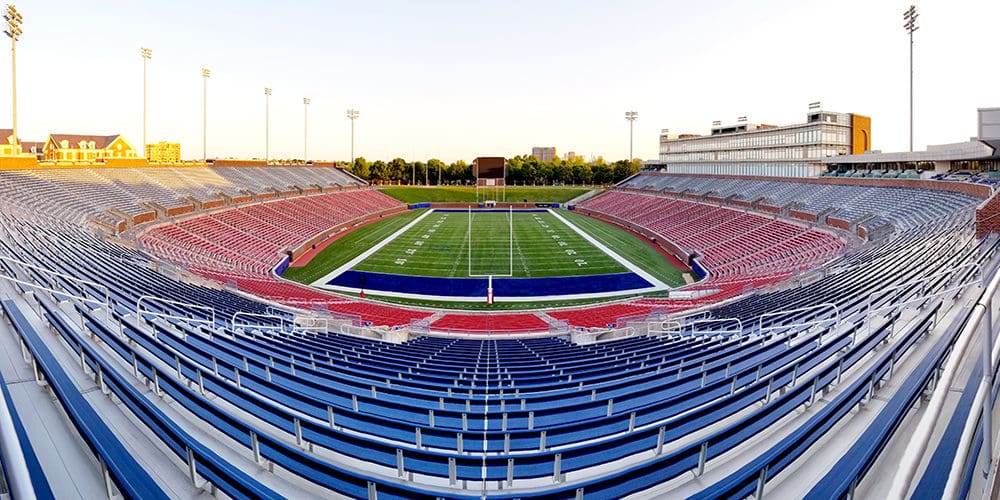 While much of the focus regarding college campuses reopening during the coronavirus pandemic has been on academics, school officials are also making tough decisions regarding athletic programs.
As coronavirus cases surge in parts of the country, several universities have reported positive cases within their athletic programs as student-athletes return to campus. In June, Clemson University's (S.C.) athletics department reported 47 positive cases, with 37 of those tests coming from football players. Just four days after the University of Texas at Austin began voluntary summer workouts for its football team, 13 players tested positive.
On July 1, the University of Oklahoma announced 14 of its football players tested positive for the virus, and on June 26, Texas Tech announced that 23 members of its football team tested positive.
Some schools have made their student-athletes sign waivers acknowledging the risk of contracting the virus, including Ohio State University football players who returned to campus for voluntary workouts in June. However, not all schools are willing to take that chance, leading to the cancellation or postponement of fall sports by many schools and several conferences.
Canceled or Postponed Fall Seasons
Back in May, the California Collegiate Athletic Association said it would cancel all fall sports competitions at its 12 schools, including San Francisco State, Sonoma State, Humboldt State and Cal State Los Angeles.
The Ivy League Council of Presidents wrote in a statement July 8 that all fall sports will not be played at its colleges, which include Brown University (R.I.), Columbia University (N.Y.), Princeton University (N.J.), Cornell University (N.Y.), Yale University (Conn.), Harvard University (Mass.), the University of Pennsylvania, and Dartmouth College (N.H.).
"With the information available to us today regarding the continued spread of the virus, we simply do not believe we can create and maintain an environment for intercollegiate athletic competition that meets our requirements for safety and acceptable levels of risk, consistent with the policies that each of our schools is adopting as part of its reopening plans this fall," reads the statement.
It was the first Division I Conference to drop out of the upcoming college football season, according to CNN. The council said the fate of winter and spring sports will be "determined at a later date." The statement also said student-athletes will still be able to train as long as they are following school and state regulations.
The entire Division III Centennial Conference has suspended fall sports as well, which is home to 11 schools in Pennsylvania and Maryland, including Johns Hopkins University, McDaniel College, Washington College, and Gettysburg College.
The Atlantic 10 Conference announced on Friday it is postponing its entire fall sports schedule. The conference and its leaders have agreed to a "look-in window" in mid-September, which would allow for a potentially truncated, conference-only schedule if coronavirus risks have reduced significantly.
On July 13, the Patriot League announced it will not play sports in the fall. However, the U.S. Military Academy and Naval Academy are exempt from cancellations, and any decisions on their participation in competitive sports will be made by their superintendents.
The Colonial Athletic Association, which consists of 12 teams, announced on July 17 that it would cancel its football season. Athletes will be allowed to pursue independent schedules.
On Monday, the Southwestern Athletic Conference, which consists of 10 historically Black colleges and universities, including Alabama State University, Jackson State University, Grambling State University and Texas Southern University, laid out plans to postpone fall sports to the 2021 spring semester, according to ESPN.
Some schools have even canceled sports for the entire 2020-2021 academic year or been forced to eliminate athletic departments completely.
Colleges, Conferences Announce Tweaked Plans for Fall Sports
Different rules have been put in place at other schools that have yet to cancel athletics. On Monday, the Pacific-12 Conference announced it would be postponing its football media days event, set for July 29-31, to a yet-to-be-determined date. The conference said the postponement is due to recent decisions by league presidents and chancellors to implement a conference-only football schedule and delay the start of mandatory athletic activities.
The Big Ten also announced on July 9 that it would be switching to a conference-only season for all fall sports. On July 16, the Big East announced the cancellation of non-conference scheduled for the fall as well. The decision applies to men's and women's cross country, field hockey, men's and women's soccer and volleyball. There is no timeline yet for a decision on basketball scheduling.
On July 16, the American Athletic Conference (AAC) announced it would require players and coaching staff to be tested 72 hours before football games.
On Monday, the University of Texas said it anticipates hosting football games at 50% capacity in the stands. The stadium holds 100,000 people, although part of the stadium is currently under construction. On Tuesday, New York Governor Andrew Cuomo said colleges and universities can play sports this fall but they will have to do so without fans.
At the University of North Carolina, football coach Mack Brown said he and his staff plan to wear face shields and use sticks to ensure they are staying six feet away from their players once enhanced workouts start Friday.
The Atlantic Coast Conference (ACC), Big 12 Conference and Southeastern Conference (SEC) are waiting until next week to make a decision about their respective football schedules. On July 9, the ACC announced it would delay the start of competition for all fall sports until at least Sept. 1.
Similarly, SEC announced July 14 it would postpone the start of volleyball, soccer and cross country through at least Aug. 31. It also announced athletes who opt out of athletics this fall will still have their scholarships honored.