Shooting at Timberview High School Leaves 4 Injured, 1 Critically
Arlington police say the student suspect fled after opening fire during a fight in a classroom on the second floor.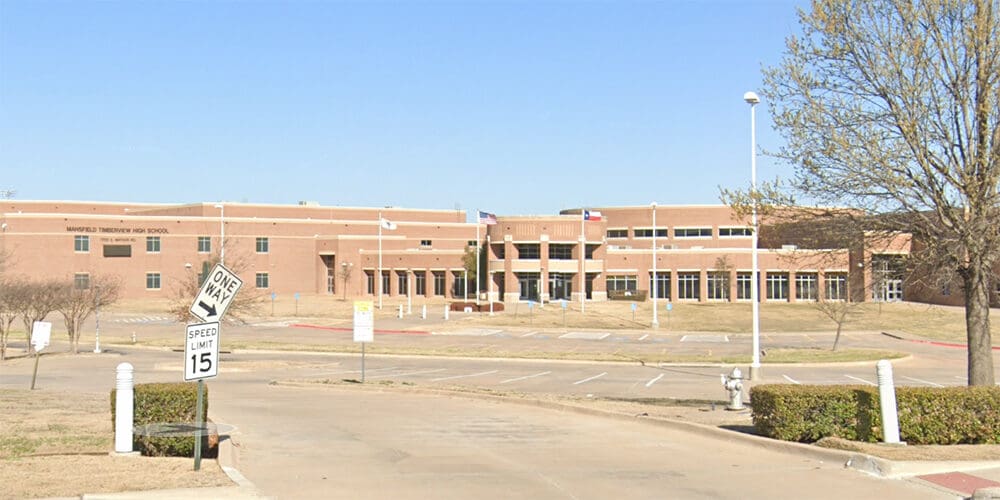 ARLINGTON, Texas — Four people were hurt, one critically, during a shooting at Timberview High School Wednesday morning.
Arlington police say a fight broke out between two individuals in a second-floor classroom around 9:15 a.m. local time and one of them pulled out a gun, reports NBC. The suspect, who has been identified as 18-year-old Timothy George Simpkins, originally fled the scene and was considered armed and dangerous.
Simpkins turned himself in to police with an attorney and without incident Wednesday afternoon. His bond was set at $75,000 and he has been charged with three counts of aggravated assault with a deadly weapon.
Three students and one adult were injured, including a 15-year-old boy who was shot and critically injured and a 25-year-old male employee who was also shot but is in good condition. A teenage girl who was grazed by a bullet was treated and released Wednesday night. A pregnant teacher was hurt in a fall but was not hospitalized. All are expected to survive.
The school went into lockdown during the shooting. Once an all-clear was given, students were escorted on buses to the nearby Mansfield ISD Center for the Performing Arts to be reunited with their parents/guardians. Counseling services were made available for students and parents at the reunification site.
Nearby schools were placed into lock-out, meaning classes resumed as normal but no one was allowed in or out of the building, until police cleared those campuses.
During a press briefing, police said there are no metal detectors in the school, which has approximately 1,900 students enrolled. Police also said there were cell phone blockers in use at the high school to prevent students from using their cell phones during class, reports Newsweek. However, the blockers made it difficult for students to send messages during the lockdown.
A spokesperson for Simpkins' family says they are asking for forgiveness but that the teen was bullied, according to Fox 4.
"The decision he made, taking the gun, we are not justifying that. That was not right. But he was trying to protect himself," said Carol Harrison Lafayette. "We hope the police department does the investigation properly."
The family alleges there are documented reports of ongoing incidents between Simpkins and other students.