2 Arrested for Firing Over 60 Rounds at Pinewood Elementary
Investigators say the two men timed the shooting for midnight on New Year's Eve so neighbors would think the gunshots were fireworks.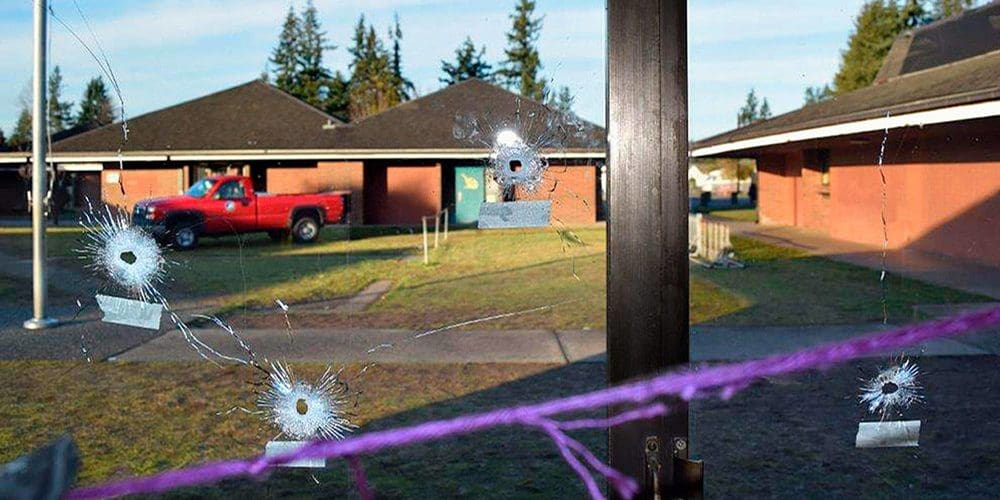 Two men have been arrested for allegedly shooting dozens of rounds at Pinewood Elementary School during winter break.
Police say two suspects fired more than 60 rounds at the Marysville, Wash., school on New Year's Eve. The bullets shattered 26 windows and caused an estimated $35,000 to $50,000 in damage, reports Q13 Fox. Bullet casings were also found near the playground.
One suspect has been identified as Samuel Olson, a 19-year-old Marysville resident. The other suspect is 18-year-old Teven Callan, a student in the Marysville School District.
Both men were taken into custody without incident and were booked at the Snohomish County Jail on class B felony charges of first-degree malicious mischief.
The two men appeared in Everett District Court last Friday where Judge Anthony Howard set their bail to $10,000 each.
Investigators say the two timed the shooting for right around midnight on New Year's Eve so neighbors would think the gunfire was fireworks, according to K5 News.
A neighbor heard an alarm going off at around 1 a.m. at the school. He discovered the damage and called the police.
"The current information we have supports our original assessment that this was an act of vandalism and that no person or persons were the targets of their actions," said Marysville Police Detective Craig Bartl.
A statement from the Marysville Police says the two suspects reportedly went to a New Year's Eve party after the shooting to brag about what they had done.
Olson told investigators he took the gun from his father's gun bag and he and Callan both fired it, according to Fox News. He also said the pair was intoxicated at the time of the shooting. The firearm was seized during the arrest.
When students returned to the school after winter break, signs that read "We Love Pinewood" were hung to cover up the bullet holes.