Conquer the 4 Phases of Emergency Planning at the Campus Safety Conferences
Educational sessions at the upcoming Campus Safety Conferences will address the four phases of emergency planning: prevention, response, mitigation and recovery.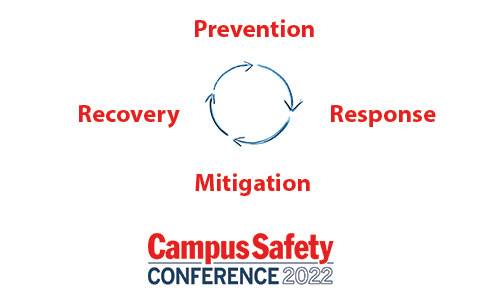 Campus emergency planning is multifaceted and includes four phases: prevention, response, mitigation, and recovery. Often, incident response plans largely concentrate on the response phase and neglect the remaining key phases.
While a campus' coordinated response during an emergency is critical to mitigating loss, it's moot if the other phases are neglected. All phases are mutually exclusive and depend on the success of the others to be successful themselves.
Each of this summer's Campus Safety Conferences, happening June 20-22 in Bethesda, Md., July 18-20 in Fort Worth, Texas, and August 2-4 in Los Angeles, will address all four phases. Experts will speak on various topics that will challenge campus safety and security professionals to ensure their emergency response plans are thorough and implement current leading practices.
While K-12 schools and colleges differ significantly in many aspects, they all have to plan for the potential for crises, including medical emergencies, severe weather, communicable diseases, and acts of violence, among others. Through education and networking with peers who are facing similar challenges, attendees will leave feeling empowered, ready to embrace resilience, and prepared to take decisive action when they return to their campuses.
Here's a breakdown of some of the different sessions the Campus Safety Conferences will cover and which phase of emergency planning they address. We've combined mitigation and recovery sessions as many of the conversations surrounding those phases overlap.
For more information on the conferences or to register, visit CampusSafetyConference.com.
Prevention
Response
Mitigation & Recovery