#MeTooK12 Campaign Brings Awareness to K-12 Sexual Assaults
The #MeTooK12 campaign was started by the parents of a high school student who was sexually assaulted by a classmate on an overnight field trip.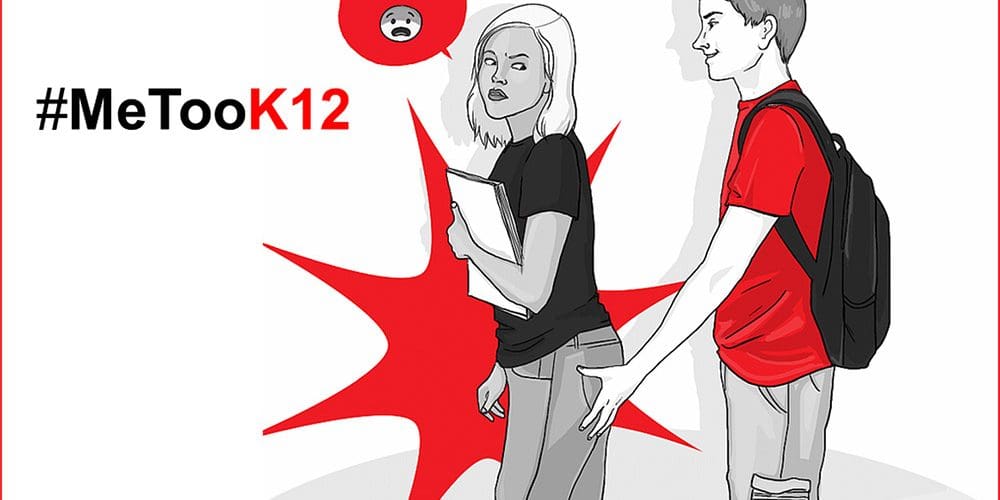 A sexual assault prevention organization has launched a #MeTooK12 social media campaign to start a conversation on the issue of sexual violence in K-12 schools.
An extension of the highly publicized #MeToo social media movement created to give a voice to victims of sexual assault or harassment, the #MeTooK12 campaign aims to encourage K-12 students who have been sexually harassed or assaulted by either peers or a staff member to share their experiences.
The movement was started by Stop Sexual Assaults in Schools (SSAIS), a non-profit organization that believes cultural changes surrounding sexual assault need to start in K-12 schools. The group was founded by the parents of a female student who was sexually assaulted by a classmate on an overnight field trip in Seattle in 2012, reports Education Week.
Esther Warkov and Joel Levin reportedly went to school officials right after their daughter's assault but were "met with avoidance, denial, misinformation, falsification, and violations at every juncture," according to the SSAIS website.
The couple eventually settled with the Seattle Public School District for $700,000 but the district did not admit liability for the alleged rape.
"While the settlement does not hold the district liable for the incident, district officials do consider this a fair settlement that allows the district to focus its efforts on improving our processes to prevent and respond to incidents of sexual harassment, and provides funds for the student to pursue her education," reads a statement from the district.
Changes made by the school district for overnight field trips following the settlement include the presence of at least two chaperones per trip of more than six students, including at least one for every ten students, and 24/7 supervision with bed checks in the middle of the night.
The school district also created a new Title IX website and appointed several new sexual harassment prevention officials.
So far, #MeTooK12 social media posts include experiences of sexual harassment or assault by both students and teachers.
"#MeTooK12 Earlier this year, when I was in 7th grade, a few boys sexually harassed me every day for several months. They threatened to rape me, they masturbated in front of me, groped my friend, told me to commit suicide, and would often encourage other boys to try and touch me," one Twitter user wrote. She says her alleged abusers were not punished.
"#MeTooK12 In the seventh grade, I felt uncomfortable going to class. My teacher stared at my chest a lot. When I talked to other girls in my class, they felt the same. I told my mom, she and my dad filed a report with the school," wrote another Twitter user. She says when her mother asked for permission from other parents to speak to their children to see if they had similar experiences, they said no because even if it were true, they "didn't want to ruin this man's career".
Sexual Harassment in K-12 Schools Starts Early, Studies Finds
A study from the American Association of University Women says 81 percent of students in grades 8-11 experience sexual harassment and 87 percent say it has a negative effect on them.
Elementary and secondary schools have no national requirement for tracking or disclosing sexual violence.
Relying on state education records and federal crime data, a year-long investigation by The Associated Press found approximately 17,000 K-12 students had officially reported sexual assaults by another student between fall 2011 to spring 2015.
Ranging from rape and sodomy to forced oral sex and fondling, the sexual violence AP tracked was often mischaracterized as bullying, hazing or consensual behavior.
Unwanted fondling was the most common type of assault reported, but approximately one in five of the students were raped, sodomized or penetrated with an object.
The AP also found about five percent of the sexual violence involved 5- and 6-year olds but increased significantly between ages 10 and 11 and continued to rise up until age 14. The rate dropped as students progressed through high school.
"Few people of influence understand how sexual harassment and assault devastate the lives of K-12 students, their families, and friends—beginning in elementary school; and the younger the victim, the more devastating the impact and greater vulnerability to repeated assault," Warkov said in her announcement of the #MeTooK12 campaign. "Not only do the survivors' emotional and psychological scars endure long after the incidents, their social lives, education, and career dreams can be shattered."
Additional breakdowns and charts of The AP's investigation can be found here.
3 responses to "#MeTooK12 Campaign Brings Awareness to K-12 Sexual Assaults"