Intoxicated Man with Knife Sits Down in Fla. Classroom to 'Test Security'
The 51-year-old homeless man entered Spruce Creek High School through one of several doors left unlocked for late students.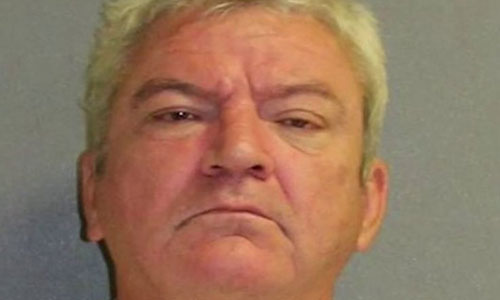 The security at a Port Orange, Florida, high school is being called into question after an intoxicated homeless man trespassed onto school grounds and managed to enter a classroom.
According to an arrest report, 51-year-old Derek Marlowe was able to ride his bike through the front gate of Spruce Creek High School, enter the building and sit in a classroom full of students, WKBW reports. It was later determined he had a knife on him.
The incident began when an advisor at the guard shack saw Marlowe enter the campus on his bike. The advisor used his cell phone to call another advisor instead of using his radio, which everyone would have heard.
Marlowe entered the school through one of several doors that are left unlocked for late students. He then made his way into the school and into an occupied classroom after a student didn't shut the door all the way, preventing it from locking.
The classroom teacher said he watched Marlowe enter the classroom and "perceived him as someone he knew." Once Marlowe took an empty seat and starting asking about pictures on the wall, the teacher pushed his panic button. Marlowe then exited the classroom and continued to wander the halls. 
The Volusia County Sheriff's Office said a school resource deputy responded immediately once he learned of Marlowe's presence nearly 20 minutes after he entered the campus. In bodycam footage of the arrest and subsequent interrogation, Marlowe can be heard rambling about "testing the system" and the school's security.
Sheriff Mike Chitwood said procedures were not followed, claiming school officials are more worried about calling a Code Red and causing a media frenzy than they are about doing the right thing.
"They need to understand there is a reason why these things are in place. Stop worrying about the perception if we call a Code Red," said Chitwood. "After all that we've gone through, all the trainings, guardians, technology, it just goes to show you it's only as good as the people we put in place to follow the procedures."
Principal Dr. Todd Sparger said the school is reviewing the multiple lapses in campus security that enabled Marlowe to trespass on campus. Staff will receive more training and the school guard's station will also be moved to the center of campus, according to WFTV. Acting Superintendent Tim Egnor said internal fencing will also be added and speed bumps will be placed by the gate.
Marlowe is facing charges of trespassing on school grounds, campus disruption and disorderly conduct. He has a prior criminal record, including arrests for drug possession and battery.
One response to "Intoxicated Man with Knife Sits Down in Fla. Classroom to 'Test Security'"