Parents Protest, File Lawsuits to Continue High School Football Amid Pandemic
Increased cases and exposure in some districts has led to the cancellation of games while other districts have upped the number of fans allowed.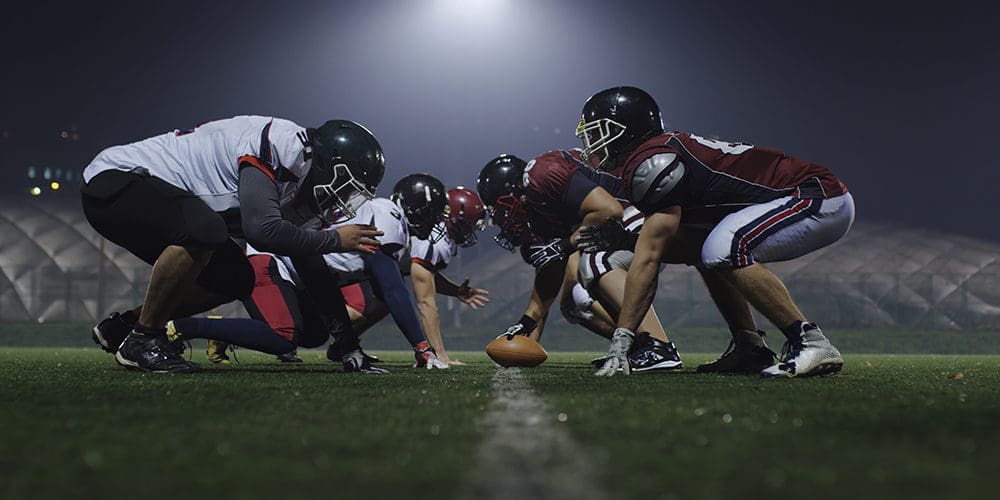 Many high schools across the country are continuing with their fall football season — most with specific safety precautions in place — but health officials warn there is a higher risk of COVID-19 infections associated with high contact sports.
According to Melaney Arnold, a spokeswoman for the Illinois Department of Public Health, states where sports such as football are underway are seeing COVID-19 positivity rates double that of which are being seen in Illinois, reports USA Today. In mid-September, St. Louis (Mo.) county linked several COVID-19 outbreaks to youth sports. In a two-week period in Dallas-Fort Worth, 31 cases of COVID-19 and even the death of a 29-year-coach were tied to multiple youth hockey teams.
Although some schools are moving forward with fall sports, many are not, which has led parents and students to protest and file lawsuits to pressure state and local officials to resume competitive sports. Last month in Connecticut, more than 1,000 players, coaches and parents converged on the state Capitol building to protest the cancellation of high school football, according to The Courant.
This month, student-athletes and their parents filed a class-action lawsuit against the Illinois High School Association following the cancellation of medium- and high-risk sports, says ABC 7. A judge ruled against the lawsuit. As a result, parents and students have hosted in-person protests, including a march to the governor's house in Chicago.
On social media, parents and students have also been circulating the hashtag #LetUsPlay to stress the mental and physical benefits of interscholastic competition.
"People desperately miss activities. They want their kids back in school," said Karissa Niehoff, executive director of the National Federation of State High School Associations (NFSHSA), which represents the 51 associations leading activities at approximately 20,000 high schools throughout the country. "But the reality is different from place to place."
Some Districts Cancel Games, Others Open Up to More Spectators
Throughout the country, increased cases and exposures have led to many canceled games. Two weeks ago, the Scottsdale Unified School District (Ariz.) announced a member of Chaparral High School's varsity football team tested positive. As a result, the school's first two junior varsity and varsity football games were canceled as players quarantined for 14 days, according to USA Today.
After the games were canceled, parents started a Facebook group called "Parents in Support of 2020 Football in Arizona," which has more than 1,400 members. Brad Schweigert, a father of a student-athlete at Notre Dame Prep, posted on the group, asking parents to "manage COVID-19 testing ourselves" and keep the test results private.
"If the results are positive, then keep him away from the team and tell your coaches he needs a couple weeks off for 'personal' reasons," he wrote.
Schweigert also wrote in his post that they had "worked out a deal" with testing provider 360Care to test football families at discounted rates and that the tests would not be reported to the county.
In Texas' University Interscholastic League (UIL), from Aug. 27 through Sept. 19, when only UIL schools in Class 4A and below were playing, five Dallas-area games were canceled, according to Dallas News. Since 6A and 5A schools started playing games Sept. 24, there have been more than 60 games canceled or postponed in the Dallas area alone.
In Michigan, some high schools have also had to cancel football games and quarantine entire teams due to infections and exposures. Last week, the Michigan High School Athletic Association announced fixed-seat stadiums can be at 30% capacity or up to 1,000 spectators, reports M Live. Prior, only two spectators per participant were allowed.
Now, school districts throughout Michigan are making plans to try and keep spectators and players safe through social distancing and mask-wearing. At Bay City Central High School, athletic director Jenni Thunberg said although she realizes the limitations will leave family members out, it's about making sure parents get to see their children compete.
"It's tough to tell people that Grandma can't come because we don't have enough tickets. That's not what any of us wants to do. But, my take is, we're just happy to be able to play football right now. If we don't comply, it could go away. And I think most people recognize that," she said. "The challenge is that there are more people, but we still need to social distance and wear masks. We can't have a crazy student section."
To accommodate students as much as possible, Reeths-Puffer School District in Muskegon is offering 200 tickets for students and assigning them spots around the track to ensure social distancing.
"I do have some concern, because this virus needs proximity between people in order to spread," Kent County administrative health officer Adam London said of Reeths-Puffer's decision. "However, I think the outdoor football stadium environment can be a lower risk setting if basic precautions are followed."
How Schools Are Handling Fans Who Aren't Following Safe Practices
Although the vast majority of fans have followed various safety restrictions put in place throughout the country, some schools have taken what many may call extreme measures against those not abiding by the rules. In Idaho, a high school football game was canceled at halftime after Ammon Bundy, an anti-government activist, refused to wear a mask.
At a middle school football game in Ohio, a mother who refused to wear a mask and then refused to leave the campus was tased when she resisted the school resource officer. The mother said she wasn't wearing a mask due to asthma.
In Nebraska, Tawana Grover, the superintendent of Grand Island Public Schools, received backlash for restricting games to only home team fans. On social media, parents began encouraging visiting teams' fans to ignore safety protocols put in place. As a result, Grover announced that the district would increase security at games and order anyone without a ticket to leave.
"Every district has to think about what's best and safest for them," she said.
Read More Articles Like This… With A FREE Subscription
Campus Safety magazine is another great resource for public safety, security and emergency management professionals. It covers all aspects of campus safety, including access control, video surveillance, mass notification and security staff practices. Whether you work in K-12, higher ed, a hospital or corporation, Campus Safety magazine is here to help you do your job better!
Get your free subscription today!