COVID-19 Outbreaks Largely Avoided in Younger School Children in Some Countries
Some are pointing to other countries' successes as a push to fully reopen schools, but researchers warn the U.S. has far more coronavirus cases than most.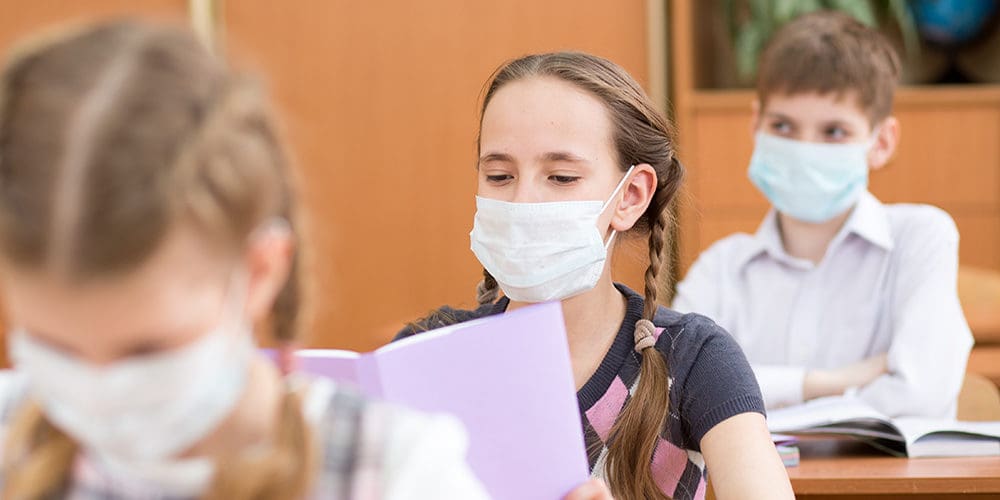 As the debate in the United States on the best course of action for reopening schools amid the coronavirus pandemic continues, some are looking to other countries that have fully reopened while largely avoiding significant outbreaks in younger school children as hope for their own safe reopening. However, there are concerns that older children (teens), as well as college-age students and their teachers might be more susceptible to COVID-19.
In Belgium, before the biggest wave of school reopenings in June, policymakers said strict physical distancing rules would not be enforced to allow more students in each classroom at once, reports The Washington Post. Officials have found no evidence of increased spread after schools reopened.
The decision was made following the release of an open letter from hundreds of pediatricians arguing that the educational cost of keeping schools closed was worse than the health risk of reopening them, according to The Post. A survey of Belgium parents found that 96% planned to send their children back to school in the fall because there haven't been significant outbreaks associated with the schools.
In Germany, some public health experts have supported plans to drop a 1.5-meter minimum distance rule and resume full-capacity classes following summer vacation. Prior to summer vacation, if a student tested positive, that class was put into a mandatory two-week quarantine at home while the rest of the students remained in school.
In Israel, social distancing measures were put in place but "within two or three days, that all fell away," said Dan Ben-David, president of the Shoresh Institution of Socioeconomic Research. When a single coronavirus case was detected, some public health officials required that the entire school close.
In England, some grades went back on a voluntary basis in June. Come September, schools will fully reopen for mandatory in-person classes. Elementary school students will be in "class bubbles" — meaning with the same students throughout the day — of up to 30. High school students in "year bubbles" up to 240, according to The Post.
"We want them all back in September," said British Prime Minister Boris Johnson. "We've got to start thinking of a world in which we are less apprehensive about this disease."
In May, Quebec, Canada, reopened elementary schools outside Montreal, limiting classes to 15 students. Libraries were closed and recess times were staggered, among other measures. When the schools reopen fully in the fall, bubbles will be also be introduced. Within individual classrooms, students will form groups of up to six students who won't have to maintain social distancing. Bubbles must keep a one-meter distance from other bubbles and two meters from teachers.
In Finland, which also reopened its classrooms in May, public health researchers combed through test results of children under 16 and found no evidence of school spread and no change in the rate of infection after schools closed in March or reopened in May. In Sweden, researchers found teachers at daycares and primary schools weren't more likely to contract the virus than people working in other professions.
"It really starts to add up to the fact that the risk of transmission, the number of outbreaks in which the index is a child, is very low, and this seems to be the picture everywhere else," said Otto Helve, a pediatric infectious disease specialist at the Finnish Institute for Health and Welfare.
However, many public health officials are reiterating that most schools that have reopened are in their early stages and there are still many unknowns about how the virus is spread. Many schools that have fully reopened or plan to fully reopen are also in countries where the virus is under better control than in many parts of the U.S., they are also warning.
The Debate for Reopening vs. the Debate for Remaining Closed
For those who are against fully reopening, like House Speaker Nancy Pelosi, many cite the risk to teens, college-age students and teachers. A new study from the Kaiser Family Foundation (KFF), a non-profit organization that focuses on national health issues, found nearly 1.5 million teachers — or 1 in 4 — are at greater risk of serious illness if infected with the virus.
"Given the difficulty of maintaining social distancing in a crowded school environment, these at-risk teachers may be reluctant to return to their schools until infection rates fall to much lower levels," reads the report. "At the same time, teaching is not a particularly high-paying profession, so many teachers may feel economically compelled to return to their schools if they reopen, even if those teachers do not feel safe."
Other concerns include students who live with immunocompromised family members
For those who are pushing for reopening schools, like the Trump administration, many fear digital learning has put poorer students at a greater disadvantage and that student mental health will continue to suffer if schools do not reopen.
In France, which reopened in May on a voluntary basis, classes became mandatory for the final two weeks of classes before summer vacation. Many criticized the decision, accusing the government of being more concerned with sending kids to school so parents could return to work than about the needs of students and teachers. Education minister Jean-Michel Blanquer defended the decision.
"Two weeks count; two weeks are not nothing, whether it's out of an educational aspect or a psychological aspect," he said. "School should never be considered as a day-care center of sorts."
Many also often cite evidence from public health officials and researchers that they have not detected much coronavirus transmission among students under the age of 12 or significant spikes in the community spread as a direct result of schools opening back up. In many cases where children tested positive, virologists say they got the virus from a family member and not someone else in school.
However, many public health officials are also reiterating that most schools that have reopened are in their early stages and there are still many unknowns about how the virus is spread. Additionally, many schools that have fully reopened or plan to fully reopen are in countries where the virus is under better control than in many parts of the U.S.