School Reopening Plans Have Become the Latest COVID-19 Political Football
Here are the various strategies states and districts have adopted to try to safely reopen after the coronavirus shut down.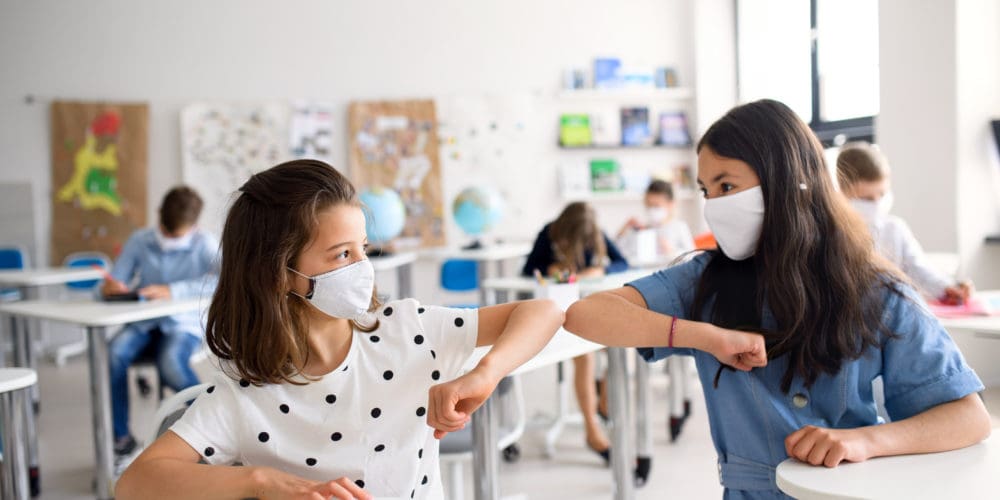 Much like the political debate that influenced how and when states would reopen after the country was shut down due to COVID-19, politics is once again playing a big part in the debate on how and when to reopen schools.
On Tuesday, President Donald Trump vowed to put "a lot of pressure" on campuses to reopen this fall, and on Wednesday, he threatened to withhold funding from schools that refuse to reopen at full capacity, reports Yahoo News. How much funding could be withheld is not clear. Although most education funding comes from the state and local governments, the federal government provides many grants for low-income schools and special education programs.
Before Trump's warnings on Tuesday and Wednesday, Florida's Department of Education on Monday ordered all of its "brick and mortar" schools to reopen next month, reports Fox News. The K-12 campuses would need to be open at least five days per week, and they must follow the Florida Department of Health's guidelines. The announcement was made as the state reported nearly 10,000 new COVID-19 cases. On Wednesday, Jacksonville was added to the U.S. Department of Health and Human Services' list of "hotspot jurisdictions," reports WJCT. Other hotspots in the state include Orlando, Tampa and most of southern Florida, reports ClickOrlando.
The state's order, however, has many caveats and exceptions, with a significant emphasis on local control, reports CNN. Miami-Dade Superintendent Alberto Carvalho told the network his district could comply with the order while not bringing children to school every day. He also said that 30% of parents might choose to continue remote learning for their children during the remainder of the coronavirus pandemic.
Meanwhile, in California Gov. Gavin Newsom said on Wednesday that he wouldn't be swayed by Trump's statements and that the decision on reopening California schools this fall will be made at the local level by education and health officials who will weigh how COVID-19 is impacting each area, reports the Los Angeles Times. Currently, California's coronavirus hospitalizations are surging, rising 44% in the past two weeks.
In the Northeast, New York City Mayor Bill de Blasio said on Wednesday that city schools would take a hybrid approach to reopening, reports ABC News. Under his plan, most students would attend their face-to-face classes only two or three days a week. Most would continue distance learning at least half of the time because campuses can't maintain appropriate social distancing when all students are physically present.
New York Gov. Andrew Cuomo who has a history of clashing with de Blasio, however, said he will be the one in the state to determine whether or not schools can reopen. All school districts in the state must submit their reopening plans by July 31, and New York officials will determine if the plans are acceptable and if districts can reopen. De Blasio has vowed to work closely with the state.
In Texas, another coronavirus hotspot where nearly 14% of new U.S. cases are currently being recorded, officials announced on Tuesday that parents would have the option to continue distance learning for their children. Students also would be required to wear masks if they attend face-to-face classes.
The Fairfax, Virginia school district is also asking parents to choose between in-person or remote learning for their children.
Teachers' unions and other educational organizations have expressed concerns over bringing students back to face-to-face classes. National Education Association President Lily Eskelsen Garcia described the Trump administration's plan as "appallingly reckless."
According to a nationwide USA TODAY poll conducted in late May, one if five teachers said they were unlikely to return to school if their buildings reopen this fall.
Although children are at fairly low risk for the coronavirus, the same cannot be said for faculty members. Many fear for their safety, especially ones with underlying health issues or who are older. Nearly one in five (18.8%) U.S. teachers are age 55 or older, according to the National Center for Education Statistics. In some states, such as Maine, Vermont and Washington, more than one in four are over the age of 54.
Some districts have attempted reopening their campuses with limited success. The Burlington Community School District in Iowa suspended its in-person summer school program after two days when eight students developed temperatures of 100.4 degrees or higher, reports the Des Moines Register.
At the Campus Safety Online Summit held on Tuesday and Wednesday, school and higher education practitioners and experts discussed how campuses are trying to safely reopen during the pandemic. Both are now available on demand. To watch these presentations, click here.