Are Your Classroom Locks Functional or Mere Security Illusions?
Some campuses are still turning to barricade devices to lock classroom doors. Here are five potential unintended consequences of using these devices.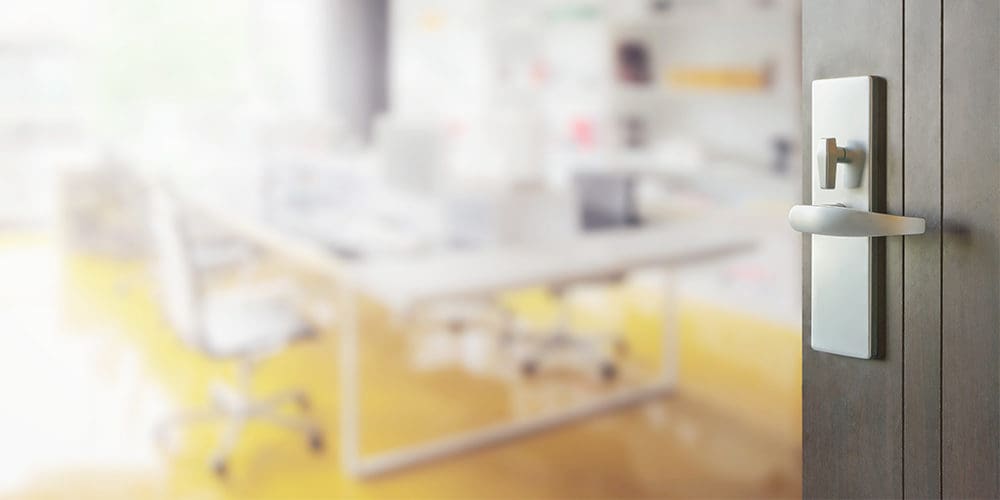 With a continued focus on school security, classroom locks have been the subject of much discussion and debate. Most classroom doors are equipped with traditional locksets, but some school administrators are concerned that these locks aren't secure enough for today's threats. However, to date, reports of school shootings that have made national news have not cited instances of locked doors being breached through the lock.
Despite this, schools across the country have considered using retrofit solutions that give the illusion of security with little or no evidence of how they will perform. For example, a short length of fire hose slipped over the arm of a door closer may seem like it would prevent access to the classroom, but it is actually only as strong as the screws that attach the closer to the door.
In many districts, there are concerns because existing locks require teachers to open their doors and, in some cases, step into the hallway to use their keys to lock the doors, potentially exposing them to danger. Although there are lock conversion kits to allow doors to be locked from the inside, some school districts have considered purchasing retrofit security products, often called classroom barricade devices.
Classroom Barricade Device Issues
While a simple means of securing a door from the inside may sound like a positive step in preventing unauthorized entry, there are potential unintended consequences that must be considered when making decisions about classroom security:
Traditional Locksets
The model codes and standards adopted in most U.S. states require classroom door hardware to meet the following four requirements:
Doors must unlatch with one releasing operation (all locks and latches simultaneously). Some states allow two releasing operations, but there are further limitations in state laws and adopted codes to ensure the safety of building occupants.
Releasing hardware must be mounted between 34 inches and 48 inches above the floor, so it is within the reach range of most people – including those using wheelchairs.
Hardware must be operable without tight grasping, pinching or twisting of the wrist, and without the use of a key, tool, special knowledge or effort for egress.
Locked doors must be able to be unlocked from the outside with a key, credential or other approved means, so staff and emergency responders can enter the room.
There are many locksets available that provide the necessary level of security and comply with the requirements of the model codes and the ADA. Existing locksets that are not lockable from the inside may be able to be converted without total replacement. School districts can consider installing impact-resistant glazing or security film on glass adjacent to door hardware to help deter access to the inside lever.
Key distribution is also critical, so all staff members have the ability to initiate a lockdown or access locked rooms. With proper planning, classroom locks can provide safe and simple security.
For more information, visit us.allegion.com/schoolsecurity.
---
Lori Greene is the codes and resources manager for Allegion.
One response to "Are Your Classroom Locks Functional or Mere Security Illusions?"