Bogen Communications Unveils Nyquist E7000 Software Update
The latest software version of Nyquist E7000, an IP-based paging and intercom solution, gives users access to over 50 new features.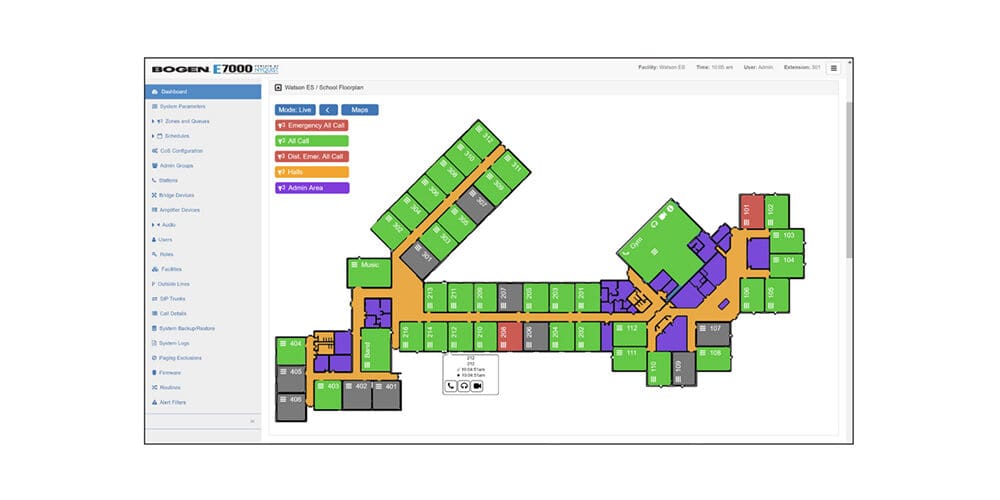 Bogen Communications, Inc., a commercial audio and voice communications technology provider, announces its Nyquist E7000 Version 7.0 software release.
The Nyquist E7000 is an IP-based paging and intercom solution that uses the latest software technologies and third-party integrations to address the evolving safety and security challenges schools continually face, says the company.
The E7000 Version 7.0 software release emphasizes ease of use via its intuitive user interface, and mission-critical performance through automated server failover capabilities and scripted automated action sequences known as Routines. Once upgraded to Version 7.0, users can access more than 50 new features and enhancements, including new Routine actions that can be conditionally executed based on several real-time variables for more targeted responses to critical events.
It also features a 72-hour backup bell schedule embedded in all the system's audio appliances that automatically activates upon a server or network failure to ensure class change schedule continuity until the server or network can be restored.
"Our priority is to create solutions that are continually improving campus communications for enhanced safety and security. Once again, we're delivering real value-add enhancements that help protect the customer's investment through ongoing innovation," said Randall Lee, Vice President of Marketing and Product Management. "We recognize that the challenges our customers face are continually changing – especially as it relates to enhanced school safety and security. Our commitment to long-term support and continual enhancements means that customers can take advantage of these important upgrades to address their changing needs over time."
Users can also create various National Weather Service alert-driven visual and audible campus notifications based specifically on a weather event's location and severity, allowing schools to issue shelter-in-place or other emergency instructions in a timely manner. In addition to audible alerts, these automated notifications can be delivered through the Nyquist system's administrative phone display, desktop web UI, and combo clock/message displays.
For more information, visit www.bogen.com/education-e7000.