UPDATE: 2 Dead, 18 Wounded in Ky. High School Shooting
Both victims have been identified as 15-year-old students; police say the gunman will be charged with murder and attempted murder.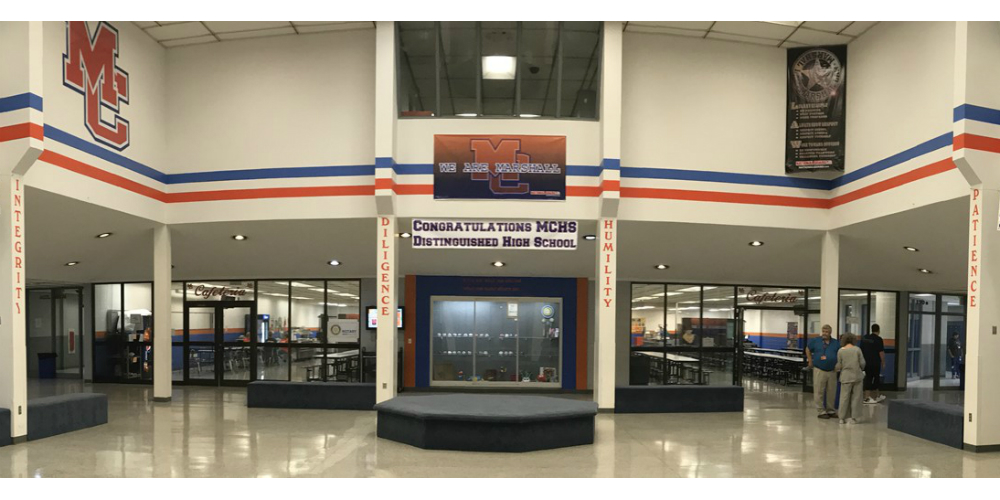 Two people have been killed and 18 others injured in a shooting at Marshall County High School in Benton, Kentucky, on Tuesday.
The 15-year-old gunman, who is a student at the school, opened fire just before 8 a.m. CST. Kentucky State Police reported that a Marshall County deputy apprehended the shooter. Police found a pistol in the back of the school following the shooting.
Some of the victims were taken to local hospitals by helicopters as officials from Marshall County Emergency Management and agents from the Bureau of Alcohol, Tobacco, Firearms and Explosives assisted the Benton Police Department.
The two students who were killed have been identified as Bailey Holt and Preston Cope, both 15, according to CNN. Holt died at the school and Cope died at Vanderbilt University Medical Center in Nashville.
State Police Commissioner Richard W. Sanders says the suspect walked into the school at 7:57 a.m. CST and began shooting. The first 911 call was received two minutes later.
Of the 18 people injured, 15 were wounded in the gunfire that mainly occurred in the school's busy atrium, a common area in the center of the building. The victims range from ages 14 to 18, state police said.
Dr. Oscar Guillamondegui, medical director of the trauma intensive care unit at Vanderbilt, says three students were shot in the head. As of late Tuesday, five victims remained in critical condition.
One of the victims, 17-year-old Daniel Austin, was shot in the arm. His mother, Andrea, says his arm may have to be amputated. She praised the heroics of another student and a teacher for picking up Daniel after the gunfire and rushing him to a car to take him to a hospital.
Students Recall Chaos, Running for Their Lives
Alexandria Caporali, 16, says she knew the gunman as a quiet boy who played music and always seemed happy, reports Fox 17. After the first shot, Caporali says the gunman seemed to hesitate.
Fox Nashville reports that nearly 100 kids ran out of Marshall County High School when gunfire first rang out. Marshall County High School student Greg Rodgers, 17, told NBC News he saw students as he approached the school.
"I pulled off to the side of the road because everyone was running to the main road," Rodgers said. "I asked my friend what was going on and he told me that there was a school shooting. I was shocked."
Another student, junior Taylor Drake, says she and a friend were running late and got to school as students were pouring out.
"You could see students dropping their bags and just start running, pushing past each other," recalled Drake. "Everyone in cars started turning around and driving away. Kids were jumping the fence around the school and running through the woods."
Some students took refuge in nearby businesses. Sixteen-year-old Lexie Waymon says she ran from the school and didn't stop until she made it to a McDonald's over a mile from the school.
Another student, 16-year-old Baleigh Culp, says she ran towards the highway as she heard shots ringing out behind her. She continued to run when a man reached out from the door of local cleaning business to pull her inside the building, where dozens of other students were already hiding.
"They was running and crying and screaming," said Mitchell Garland, who owns the cleaning company. He estimated between 50 to 100 students took refuge in his store, including his 16-year-old son.
Following the shooting, the school was locked down and no one was allowed inside either entrance. The students were bused to North Marshall Middle School to be picked up by parents. Parents were asked not to contact the school in an effort to keep the phone lines open for school staff members, reports the Marshall County Tribune-Courier.
"This is a tremendous tragedy and speaks to the heartbreak present in our communities," Governor Bevin said in a statement. "It is unbelievable that this would happen in a small, close-knit community like Marshall County. As there is still much unknown, I encourage people to love on each other at this time. Do not speculate, but come alongside each other in support and allow the facts to come out."
Police say the gunman will be charged with murder and attempted murder. He is currently being held at a regional juvenile jail in Paducah, Kentucky, and has been appointed an attorney.
Read More Articles Like This… With A FREE Subscription
Campus Safety magazine is another great resource for public safety, security and emergency management professionals. It covers all aspects of campus safety, including access control, video surveillance, mass notification and security staff practices. Whether you work in K-12, higher ed, a hospital or corporation, Campus Safety magazine is here to help you do your job better!
Get your free subscription today!