New Unbreakable Campus Retrofit Glazing Provides an Innovative Alternative
Glass doors and windows help architects harvest more natural light into the inner spaces of our buildings, but they are also our most vulnerable points when it comes to forced entry by an active shooter, burglar, or vandal. That's why it's so important to ensure that you adequately reinforce your glass against impacts of all types.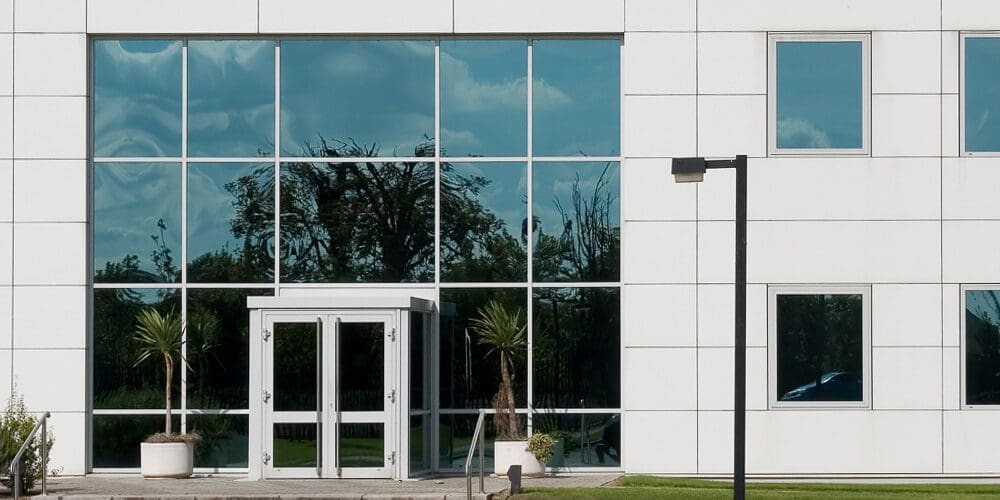 There are so many choices when it comes to choosing the right product for securing the glass, so how do you narrow down your choices? One suggestion is to consider these criteria:
Will it change the way our building looks?
Are there operable parts that require daily opening and closing procedures?
How strong does it need to be?
What kind of budget do we need to account for?
How easy is it to get installed and does it require altering any materials surrounding the windows?
Lets consider these questions as we analyze the most common window and glass door protective product options.
Issues with Traditional Glass Protection
Traditional methods of protecting commercial glass against impacts include installing bars and grates, using roll-down shutters, security window films or standard laminated glass. These solutions provide varying levels of protection against forced entry, but they all have certain disadvantages.
Bars, roll-down shutters, and grates may keep would-be intruders out, but they are unsightly and alter the open and inviting feel of your property. They may require additional alterations to materials such as drywall and drop ceilings. They are often opened during business hours requiring daily operation. This also leaves the glass unprotected when students and faculty are occupying the building, rendering them useless when you need them most.
Security window films and standard laminated glass are effective only when an attacker is inexperienced. A determined attacker can easily defeat these products, often in 10-30 seconds.
When comparing a more robust product, keep in mind that you are buying time. If paying by the minute to keep someone out, you can see much more value in products that stop a would-be intruder in their tracks rather than only delaying for a few short seconds. In that moment of crisis, it will be too late to reevaluate the strength of your window protection.
The US Department of Justice (DOJ), in conjunction with the Department of Homeland Security (DHS), conducted a study on active shooter events over a 17-year period. The study found that the average time between when the event starts and when police arrive is 10 minutes, and 60% of all events are over before police arrive. It is vitally important to consider these statistics when evaluating your glass protection strategy.
Surely there is an option that can cost effectively keep an intruder out while maintaining the welcoming appearance of the building, right?
ArmorPlast® AP25: An Ideal Solution for Campuses
ArmorPlast® is the proprietary line of polycarbonate glazing shields from Riot Glass® which is a patented framing system that blends seamlessly into your existing window and glass door framing for an undetectable appearance. The AP25 panels are far from run of the mill polycarbonate. AP25 panels are a military spec material made to withstand 3500 pounds per square inch impacts from sledgehammers and passed many laboratory tests including HP White and Miami-Dade large missile impacts for hurricane strength protection.
Your building's glass doors and windows don't have to be its most vulnerable points any longer. Choose Riot Glass® for top-of-the-line unbreakable storefront glazing and invisible board up solutions. With Riot Glass®, you can rest assured that your campus is protected 24/7 against a full range of threats.
For more information, please visit www.riotglass.com.