Visitor Aware Debuts K-12 School Visitor COVID-19 Screening Software
The Watchdog application triggers medical alerts and helps coordinate efforts to limit COVID-19 exposure in real-time, says the company.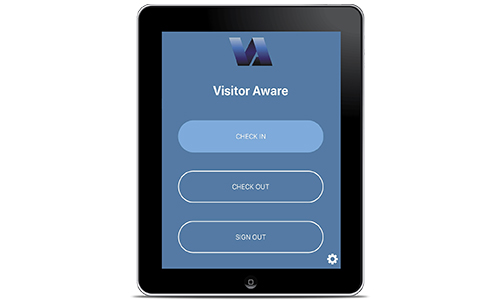 Visitor Aware, a K-12 school visitor management provider, announces its COVID-19 screening functionality for K-12 schools to use this upcoming academic year.
At no additional cost to current Visitor Aware users, the COVID-19 screening process will help districts who choose to reopen their schools for in-person instruction by providing a simple way to document visitors granted access during the pandemic, according to the company.
"Our health screening process supports schools who wish to implement an extra step towards preventing the spread of COVID-19," said Joanna Haugland, director of sales and marketing at Visitor Aware. "By implementing this step, schools will have a way to prevent symptomatic visitors from entering their school, protecting the health of those inside their building."
Visitor Aware's self-check-in kiosk allows visitors and volunteers to personally and accurately document their visit while automatically screening themselves to eliminate potential threats, says the company's website. If a concern arises in which a previous visitor later tests positive for the virus, users can refer to the digital logbook to figure out the timeframe that the visitor was in the building to further assess how to handle the situation.
The kiosks are advantageous when residing in a school's entryway, the company says. Staff can plan out a proper flow pattern for visitors entering and exiting, effectively reducing the number of interactions and increasing the physical distance between individuals. iPad check-in kiosks are also able to be wiped down and sanitized as needed.
Users can also use Visitor Aware's Watchdog application to trigger medical alerts and coordinate efforts to limit COVID-19 exposure in real-time. The application can be downloaded onto a personal device. After an alert has been triggered, people inside the building will know what area to avoid to further reduce the potential spread. Administrations can then use their online dashboard to further coordinate response efforts.
Schools or districts interested in implementing Visitor Aware's solution can schedule a free remote screen share demonstration. To schedule a demonstration, visit www.visitor-aware.com or call (602) 362-8008.