Openpath Lockdown Solution Features Patented Triple-Unlock Technology
Lockdown Solution alerts first responders of an incident and provides real-time video feed from all cameras within a lockdown zone.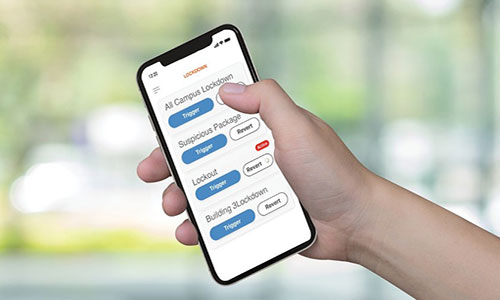 Openpath, a modern mobile access control provider, introduces its Lockdown Solution, which gives authorized users the ability to lock or unlock any door, zone or building during an emergency — including active shooter events, natural disasters and unsolicited visitors — from a mobile device or third-party trigger.
Openpath's patented Triple-Unlock technology works over WiFi, LTE and Bluetooth. It integrates with a wide range of activation methods, including gunshot detectors, glass-break detectors, AWS IoT buttons, panic buttons, wired triggers and mobile phones, according to the company.
Using the solution, protocols can be customized to fit unlimited security situations and building layouts as different scenarios require different needs. For instance, a suspicious package may require a different type of lockdown than an active shooter or another violent event.
"Having the ability to create multiple plans and activate them from a remote device is a requirement we keep seeing from schools, companies and landlords who need to respond to today's current threat landscape," says Ryan Schonfeld, CEO of RAS Security Group.
The Lockdown Solution can also alert first responders of an incident via email or SMS, providing real-time video feed from all relevant cameras within a lockdown zone. Video capability is powered through Openpath's integration with AI-powered video surveillance provider Camio.
Camio provides live, searchable video streams and offers playback immediately prior to the lockdown event to help expedite triage of any emergency situation.
"We had to approach this problem and think about the user experience for both the occupants in a building and the first responders sent to help them," said James Segil, co-founder and President of Openpath. "If you're hiding in a closet, for example, you can't get to the panic button mounted on the hallway wall, so leveraging your mobile phone to activate a lockdown made sense. Sending live video feeds to first responders was a brilliant addition, and Camio's cloud-based technology solved the problem of getting the feed outside the firewall so first responders could know exactly what was going on inside the building."
Learn more at openpath.com/lockdown.