Dickinson ISD Teams Up with Mutualink to Present at TASA Conference
Dickinson ISD Assistant Superintendent Robert Cobb discussed safety upgrades made at all 14 schools in his district, including the use of Mutualink.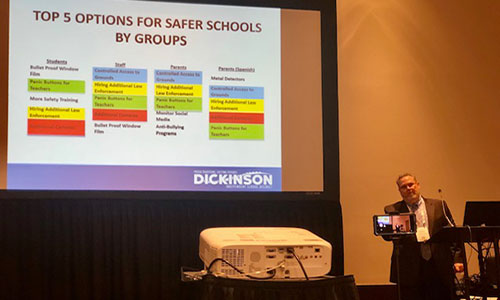 The 2020 Texas Association for School Administrators (TASA) Midwinter Conference, held in Austin this week, brought together thousands of Texas school leaders to discuss school safety best practices, network with peers and address administrative issues seen on a daily basis.
Dickinson Independent School District (ISD) Assistant Superintendent Robert Cobb led a lecture Monday on ways his Bay Area school district is being proactive in keeping students and teachers safe, namely through a multi-layered safety plan that addresses mitigation, preparedness, response and recovery.
Cobb, who was hired as Assistant Superintendent of Administration back in 2009, provided insight into the safety upgrades made at the 14 schools in his district, including the implementation of Mutualink, a bridge for radio, real-time video sharing and instant communication between schools, local law enforcement and first responders. It also serves state emergency management facilities, private enterprises, and local, county and state government agencies.
The solution, established in 2006, grew out of needs identified following the 9/11 terrorist attacks and is based on FEMA's National Incident Management System (NIMS), according to the company.
David Harding, vice president at Mutualink, opened up Cobb's presentation to discuss the emergency communication system's effectiveness. The system, which is Support Anti-terrorism by Fostering Effective Technologies (SAFETY) Act certified by the U.S. Department of Homeland Security as a Qualified Anti-Terrorism Technology (QATT), has reduced time to resolution by up to 50% in active shooter exercises involving SWAT and law enforcement.
Cobb and Mutualink representatives were available after the presentation to discuss how school administrators can get access to $100 million in discretionary funding for school safety improvements approved by the Texas State Legislature in 2019.
For more information on Mutualink, click here. To learn more about the TASA Conference, visit tasamidwinter.org.