Podcasts
New Patrol Vehicles Save California School District More Than $200K
Here are some steps your nonsworn security department can take to reduce its patrol vehicle fleet costs.
Listen to this podcast using the embedded player below
Although school, university, and hospital security officers often patrol their campuses on foot, many of them also need patrol vehicles so they can most effectively protect their facilities and the surrounding areas. Unfortunately, some types of vehicles can be very expensive to not only purchase but also maintain.
So how can a campus security department provide its employees with the cars they need to do their jobs while keeping costs under control?
To find out, I spoke with Levaughn Smart, who is the Executive Director of Security and Disaster Preparedness for the Palm Springs Unified School District in Palm Springs, California. Smart is also one of this year's K-12 Director of the Year finalists and was able to buy a new fleet of patrol vehicles for his nonsworn security officers while saving his district more than $200K.
"We came to find out that the old vehicles we had were the Police Interceptor Ford Explorers with the entire police package. We really don't need our security officers driving 140 mph on the highway or anywhere," says Smart. "So, talking with the mechanics, they said, 'You know what? You guys could probably serve yourselves better by getting a car that's not as much maintenance.'"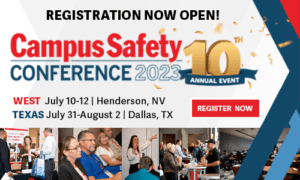 The 2023 Director of the Year winner will be announced on July 12 at Campus Safety Conference West. CSC West will be in Henderson, Nevada, July 10-12, and CSC Texas will be in Dallas, July 31 - August 2.
CLICK HERE
for more information and to register.
The more than $200,000 he saved as a result of buying different vehicles was reallocated to other areas that needed more resources, such as officer training.
In our interview, Smart also discusses:
So with that, here's my interview with Levaughn Smart. Enjoy the show!
---
Watch the full interview here, or listen on the go on Apple or Spotify.
If you enjoyed this podcast and want to receive more valuable industry content like this, click here to sign up for our FREE digital newsletters!