Podcasts
How Security Technology Helps Alleviate K-12 Staff Shortage Concerns
Integrated security solutions free up time for school staff to have more face-to-face time with students while addressing staff shortage issues.
Listen to this podcast using the embedded player below
Expectations in keeping schools safe and secure continue to increase yet many K-12 school districts' budgets remain the same. Some are even working with smaller budgets as requirements grow. On top of these responsibilities, schools are also dealing with staff shortages, as are most industries across the U.S.
An Aug. 2022 study released by the Annenberg Institute at Brown University found there are at least 36,000 vacant full-time teaching positions in the United States with the number potentially as high as 52,800 (some states have not provided figures). The breakdown by state can be seen in the graphic below, and additional teacher shortage statistics can be found in this article.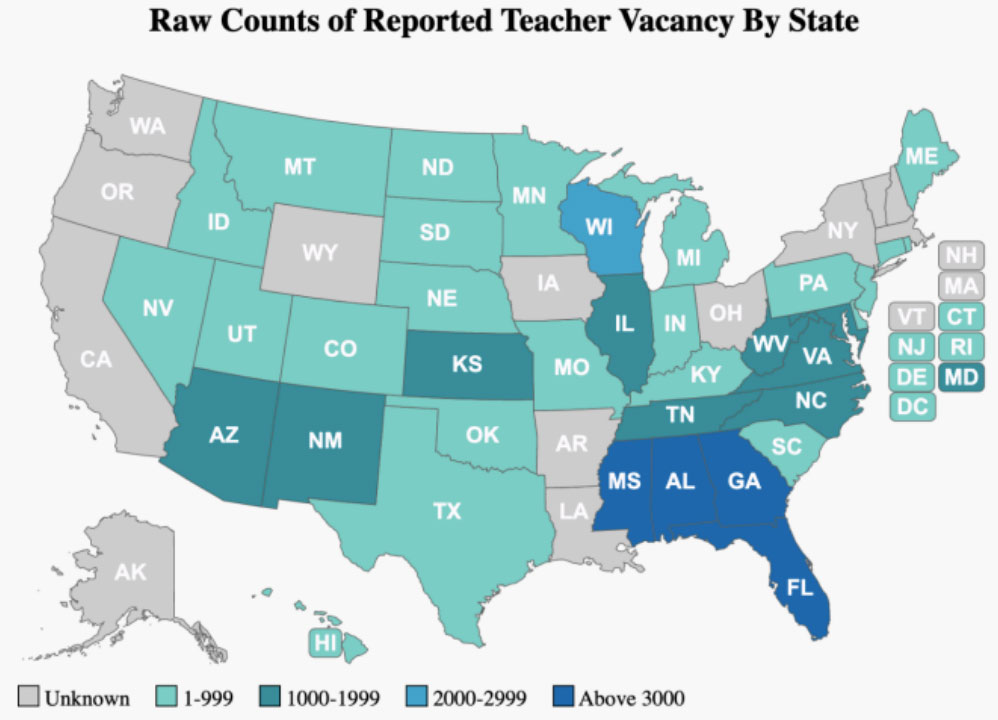 Brandon Davito, vice president of product and operations at Verkada, a cloud-based building security systems provider, regularly speaks with school IT facilities and other security buyers about how security technology advancements have helped significantly "lighten the load" as they are being asked to do more with less (11:35).
"These are [often] small teams that are responsible for a bunch of locations across the district and the expectation and the requirements are only increasing, so they're looking for tools that can allow them to scale and allow them to deliver a better service and a safer campus with less staff," he said. "A single solution with a single vendor that allows them to scale and have better visibility and control over all their locations has really been top of mind for the customers that we're working with."
When speaking with school districts, Davito says their main concern is almost always maintaining and managing different systems. By standardizing a common platform for all physical security systems, schools can help alleviate the burdens associated with current staffing issues.
"One of the ways that that happens is giving more and more staff within the district access to these types of tools. We talked about SROs, district officials, teachers in some cases, and certainly principals and vice principals. Many have a need for accessing information, everything from intercom tools to security to access control logs to whether or not the alarm system was armed overnight," said Davito. "The real power is for the individuals on the ground to take action and giving them information around the type of threat, the degree of response required, and exactly where that individual or where that threat may be is super powerful."
The whole premise of integrated tools, Davito continued, is that it frees up staff to be able to do what they do best, including SROs (13:50).
"An SRO is is really meant to be both a friendly face as well as a calming presence, or if there's a situation that's escalating, to help de-escalate that and make sure that he or she is in the right spot at the right time," he said. "In the past, that meant you had to be in front of a monitor or in an IDF closet reviewing footage, that's a pretty crummy situation. [It's about] giving SROS who need to be on the move and who need to take quick actions the tools so they can get a push alert on their mobile device or they can pull up a feed quickly as they're walking across campus."
During our discussion, Brandon also spoke about:
Watch the full interview here or listen on the go on Apple or Spotify.
If you appreciated this podcast and want to receive more valuable industry content like this, click here to sign up for our FREE digital newsletters!