Yale University Police Protesting Delays in New Contract
Yale University police have not had a collective bargaining agreement with the school since June 2016.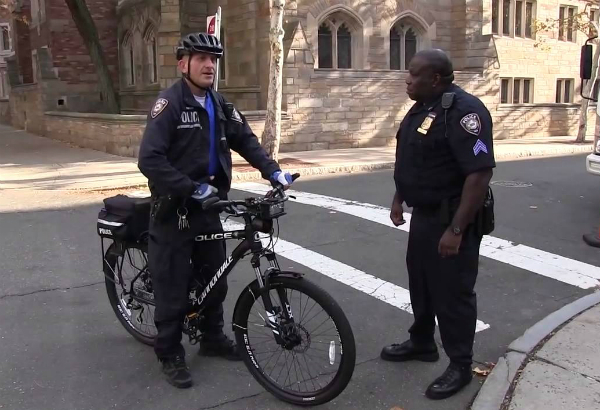 Yale University police officers have been protesting the pace of negotiations for a new contract with the school on campus recently.
Things came to a head during an event for prospective students and their families April 8 when off-duty police officers handed out fliers to passing visitors that highlighted the importance of the contract, reports wwlp.com.
The fliers asked for support for a new contract agreement, but they also featured 12 headlines from various media outlets reporting on crimes on the campus, including one that read, "Yale's Campus May Not Be As Safe As You May Think."
At one point during the event, an usher stepped between an off-duty officer and a parent to prevent the officer from handing out a flier.
"Tell me, when it is OK to block protesters from exercising their First Amendment rights?" Rich Simons, the president of the Yale Police Benevolent Association, wrote about the incident in a letter to the New Haven Register. "Yale University, the First Amendment and liberal capital of the world! Hello?"
The department has been operating without a contract with the university since June 2016, reports the New Haven Register.
Simons claims the school is attempting to decrease officers' health benefits and is refusing to increase their life insurance.
In an open letter to parents of prospective college students, the union wrote that other issues remain unresolved, including job security and procedural due process protections in disciplinary matters.
Simons has also said the university is "stonewalling" union negotiators by delaying meetings, a claim the university refutes.
"We have made progress on a number of issues and will continue to meet with the union on unresolved issues," a statement from the university read. "Yale provides its officers with excellent pay, health care and other benefits, and working conditions that are highly competitive with every police department in the state."
Further negotiations between the union and the school have been set for April 23 and May 2.