Study Finds Childhood Bullying Has Long-term Mental Health Consequences
A significant portion of survey participants who experienced physical, verbal, social or cyber bullying when they were children have developed mental health issues as adults.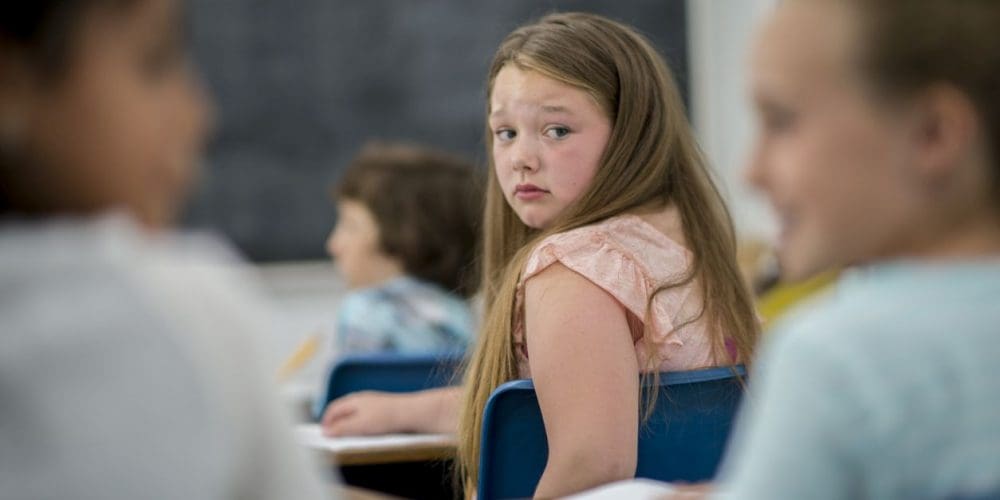 More than four in 10 people who were bullied as children have been diagnosed with a mental health condition, and 44 percent of them blame their childhood bullying experiences for their conditions.
The sobering statistic is from a new study that compiled responses from just over 1,000 people on their personal experiences with bullying as children. It found that 89 percent of respondents said they were bullied as children.
Female respondents who reported being victims of bullying have experienced the most long-term negative mental health consequences. Forty two percent report they have depression (compared to 22 percent of male respondents), 42 percent report they have anxiety and panic disorders (compared to 18 percent of men) and eight percent report they have bipolar disorder (compared to zero percent of male respondents).
On average, respondents who cited childhood bullying as the cause of their diagnosed mental health condition were bullied three years longer than those who didn't blame bullying for their disorder(s).
Overall, verbal abuse was the most common form of bullying, with 92 percent of men and 96 percent of women experiencing it when they were young. Verbal abuse is described in the study as name-calling, insults, teasing, verbal intimidation, or homophobic or racist remarks to tease or harass children.
Social bullying — which is defined as indirect bullying that targets a child's reputation or social standing and encourages others to ostracize or embarrass children – was more prevalent among females (64 percent) compared to males (45 percent).  Physical bullying (hitting, kicking, pinching, pushing or damage to a child's personal property) was more common in men (60 percent) compared to women (37 percent).
Although cyberbullying was the least reported type of harassment (five percent and nine percent for men and women respectively), it was much more common in Millennials (12 percent) than in respondents from Generation X (one percent) or from the Baby Boom generation (zero percent). Cyberbullying is described in the report as harassment done over digital and social mediums, including aggressive or hurtful text messaging, emails or social media posts.
A wide range of individuals were mentioned as the perpetrators of bullying. More than two in five female respondents (41 percent) who said they were bullied as children said they were physically bullied by a parent. Thirty eight percent said they were verbally bullied by a parent. Fourteen percent of male respondents said they were physically bullied by a parent, and 21 percent of men said they were verbally bullied by a parent.
The breakdown of other types of bullies includes:
Cyberbullying:
Stranger: 65 percent
Classmate: 33 percent
Friend: 26 percent
Sister: 15%
Uncle: 15%
Social
Friend: 53%
Classmate: 47 percent
Crush: 23 percent
Stranger: 17 percent
Cousin: 10 percent
Physical
Classmate: 49 percent
Father: 20 percent
Stranger: 16 percent
Friend: 11 percent
Cousin: 10 percent
Verbal
Classmate: 64 percent
Friend: 32 percent
Stranger: 29 percent
Teacher: 20 percent
Mother: 19 percent
Respondents who were bullied as children were most likely to tell their parent about cyberbullying (73 percent), followed by physical (60 percent), social (56 percent) and verbal (53 percent). African-American and Hispanic respondents were the most likely to report the abuse to their parents (55 percent), while Asian-American respondents were the least likely (39 percent).
Unfortunately, of the respondents who told their parents about the bullying, only 28 percent said their parents were successful in stopping the abuse. More than two in three (67 percent) said nothing changed.
In dealing with a bully, 35 percent more men than women thought it was acceptable to physically fight back. Twenty-four percent more women than men thought it was more acceptable to switch schools.
Read More Articles Like This… With A FREE Subscription
Campus Safety magazine is another great resource for public safety, security and emergency management professionals. It covers all aspects of campus safety, including access control, video surveillance, mass notification and security staff practices. Whether you work in K-12, higher ed, a hospital or corporation, Campus Safety magazine is here to help you do your job better!
Get your free subscription today!