At This School, Campus Safety Has Gone to the Dogs
This Tennessee middle school has retained the services of a retired K-9. Check out how the school incorporates this special dog to improve overall campus safety.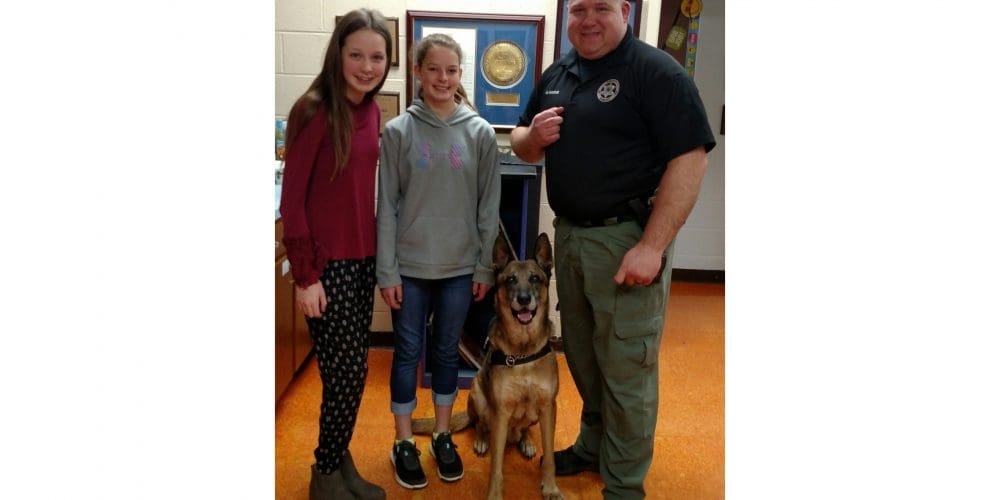 In an era when campus safety has become a major issue, many centers of learning are searching for innovative ways to protect students and staff while facing the challenge of funding these initiatives. One unique approach we discovered in the Cheatham County School District in rural Middle Tennessee cost us virtually nothing. His names is Aries, and prior to beginning his new job at Sycamore Middle School, he was a law enforcement officer of the K-9 variety. Officer Aries retired from his post in 2016, and today "King" Aries reigns at the Home of the Knights as Dog Supreme.
On September 28, 2016, a student with a fully-loaded, semi-automatic handgun and a plan to harm students on our campus came to me in the school counseling department of our school in need of help.  After a 90-minute conversation with the young man, he relinquished the weapon peacefully, and a mass shooting was avoided. This incident, however, changed the way we, as a school and a county, viewed violence prevention and campus safety. In just two years, we have moved from having one school resource officer (SRO) that covered a total of four schools to having an officer assigned to each of our 13 campuses – including all six of our elementary schools.
Aries, a Belgian Malinois, however, was more of a pleasant surprise than a creative idea for addressing school safety. When his handler and partner, Officer Mike Havens, was assigned to Sycamore Middle School, we learned that he had made the decision to move to school safety after Aries retired. Officer Mike, as the students refer to him, is a veteran of the U.S. Army and had enjoyed a second career in law enforcement until Aries' retirement. The thought of taking on a new K-9 partner was not something that appealed to Mike, but he had enjoyed the team concept and felt that a school environment would allow for him to continue to work within that concept.
Soon after Officer Mike's arrival, he displayed a plaque bearing Aries' picture on his office bookshelf. Before long, staff and students began to inquire about the handsome dog in the picture, and after receiving permission from administration, Officer Mike brought Aries to school one Friday. Although there were some initial concerns that the fierce appearance of Aries might be frightening to some students (we teach students in grades 5 through 8), our fears were quickly assuaged when we witnessed Aries' first interaction with students. He bravely withstood the many hands that petted him and displayed great patience while understanding his need to be tolerant of the students.
Belgian Malinois canines, originally bred to be herding dogs, are known for being smart and confident, but they are better known for forging an unbreakable bond with their human partners. Without a leash, Officer Mike directs Aries through a series of verbal commands. Aries was trained as a dual-purpose officer, which means that while being a drug-detection canine, he was also trained in handler protection. During police interactions, Aries was trained to protect Officer Mike if he were attacked.  He would also contain a suspect if commanded to do so.
Aries' arrival on campus did not just introduce our students to a friendly dog, but also reminded them that Aries, while retired, still had the ability to work. Some of our older students inquired about Aries' ability to "sniff out drugs," which in turn, made us realize that we had a previously unconsidered campus safety resource and deterrent in our furry friend. We also, however, had unknowingly gained a second SRO.
When Aries retired from his previous job, he had been seriously injured by an assailant, which had caused him to hesitate in performing his duties. This factor, along with his seven years of service (an average retirement age for K-9 officers), had led to Officer Mike's making the decision to end Aries' law enforcement career. Interestingly enough, however, once Aries became a standard fixture at school, Officer Mike began to practice commands again with him at home. He was amazed to find that Aries would follow attack commands if prompted to do so. Somewhere along the line, Aries had recovered, and it might just have been because now he had a new mission… protecting children.
In his time with us, Aries has won the hearts of the office staff who provide him with treats and the students who love seeing him in classroom lessons with Officer Mike. Our Lifeskills class made him his own special bed for Officer Mike's office, and we find that many of us on staff are drawn to him just for his calming presence. The truth is, though, that we also know how dedicated he is to our school and to his Officer Mike. In the event of a crisis, Officer Mike would not have to react alone until help could arrive. He would have his partner.
Could K-9 officers and their partners be another feasible solution to providing a modicum of campus safety? I believe they could. Our school is "going to the dogs," and we could not be prouder of the outcome.
Molly Bradley Hudgens is a counselor at Sycamore Middle School in Pleasant View, Tennessee, as well as president of Molly B. Hudgens Communications.