Navigating the Complexities of Access Control
With access control software integrated into smart locks and existing systems, campuses can more easily manage and secure all of their buildings.
Campuses have unique security challenges that are compounded by legacy access control systems and open physical structures. Rapid advancements in technology, especially smart phone enabled devices, means there is a wide variety of solutions for each security challenge. It is important that students, staff, faculty, clinicians and visitors not only feel safe but also can move freely around campus. Properly designed access control systems will enhance the student experience.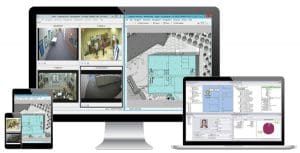 Access control means more than just securing a building's main entrance. With access control software integrated into smart locks and existing systems, you'll be able to easily manage and secure all housing, storage and administrative buildings campus-wide. With single system management for access, video, elevator dispatch, intercoms and more, access control software provides campus administrators complete control. Upgrading vulnerable physical security systems with the latest access control technology greatly enhances overall campus safety, but it doesn't have to break the budget. Wireless access control offers all of the benefits of wired solutions, but at a fraction of the cost.
School, university and hospital security managers need an informed and up-to-date source of guidance when determining the scope of their access control projects. Consultation is essential when planning the best solutions for your facility's current and future needs.
In this video with Campus Safety magazine, American Direct CEO Bryon Whetstone talks about the challenges schools, universities, hospitals and other organizations experience during new construction and renovation projects in dealing with contractors and subcontractors. He also discusses the benefits of access control software integrated into smart locks, video surveillance systems, turnstiles, elevators, non-security systems and more.