Hazing Prevention Methods for Schools and Universities
Experts have many different hazing prevention recommendations, which ones should your school be following?
Hazing prevention can take many forms, and administrators have adopted varying strategies to put a stop to it on their campuses.
Hazing is defined by hazingprevention.org as "any action taken or any situation created intentionally that causes embarrassment, harassment or ridicule and risks emotional and/or physical harm to members of a group or team, whether new or not, regardless of the person's willingness to participate."
Programs aimed at hazing prevention have mostly been well intentioned and properly executed.
Still, success has not come easy, in part because the unfortunate reality is that hazing is seen as an integral part of campus culture to many students.
But hazing is not harmless. Traumatic injuries, both physical and psychological, happen all the time. In many cases, institutions and the media find out about hazing after someone has been hospitalized or died. Coerced drinking (82% of hazing deaths involve alcohol), beatings, abandonment in isolated areas, inappropriate touching and other forms of severe abuse are common results of hazing.
As of 2015, 44 states in the country had a hazing law, with the 2011 death of former Florida A&M marching band member Robert Champion seen as an eye-opener for campuses across the country (check out this interactive map to find your state's hazing law).
Another problem is that hazing, although deceptively common, is often done in secrecy during private "initiations" where victims are pressured to keep quiet, according to Franklin College professor Hank Nuwer, who is also a hazing expert with the 32 National Campus Safety Initiative, a program aimed at helping colleges make informed campus safety decisions.
Below Campus Safety outlines the nature of hazing in K-12 and higher education campuses, and then summarizes some expert recommendations on hazing prevention.
Hazing at Colleges and Universities
Hazing, although deceptively common, is often done in secrecy during private "initiations" where victims are pressured to keep quiet.
According to Hazing in View: College Students at Risk, more than half of all college students involved in clubs, teams and organizations experience hazing.
Campus Safety has reported on multiple hazing deaths, some that have led to charges against as many as 37 people.
Hazing at K-12 Schools
Hazing in college may be more well known to the public, but Hazing in View also found that 47 percent of students entering college have been hazed. Hazing occurs in middle schools as well as high schools, and affects people of every gender, race and socioeconomic class.
Hazing in high school is the most common form of K-12 hazing. Hazingprevention.org reports that 1,500,000 high school students are hazed each year. As teenager's brains develop, things like coerced drinking, drug use and physical beatings can take an even larger toll.
Only five percent of hazing victims reported they felt comfortable reporting it to an authority figure. Fear of retribution, isolation and bullying can be even stronger forces in small school settings.
Campus Safety has reported on multiple instances of sexual hazing in high school locker rooms or while athletic teams were on trips.These cases have led to lawsuits and criminal charges.
Staff members at K-12 schools should reach out to nearby colleges to learn how they're implementing anti-hazing programs. These efforts can take many shapes.
Hazing Prevention Starts with Education
Another problem is that nine out of ten students who have been hazed in college don't consider themselves hazing victims. Hazingprevention.org recommends when students are engaging in group activities, they ask themselves:
Is the activity free of mental anguish or physical discomfort?
Am I being asked to keep this activity a secret?
Are all members of the group engaging in the activity together?
Does the activity have inherent value?
Schools must send a clear message to students that hazing is not tolerated on campus and anyone engaging in hazing behaviors will be held accountable.
Train Staff and Faculty Members to Recognize and Prevent Hazing
Because there are many different forms of hazing, there are many different signs an individual may be the victim of hazing. Some of those signs may seem harmless, but they are part of a larger problem that can have serious repercussions for the safety of your campus.
Around 40 percent of student respondents in Hazing in View reported that a coach or club advisor was aware of hazing activities. That means hazing prevention starts with training faculty and staff members on how to recognize, report and put a stop to hazing.
Signs of hazing from Hazingprevention.org inlcude:
Participation in degrading tasks of servitude
Unexplained weight loss, injuries or illness
Sleep deprivation
Increase in secrecy and unwillingness to share details
Withdrawal from normal lifestyle resulting from physical or mental exhaustion
Wanting to leave the organization or team with no real explanation
Hazing Prevention
Experts have recommended schools and universities take several steps to prevent hazing. One of the most common recommendations is the educational efforts we've already mentioned.
Hazing prevention efforts should be inclusive of all students involved in organizations and athletic teams on campus. In addition to those groups, all students, staff, administrators, faculty, family members and even alumni should be targeted with hazing prevention efforts to change the culture around hazing. These hazing prevention efforts should be based on the most current research available.
Melissa Lucchesi, the lead victim advocate for the Clery Center's Security on Campus, also made the following suggestions:
Teach students and "pledges" alternatives to hazing that still promote group cohesiveness while not harming or humiliating new members.
Have a clearly stated policy against hazing, including consequences for failing to abide by the policy.
Organizations or teams should be sufficiently monitored by advisors or coaches who have been trained on hazing.
The 32 NCSI anti-hazing group recommended publishing an online record of fraternities and sororities that have been cited for hazing violations. This empowers students and parents to familiarize themselves with Greek Life and other campus organizations.
Other 32 NCSI recommendations include:
Anti-hazing efforts should be annual rather than a one-time campaign.
Banning alumni found to have hazed from campus.
Provide an anonymous tip reporting system.
Hazing has been going on for decades; it's not going to disappear overnight. Schools and universities should be continually evaluating the effectiveness of their hazing prevention efforts and adjusting them accordingly.
Even if you don't have any hazing prevention programs or policies in place, you can start making plans today. Using the resources in this article and talking with your peers at nearby institutions can be a great way to start!
Read Next: Meet 11 Amazing People Who Are Keeping Your Kids' Schools Safe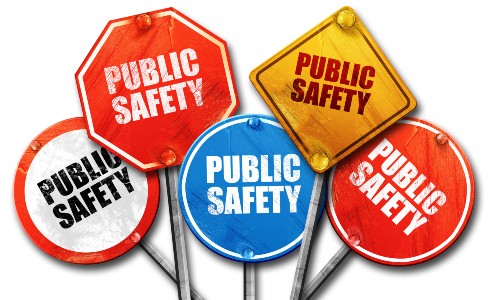 Leading in Turbulent Times: Effective Campus Public Safety Leadership for the 21st Century
This new webcast will discuss how campus public safety leaders can effectively incorporate Clery Act, Title IX, customer service, "helicopter" parents, emergency notification, town-gown relationships, brand management, Greek Life, student recruitment, faculty, and more into their roles and develop the necessary skills to successfully lead their departments. Register today to attend this free webcast!