25 Tasks to Consider When Developing a Response Plan for Armed Assaults
Here's a simple list to help you improve your active shooter response plans.
The following article originally ran as part of a larger story titled Active Incident Training, Preparing for the Future Threat.
The sheer scope of an active shooting incident is almost too large to exercise.
Below I consider just a few (25) of the considerations/ tasks a department must address if it is to develop a flexible and effective capability against an armed assault on campus. We must ask ourselves to what extent are we exercising these required capabilities.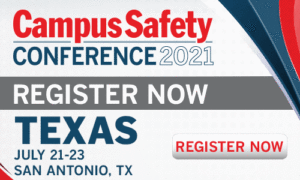 Article author Lt. John Weinstein will be presenting "Cultural Diversity, Stereotypes & Implicit Bias: Improve Training & Address Misunderstandings" at this summer's Campus Safety Conference taking place in San Antonio, Texas, July 21-23. For more information and to register,
CLICK HERE.
1. Establish an incident command post in a safe location
2. Identify safe ingress routes and staging areas
3. Exercise for all types of potential incidents; not just those involving firearms
4. Deal with the media who might enter the crime scene, potentially jeopardizing their own and others' lives, contaminating evidence, slowing response, etc.
5. Coordinate with other agencies, both to enhance the response and to avoid blue-on-blue violence
6. Agency-specific and joint communications requirements and protocols (Does dispatch participate in training exercises?)
7. Deal with distraught parents arriving at the scene
8. Deal with concealed carry permit holders who happen to be on campus
9. Deal with vehicle-borne and booby trap bombs in the building under attack as well as secondary locations
10. Deal with evacuees and ensure none are shooters
11. Train nonsworn staff to play a positive role in the response
12. Perimeter operations
13. Traffic control, both for incoming responders and evacuating college personnel
14. Anticipate what to do if an active incident transitions to a hostage/barricade situation, which requires completely different tactics, such as slowing things down and negotiation
15. Intelligence gathering from evacuees
16. Tourniquet application, officer self-aid and officer rescue
17. Breaching operations
18. Deal with a suicide bomber
19. Officer comfort in an extended scenario
20. Officer recall
21. Continuity of operations at non-involved campuses
22. Keep senior college administrators informed
23. Identify/man family reunification points, along with protocols to keep everyone safe
24. Rescue Task Force, Protected Corridor and Casualty Collection Point operations
25. Post incident evidence collection, control and crime
scene management
Read Next: A Path to Developing Effective Incident Response Teams at Your School
Read More Articles Like This… With A FREE Subscription
Campus Safety magazine is another great resource for public safety, security and emergency management professionals. It covers all aspects of campus safety, including access control, video surveillance, mass notification and security staff practices. Whether you work in K-12, higher ed, a hospital or corporation, Campus Safety magazine is here to help you do your job better!
Get your free subscription today!