The Right Site Assessment Can Save You
Tactical site surveys can improve the work and learning environments of healthcare and educational facilities. Here's how campuses can use these tools to reduce crime and violence, enhance anti-terrorism efforts in the community, reduce workers' compensation claims, cut maintenance costs and minimize civil liability.
Every hospital, school and university should be evaluated by a properly coordinated tactical site survey team at least once a year. More comprehensive than a fire inspection, crime prevention through environmental design (CPTED) assessment or simple security audit, the tactical site survey is a multidisciplinary hazard and vulnerability review of the facility, grounds, parking areas and surrounding neighborhood. This proactive process is designed to find and correct common hazards. It is also a crisis preplanning activity where critical information about the campus is noted and recorded for use by public safety response officials.
Campuses can't afford to ignore the tactical site survey because tragic situations that this type of process can help avert occur regularly around the nation. These incidents often create a massive drain on human and fiscal resources and, even more tragically, often involve death or serious injury to victims. The administrative time spent on a single major safety occurrence can be greater than the time spent coordinating annual tactical site surveys for decades.
For example, one university spent more than $3 million on a safety incident involving an unsecured television that fell on a staff member. In another case, a small rural district spent more than $7 million – a third of its annual budget – in the first 30 days after a shooting.
On one tactical site survey coordinated by the School Safety Project of the Georgia Office of Homeland Security, team members found 13 cylinders containing Freon in a boiler room next to a rickety metal shelf holding four gallons of chemicals. If the two ever combined, they would create deadly phosgene. This posed a significant risk because just outside the boiler room was the air intake for a building with an average occupancy of more than 400 people.
Additionally, the county emergency management director who participated in the survey estimated that if an accidental mixture had occurred, an evacuation radius of three miles would have been required to protect the surrounding community. While the components in this case might easily have remained for years without ever being mixed, if they had combined, the impact on the institution and its inhabitants could have been catastrophic.
Needless to say, examples like these demonstrate a critical need for tactical site surveys. Helping those with fiscal responsibilities grasp the magnitude of some potential safety incidents can help them understand the need to devote time and budget to safety.
A Comprehensive Approach With Local Participation Works Best
Traditionally, many organizations have relied on fire inspection personnel to conduct fire prevention assessments and security consultants to coordinate security or safety audits of their facilities. While a fire marshal can be very helpful in finding fire hazards, and a qualified safety consultant can often pinpoint numerous vulnerabilities relating to security, these approaches are one-dimensional. They are not as valuable as the comprehensive all-hazards approach of the tactical site survey combined with the annual fire inspection by fire service professionals.
For less than the cost of one security audit, which can run $20,000, a campus can develop an internal team with the expertise needed to coordinate tactical site surveys every year. By using local experts in areas such as fire, law enforcement, public health and emergency management to assist in their annual assessments, a school system or other organization will dramatically impact the level of safety and emergency preparedness in its facilities.
Another reason why hospitals, schools and universities should coordinate their own tactical site surveys is simple: the greater the local ownership of the process, the greater the likelihood a review will positively impact a campus' attitude toward safety and security.
By involving staff in the tactical site survey process, a lasting change in the way people view their workplace can be achieved. The most cost-effective way to incorporate qualified consultants is to have them train your staff to coordinate tactical site surveys and to present awareness presentations to other staff. By internalizing the tactical site survey process and moving beyond the rudimentary security audit, lasting, positive and significant cultural change can occur.
Broad Range of Disciplines Should Be Involved in Process
The tactical site survey process is powerful, yet relatively simple. A group of individuals from a variety of disciplines comes together. Ideally they should include local law enforcement, fire, emergency management, public health, risk management and insurance personnel.
These individuals can assist internal personnel (such as facilities, environmental health and safety, security, campus/hospital police and administrative). Other disciplines have also proven to be of great benefit. For example, school nurses often spot a number of hazards that may be missed by other team members.
Typically, the individual coordinating the tactical site survey will not be able to line up all of the disciplines listed above for all of the tactical site surveys that are to be conducted. The rule of thumb is to obtain the assistance of as many of the different individuals who can assist as is practical. Three people will spot more hazards than one person, and a six-person team will spot more things than a team of three.
Participants Must Cooperate, Iron Out Differences
Of course, finding people who are dedicated, focused on the safety of the people they serve, and who above all else are team players is one of the most important aspects of the tactical site survey process. By bringing the experts of different disciplines together, a considerable amount of information can be obtained.
For example, a fire official can point out not only fire code violations, but also explain why they are dangerous. By having the various disciplines in the facility together, differences of professional viewpoints are ironed out so that future compliance with various aspects of safety and preparedness will flow more smoothly. If there isn't a meeting of the minds, confusion can result.
One Colorado fire department convinced school officials to place large numbers outside every window in every school in the district so firefighters could quickly identify rooms from the outside. As soon as the installation was complete, school resource officers pointed out that this would allow a noncustodial parent or gang member to easily locate a victim's classroom from outside the school.
Conversely, there have been cases where police urged school officials to replace the locks on classroom doors to enable teachers to lock down more rapidly, only to have fire officials threaten to shut down the school if the locks were not removed because they violated local fire codes. By bringing the different disciplines of your facility together, these types of conflicts can be resolved or even avoided.
Checklists Help Coordinate Tactical Site Survey Process
Managing the information from all of these different disciplines can be an unwieldy task. A tactical site survey checklist, however, can help coordinate the process. But it should be noted that generally, the most serious risks do not appear on anyone's list.
While it is a valuable tool to help guide the process and record findings, there is a tendency for people to get too focused on the checklist and miss obvious safety hazards. Members of the tactical site survey team should use a list but also make sure they are focused on what they are seeing. Once the survey is completed, its results must be handled appropriately. There are two basic schools of thought on the retention of records generated by the tactical site survey.
The first is to destroy the checklist as soon as enough time has passed to allow corrective action to be taken. The rationale behind this approach is that an injury or death could occur after a hazard has been found and noted but not yet corrected.
If
you choose to take this route and destroy your documents after a period of time, it is imperative the process be rigorously consistent. If this is not done, allegations are likely to surface that the documents were destroyed to cover up evidence.
The second approach is to maintain the records for a set period of time, usually between two and four years. The benefit of this method is that it provides tangible evidence in court that the organization exceeds government safety standards by proactively finding and fixing most hazards. Although officials at some campuses strongly disagree with this approach, the majority of insurance companies recommend it.
Consult with legal counsel, risk management and/or your insurance company for guidance on the approach that may be best in your state. Whatever route you choose make sure you maintain consistency.
---
Michael Dorn serves as the executive director for Safe Havens Int'l Inc., a nonprofit campus safety center. Chris Dorn has authored and coauthored three books on campus safety and has worked in more than 25 states and five countries. Michael and Chris can be reached via the Safe Havens Web site at www.safehavensinternational.org.
To subscribe to the unabridged print version of Campus Safety magazine, click here.
If you appreciated this article and want to receive more valuable industry content like this, click here to sign up for our FREE digital newsletters!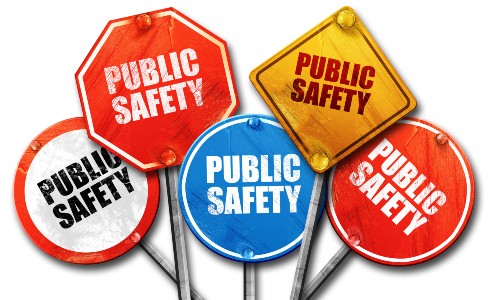 Leading in Turbulent Times: Effective Campus Public Safety Leadership for the 21st Century
This new webcast will discuss how campus public safety leaders can effectively incorporate Clery Act, Title IX, customer service, "helicopter" parents, emergency notification, town-gown relationships, brand management, Greek Life, student recruitment, faculty, and more into their roles and develop the necessary skills to successfully lead their departments. Register today to attend this free webcast!