On-Body Video: A Double-Edged Sword
On-body video systems can protect officers from lawsuits, but agencies need to be prepared for the footage to go public.
Photo: Mark W. Clark
When Sgt. Troy Burnett of the Ogden (Utah) Police Department burst through the door of a residence during a search warrant service, his response to the sight of a man charging at him and his fellow officers with a MacGregor Lite golf club was predictable: He fired his .40 caliber Glock 22 to stop the threat. About the last thing on his mind at that moment was the helmet cam he was wearing, but it was one of the first things that his supervisors and others reached for in evaluating his decision to fire.
After reviewing the images captured on video during the September 2010 drug bust, Weber County Attorney Dee Smith concluded that the suspect was a half-second away from closing the distance and making good on his threat. His opinion was reflective of most who've taken a long hard look at the incident: Burnett's shooting of 45-year-old Todd Blair was clearly justified.
But when that same footage found its way to the Internet courtesy of the Salt Lake Tribune, a less empathetic audience criticized Burnett's actions. Before long, Burnett was receiving death threats; even his children were subject to harassment.
The outcomes of our profession's growing use of videos to chronicle the actions of its personnel have varied from good to bad. Rarely is this as attributable to the technology itself as how it is used, or misused, by others. Until recently the technology was limited to traffic stops and perhaps some critical incidents. Now, video can be used to document every aspect of a law enforcement officer's shift. But the question that each agency has to answer remains: Is that a good thing?
"I am a huge fan of any camera," says Sgt. Ken Farr with the Lakeway (Texas) Police Department. "From an officer's standpoint, it gives me protection from any false allegation."
Indeed, for many years video footage taken with dashboard-mounted cameras has provided the public with greater understanding of the dangers that officers face in the field. Extending the range of the traditional dashcam, the increasing use of portable cameras worn on an officer's uniform or body has been particularly beneficial in documenting volatile situations that take place out of eye line of car-mounted cameras.
Frank West, former director of public safety (fire and police chief) with the city of Big Rapids, Mich., never had an opportunity to wear uniform cameras—but his officers did.
"It actually got to the point where they would complain if one didn't work," notes West, who became something of an advocate himself. "As an administrator, 90% of my use was positive. When the complaining citizen was shown what had happened, they went away."
Today, any officer-involved action is subject to being recorded, if not by the officer, then by others at the scene. Less favorable legacies of partially recorded events—most infamously illustrated by the Rodney King incident—include strained police-community relations, civil litigation and possibly violent unrest, as well as the potential for suspects to be given the benefit of the doubt while officers are unduly painted in a bad light. A distinct advantage to officers wearing video recording technology is the opportunity to provide objective documentation of what transpires during an incident, from start to finish.
Body-worn cameras capture the emotional state of the suspect and victims inside the house on domestic violence calls from the moment the door opens. On traffic stops, these devices record the visible interior of the car and the actions of the driver and passengers from the officer's viewpoint. Upon later review, these videos provide more convincing testimony about the precursors and causes of an officer's actions than the officer's word alone. Statements made and actions taken by people at the scene are not easily refuted later. In those incidents that take place in front of an in-car camera, additional body-worn cameras afford secondary—and more fluid—perspectives of the same event.
In addition to assisting investigators in clearing complaints against officers, the use of body-worn cameras also facilitates the collection of witness testimonies in the field. Brian Muller, a sergeant with the Los Angeles County Sheriff's Department, notes that it hasn't always been easy to conduct a supervisory investigation in the aftermath of a deputy-involved use of force, particularly as it relates to interviews of participants and onlookers.
"One nice thing about this technology is that it avails a low-profile means of getting people to speak with you candidly without being so consciously aware of the fact that they're being videotaped," says Muller. "Usually people clam up when they see a video camera in such close proximity for fear that their homies and others may end up seeing them talking with police."
There are other less obvious ancillary benefits to body-worn technology. For one, it helps reduce the time spent documenting an arrest. It has become standard practice for many narrative blocks to feature two simple words: "See video." In these instances, the picture is truly worth more than 1,000 words.
Advancements in video recording technology over the past decade have led to improved video quality using less cumbersome cameras. Most body-worn cameras today offer 640-by-480 resolution, providing a clear picture under normal lighting conditions. And companies that produce body-worn video for law enforcement are increasingly improving their products to provide better sound and picture quality in real-life field environments such as low light and inclement weather.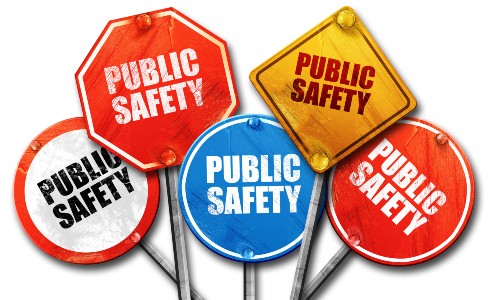 Leading in Turbulent Times: Effective Campus Public Safety Leadership for the 21st Century
This new webcast will discuss how campus public safety leaders can effectively incorporate Clery Act, Title IX, customer service, "helicopter" parents, emergency notification, town-gown relationships, brand management, Greek Life, student recruitment, faculty, and more into their roles and develop the necessary skills to successfully lead their departments. Register today to attend this free webcast!