Webcasts
Holistic Student Safety: Physical Security, Life Safety, Cybersecurity & Healthy Buildings
Join our panel of building technology experts as we dive deep into how shared responsibilities across multiple functional areas can provide a more holistic approach to school safety.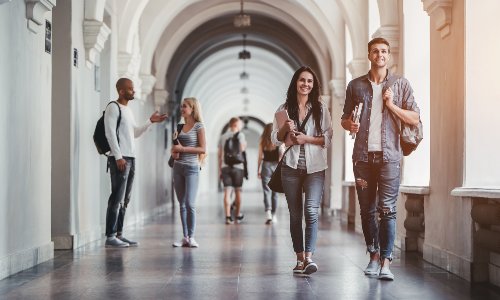 Developing a safety plan that meets both stringent security requirements and stays within often lean budgets requires an integrated approach. From emergency preparedness to risk management to indoor air quality, student safety extends beyond the classroom. And as technologies evolve and change, so does the need for customized safety plans that meet the needs of each education institution.
Our panel of building technology experts will explore how shared responsibilities across multiple functional areas can provide a more holistic approach to student safety.
This webinar will offer expertise on:
Building Management: How real-time data is being used to create safer learning environments for students and teachers.
Physical Security: What school administrators need to know about leveraging predictive technology to alert of potential campus emergencies and reduce law enforcement response times.
Cybersecurity: How an enhanced cybersecurity strategy and mitigation plan can help schools prepare, protect, and recover against cyber threats.
Panelists:
Joe Chapin, Business Development Manager, Honeywell
Joe joined Honeywell in 2019 after 23 years in the telecommunications sector with various roles in engineering and sales.
He holds a Bachelor's degree in Business from the University of Oregon and a Masters in Telecommunications Project Management from Stevens University.
Bruce Montgomery, National SLED – FED Vertical Market Manager, Honeywell
Prior to joining the Honeywell team, Bruce spent 5 years in the United States Marine Corps in the Embassy Program in India, Pakistan & South America. Bruce was a sworn police officer for 25 years in the Chicago area. Bruce spent most of his career as a Criminal Investigator, FBI SWAT certified, Tactical Rapid Deployment Instructor for Police where he spent fourteen years training school administrators and teachers in Active Shooter response to school violence.
Bruce is published as a contributing author in the John Reid Book "Electronic Recording of Criminal Interrogations". Recent school safety articles in Campus Security Magazine, SDM Magazine, Security Sales & Integration Magazine.
Yu-Gene Chen, Cyber Security Product Manager, Honeywell
Yu-Gene Chen is a professional in product development, product management, project management, engineering, Marketing, and Business management. He is an engineering graduate of Georgia Tech (Georgia Institute of Technology) with over 34 years (15+ with Honeywell) in discovering customer needs and creating solutions that solve customer problems. He started out as a practicing Power Plant Engineer and Field Engineer and shifted focus to gain broad cross-industry experience in oil and gas, chemical, food and beverage, chemical, pulp and paper, manufacturing, medical, and IT networking that has led to being granted 10 patents in wireless mesh networking, security, and control applications.
Annalie Simmons, Account Manager for Education and Commercial Real Estate, Honeywell
Annalie is the Honeywell Key Account Manager for Education and Commercial Real Estate vertical applications for the Americas. Prior to that, she was the Business Development Representative in support of Healthcare, Hospitality, Utilities and Government verticals which involved construction research and establishing relationships with industry influencers. Annalie has seven years of experience in the fire industry and currently resides in Virginia.
If you appreciated this webcast and want to receive more valuable industry content like this, click here to sign up for our FREE digital newsletters!