Video: Conservative Activist Attacked on UC Berkeley Campus
The man reported to police that he was pushed repeatedly and punched in the face while he was recruiting students for an organization on campus.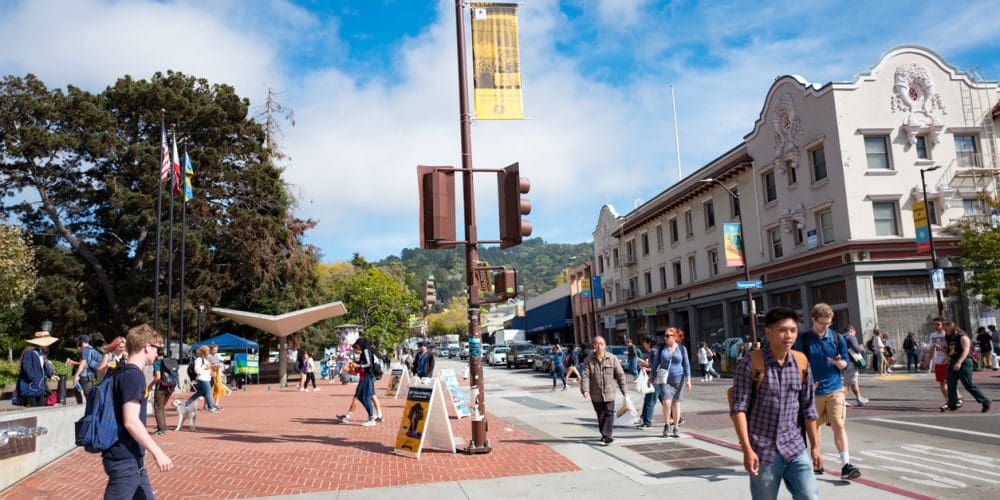 While recruiting students for a grass-roots conservative organization at the University of California Berkeley last week, an activist was confronted by two men. One of them began pushing him repeatedly and then punched him in the face.
The UCPD said that officers responded Tuesday afternoon to a "report of disturbance," on upper Sproul Plaza, a center of student activity, according to CNN.
Hayden Williams, who is not a student at UC Berkeley, works for the Leadership Institue, which helps conservative students and clubs on campuses.
He was asked by the group Turning Point USA to assist them in recruitment.  The group is meant to be a network for Americans on college campuses and in high schools.
Williams, 26, has injuries to his face, police say, and the incident was captured on multiple witness' phones. On Tuesday, it was announced by UC Berkeley officials that the police were preparing to apprehend a suspect on a felony charge.
With his black eye still visible, Williams told Fox Business that the culture on campus is hostile when it comes to conservative students. He said some students were upset by a sign he was holding that said, "Hate Crime Hoaxes Hurt Real Victims."
"They're willing to use violence if they think you're being too controversial," Williams said.
During the week following the incident, campaigns have been led by activists at UC Berekely and nationally, questioning how the school and police would respond.
"Wonder if it would be the same if a conservative beat up a leftist on the Berkeley Campus?" President Trump's son, Donald Trump Jr., tweeted Tuesday afternoon.
Within days of the attack, authorities said they had identified a possible suspect. Campus activists, however, felt the response time was too slow.
Charlie Kirk, founder of Turning Point USA asked, "A conservative is the victim of a vicious attack, and no one is held responsible?"
Despite speculation, university spokesman Dan Mogulof confirmed neither the university or police department acted with any liberal bias, reports the Washington Post.
"We have a police force that is dedicated to one thing and one thing only, and that is enforcing the law and bringing people to justice," Mogulof said. "They operate independently, and they are professionals."
Bradley Devlin, a UC Berkeley student and former president of the College Republicans on campus, also condemned the chancellor for not sending a mass statement about the incident.
Soon after, Chancellor Carol Christ and Vice Chancellor for student affairs Stephen C. Sutton addressed the community in a letter.
"Let there be no mistake, we strongly condemn violence and harassment of any sort, for any reason," they wrote. "That sort of behavior is intolerable and has no place here. Our commitment to freedom of expression and belief is unwavering."
2 responses to "Video: Conservative Activist Attacked on UC Berkeley Campus"