4 Ex-Fraternity Members Sentenced in 2013 Baruch College Hazing Death
Four former members of Pi Delta Psi at Baruch College were sentenced for their role in the 2013 hazing death of freshman pledge Michael Deng.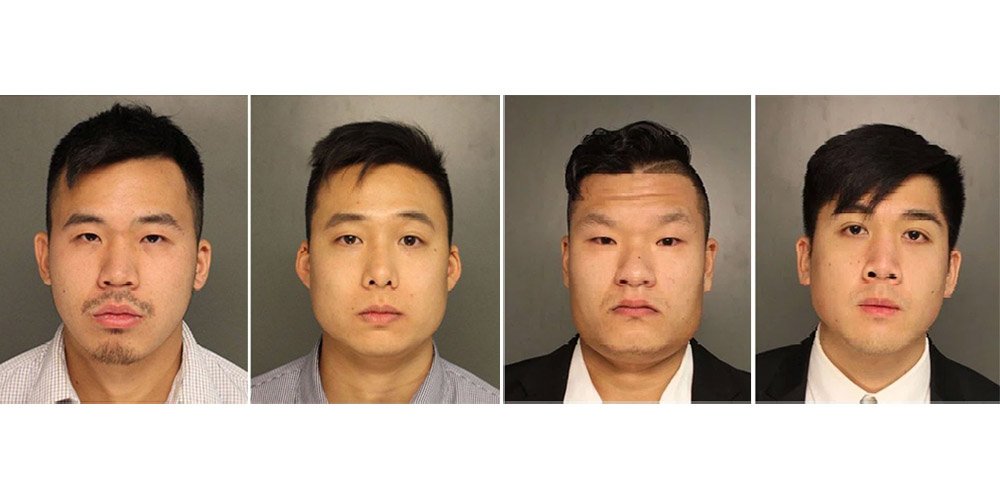 Four former members of a Pennsylvania fraternity were sentenced on Monday for their involvement in the 2013 hazing death of a pledge.
In November, a jury found Pi Delta Psi Inc. guilty of aggravated assault and involuntary manslaughter after freshman pledge Chun "Michael" Deng died from a traumatic head injury during a December 2013 retreat. The organization was also found guilty of hindering apprehension and conspiracy.
Court records indicate the Baruch College fraternity rented a house in the Poconos where they conducted a hazing ritual known as the "glass ceiling". Deng was blindfolded and forced to wear a 30-pound backpack as he was pushed and tackled.
Deng was knocked unconscious and fraternity members waiting an hour before taking him to the hospital. He died the next day.
Sheldon Wong, 25, Charles Lai, 27, Raymond Lam, 24, and Kenny Kwan, 28, pleaded guilty in May to felony charges of voluntary manslaughter and hindering apprehension, according to Reuters.
Wong and Lam were sentenced to 10 to 24 months in prison and Kwan was sentenced to 12 to 24 months. Lai, who spent 342 days in jail after he was unable to make bail, was sentenced to time served. The state sentencing guideline for the crimes was 22 to 36 months.
"Not one person out of 37 picked up a telephone and called an ambulance. I cannot wrap my head around it," Monroe County President Judge Margherita Patti-Worthington said. "So there's something greater going on here, and I think it's probably really prevalent. We see across the country these issues in fraternities."
Defendants, Victim's Mother Speak During Sentencing
Courts documents show Lai attempted to cover up the incident and Kwan was the last one to tackle Deng. Lam also "got physical" with Deng and fled before police arrived.
During the sentencing, all four defendants apologized. Lam was the most emotional and stated he is consumed by guilt and has attempted suicide, reports The Post-Gazette.
"The guilt will never go away, and I think about Mr. Deng every day," he said.
Pi Delta Psi has also been banned from operating in Pennsylvania for 10 years and was fined $112,500 for its role in Deng's death. The fraternity has 25 chapters in 11 states.
The judge and the prosecutor condemned Pi Delta Psi for labeling itself as a victim of "rogue" fraternity members, stating the fraternity encouraged hazing for years.
"It's the epitome of a lack of acceptance of responsibility. It's their rituals and functions that led us here today," Monroe County Assistant District Attorney Kim Metzger said in court.
Deng's mother, Mary, wrote a statement to the court, demanding a sentence that would send a message across the country about hazing.
"This punishment should forever remind them of the pain and grief we will carry for the rest of our lives as the result of their misconduct," Mary Deng wrote. "It is also our hope that the punishment may also save lives by sending a clear message to other fraternities and their members that the outrageous tradition of hazing will no longer be tolerated and must be ended once and for all."
Add Another Layer of Protection to your Campus
If you're responsible for protecting a campus — whether at a hospital, K-12 school, college or university — then Campus Safety magazine is a must-read, and it's free! As the only publication devoted to those public safety, security and emergency management personnel, issues cover all aspects of safety measures, including access control, video surveillance, mass notification, and security staff practices.
Take advantage of a free subscription to Campus Safety today, and add its practical insights, product updates and know-how to your toolkit. Subscribe today!