Campus Security Pros Brace for the Tariff War: Are You Prepared?
If more tariffs on products made in China go into effect this January, the cost of campus security equipment will increase.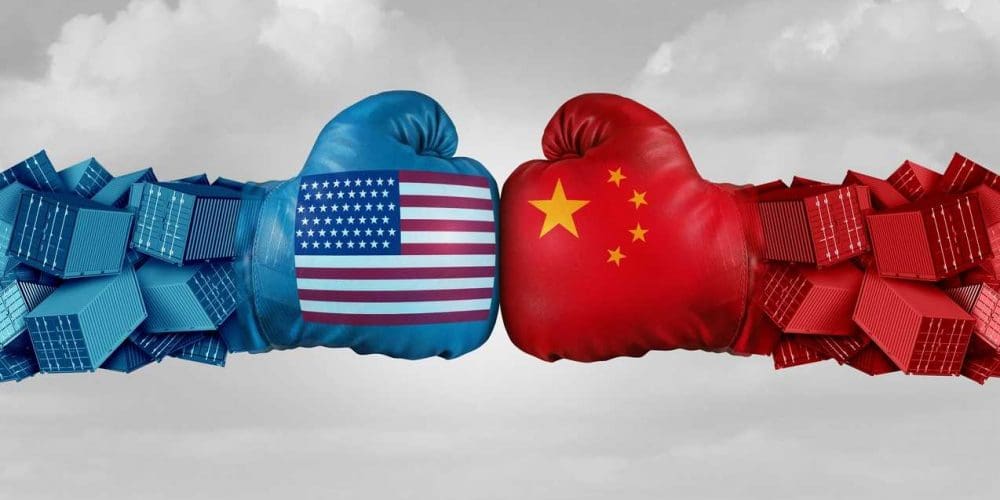 Editor's Note: This article originally appeared in CS' sister publication, CE Pro. Although it was written for the custom electronics industry, the tariffs that are referenced in this story also apply to a significant number of campus security products, such as cameras, DVRs, access control readers, intrusion detection systems and panic alarms, many of which are also made in China.
---
It's a nervous time in the industry. Although the economy is strong, increased tariffs proposed by President Donald Trump against China could result in significant cost increases of technology and equipment.
Manufacturers who source products from China have already been hit by tariff increases ranging from 10 percent to 25 percent, but the looming tariff proposed for January 2019 is another knee-buckling 25-percent increase that would hit a much broader swath of Chinese-sourced products.
Vendors are literally "meeting every day" to come up with potential solutions, ranging from negotiating with their contract factories to absorb some of the price increases, to ramping up production through the end of 2018, to moving factories outside of China and petitioning for exemptions with the U.S. government.
For end users, the blow is not quite as hard as it is to manufacturers, but it still could represent a significant portion of your technology and equipment upgrade budget.
Security professionals who are specifying projects for 2019 with 2018 prices could be in for an unpleasant surprise when they are ready to buy the equipment after the new year. For those who do not watch their bottom lines as closely as possible, the tariffs could be costly.
But all of this nervousness could be for naught. The tariff situation is fluid. Trump and his Chinese counterparts could simply be playing an international game of brinksmanship, waiting for the other side to cave in. A resolution is possible before the new tariff takes effect.
In fact, last weekend, Trump and Chinese President Xi Jinping had a successful meeting in which they expressed optimism that the new tariffs won't be levied after all, reports CNBC. However, if they don't have a deal in 90 days, the threatened tariffs will be implemented.
No one knows what will happen, but failing to prepare and hoping the whole situation gets swept under the rug is probably not a viable option.
Manufacturers, Associations React
For those not familiar with the situation, over the summer the United States and China engaged in a tit-for-tat tariff war with escalating tariffs on various products. Specifically, the third round of tariffs affected $200 billion worth of China-sourced products at a 10 percent duty rate. According to news reports, that tariff affects more than half of all products imported from China. Those same tariffs are set to increase to 25 percent on Jan. 1. Also, President Trump has threatened to add another $267 billion in tariffs.
"There have been three tariff increases for products that we manufacture and sell, and we were hit by all three increases … unfortunately," says Joe Roberts, executive vice president, products and marketing, at Nortek Security Controls (NSC), which owns its own primary factory in Shenzen, China. "The increases we have been hit with range from 10 percent to 25 percent. The amount is just too large to absorb completely. Our leadership team talks about this every week, without exception. We have reached out to the associations for support to try to get a louder voice than just our business. We have also followed up without our government representative to look for waivers and exemptions on some of the products. Finally, we have looked at other sourcing options, or moving from where we source product to mitigate additional expense."
So far, the U.S. economy has not winced. But the newly planned tariff hikes are worrying some in the industry, along with investors, as the U.S. stock market is taking some wild swings.
"I don't understand why the president is trying to put cold water on the hot economy," says Gary Shapiro, president and CEO of the Consumer Technology Association (CTA). "Ten percent hurts, but 25 percent makes companies reel."
He admits, "What China has done has certainly not been fair. They have dumped product on the market, stolen intellectual property and other things while we just stood by. The president has stood up, and he was right to do that, but raising tariffs is the wrong way to go."
Shapiro believes we are repeating history with the proposed new tariffs.
"In 1930, the Smoot-Hawley tariffs created a trade war. No one wins in a trade war," Shapiro says.
He is referencing the Tariff Act of 1930, which is commonly known as the Smoot–Hawley Tariff. The act implemented protectionist trade policies — raising U.S. tariffs on more than 20,000 imported goods — in an attempt to protect U.S. jobs during the onset of the Great Depression.
The act, however, had a detrimental effect on the U.S. economy due to the retaliatory tariffs enacted by other countries, just as the Great Depression was beginning. According to Wikipedia, "the consensus view among economists and economic historians is that the passage of the Smoot–Hawley Tariff exacerbated the Great Depression."
Trade associations, such as CEDIA, are also watching the situation closely.
"Many manufacturers in the CEDIA channel use parts from or manufacture products in China, and the current and potential tariffs will hit electronic products," says Tabatha O'Connor, global president and CEO of CEDIA. "Those increases will be felt along the entire distribution chain."
She recommends that end users and technology integration firms discuss the potential for price increases due to tariffs. Both should review their proposals and related policy, taking tariffs into consideration.
Meanwhile, manufacturers are also reacting. Some are moving their factories outside of China to places like Taiwan to avoid the tariff, while companies like LG are even opening factories in the United States for their appliances and other products.
One industry expert who just returned from China told me he spoke with one cable manufacturer that planned to manufacture the cable at its factory in China, then ship it to Vietnam, where the cable will be unpacked and relabeled before being shipped to the United States.
U.S.-Based Manufacturers Also Feeling the Pinch
One unintended consequence from the tariff war is the effect on U.S.-based manufacturers. JL Audio in Miramar, Fla., employs 500 people and builds its speakers in America, but it sources many of its components from China.
"I don't think the intention was to punish companies like us," says Doug Henderson, senior vice president of home audio at JL Audio. "It's ironic that U.S. manufacturers are being hit."
He says the 25-percent tariff increase in January would be "potentially more dire" to the market, but adds, "As long as the market stays strong, it will not be debilitating at any level."
The company sources its magnets and steel from China. It has already been hit by a six-percent increase, which it absorbed for a while, but the 25-percent hike will be on top of that.
On the flip side, some companies are quick to point out that their products are made 100 percent in the U.S. and are "tariff-free".
However you slice it, the tariffs can hurt. CE Pro 100 integrator Shawn Hansson of Logic Integration in Lone Tree, Colo., has already done the math for his business. Last year, Logic Integration purchased $2.8 million worth of products at dealer cost.
"Just a five percent increase would cost $140,000 (assuming all the product was affected by the tariffs). That could be almost half of our yearly NET profit," says Hansson. That cost will most certainly be passed on to end users.
For example, Hansson is already reacting to the surcharges he is getting from vendors. When possible, his company has absorbed some of the price increases, but for proposals out for 2019, the company has added an addendum to all its contracts that states:
"Due to regulatory changes and possible upcoming economic variations in Tariffs, the cost of bulk wire and other parts may increase up to 25% starting Jan 1, 2019. All existing proposals which are not assigned a live PO will be subject to revision and potential increase."
What's Next in the Tariff War?
As yet, there has been no exclusion request process set up for the next round of tariffs. CTA signed a broad coalition letter to the administration requesting an exemption process and currently, Sen. Pat Toomey (R-PA) is circulating a sign-on letter for senators to U.S. trade representative Robert Lighthizer, calling for an exclusion process. Senator Toomey is looking for a Democratic co-sponsor of the request.
CTA is encouraging its member companies to contact their senator requesting he or she sign the Toomey exemption letter.
Shapiro adds, "There is definitely reason to question the legality of what the president has done. Suing the government is a real consideration but we haven't decided to do that. As far as we can find there is only one economist who supports these tariffs, and he just happens to work in the White House."
Could it get even worse? Yes.
"It is our belief that 'list four' [of tariffs] has already been drawn up and tariffs on another $267 billion will essentially hit all product shipped from China," says Sage Chandler, the CTA's vice president of international trade.
---
Jason Knott is Emerald Exposition's editorial director. He has covered low-voltage electronics as an editor since 1990. He joined EH Publishing (now Emerald Expositions) in 2000, and before that served as publisher and editor of Security Sales, a leading magazine for the security industry. He served as chairman of the Security Industry Association's Education Committee from 2000-2004 and sat on the board of that association from 1998-2002. He is also a former board member of the Alarm Industry Research and Educational Foundation. He is currently a member of the CEDIA Education Action Team for Electronic Systems Business. Jason graduated from the University of Southern California.
2 responses to "Campus Security Pros Brace for the Tariff War: Are You Prepared?"