OpenEye Releases New 4K Outdoor IP Bullet Camera
OpenEye's new line of outdoor IP bullet cameras includes an autofocus lens, true WDR and H.264 smart encoding technology.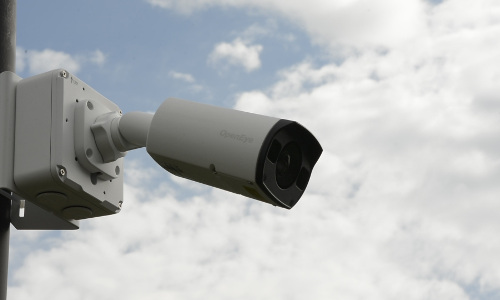 OpenEye, a provider of Cloud-managed video surveillance solutions, announces the release of a new outdoor bullet camera line that features resolution up to 4K (8MP).
The OE-C7094-AWR (4MP) and the OE-C7098-AWR (4K/8MP) are outdoor IP bullet cameras with a 2.8 – 12mm motorized autofocus lens that provide clear images and easy setup, according to the company.
WDR and true day/night are said to offer improved low light performance and adaptive IR technology to prevent overexposure of objects close to the camera in low light/night situations.
The cameras also feature H.264 smart encoding technology to compresses video which can improve remote viewing performance and allow the recorder to store more video in less storage space.
All OpenEye IP cameras are fully ONVIF-compliant and are compatible with the OpenEye web services platform, allowing multiple users to view footage and perform remote setup using a web browser.
OpenEye 4MP Outdoor Autofocus IP Bullet Camera (OE-C7094-AWR) specs:
Maximum Resolution: 4MP
Lens: 2.8-12mm Motorized autofocus lens
Image Sensor: 1/3" Progressive CMOS
Field of View: 27° (tele)~91° (wide)
Operating Temperature: -31 – 140 °F (-35 – 60 °C)
Power Consumption: Max 9W
Input Voltage: PoE / 12vDC
Dimensions: 9.6" x 3.8" x 2.9" (244mm x 96mm x 74mm)
Weight: 1.7lb (0.75kg)
OpenEye 4K Ultra HD Outdoor IP Bullet Camera (OE-C7098-AWR) specs:
Maximum Resolution: 8MP
Lens: 2.8-12mm Motorized autofocus lens
Image Sensor: 1/2" Progressive CMOS
Field of View: 31° (tele)~98° (wide)
Operating Temperature: -31 – 140 °F (-35 – 60 °C)
Power Consumption: Max 9W
Input Voltage: PoE / 12vDC
Dimensions: 9.6" x 3.8" x 2.9" (244mm x 96mm x 74mm)
Weight: 1.7lb (0.75kg)