3 Ways Key Control Helps Campus Security During Covid
How can you benefit by using key control to manage campus buildings during the pandemic?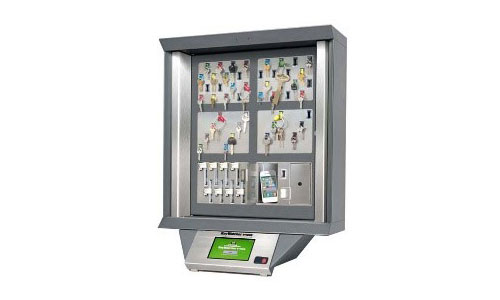 Covid-19 presents ever-changing challenges to campus security and facilities administrators who need to continually determine which buildings or areas of buildings to close due to outbreaks and potential spread of the virus. Another challenge is trying to create a comforting and welcoming environment to the campus community, which is almost futile for administrators in the days of plexiglass, masks, and six-feet-apart seating.
Campus settings involve multiple buildings, dedicated entrances, and restricted areas that need multiple security measures in place. The Morse Watchmans KeyWatcher Touch with TrueTouch software is an instrumental security solution that expedites management of all campus physical keys.
The KeyWatcher Touch allows designated campus security and facilities administrators to access data to assign users, track key usage, locate keys, schedule automatic reports, and set up email and text notifications when a key is overdue. The KeyWatcher Touch can also help the security and facilities departments manage the uncertainty of how Covid-19 affects and changes campus procedures in these three ways:
Networking Capability – Administrators across campus can access data from the key control system when it is networked and connected to the entire campus security system. Administrators can see what keys are out, who has them, and when they are due to be returned. An immediate audit trail of every issued key is available and ensures that the last person to take out any keys can be identified. Networking and the immediate access to data ensures that locked doors can be opened or opened doors can be locked when needed.
Integration Ready – The KeyWatcher Touch can be integrated with leading access control systems so administrators can get an even bigger picture of actual time security. Most campus facilities have either key or card access or a combination of both. Integration of key control and access control systems allow for immediate automatic tracking and accountability and keys are released only to authorized users. Also, both physical keys and access control cards can be stored safely and securely within the KeyWatcher Touch cabinet with several module options. The key module stores keys, the locker-type modules secure assets such as wallets, cell phones, car keys, jewelry, prescriptions, tablets, and more, while the card module stores access cards or credit cards.
Contact Tracing – When Covid outbreaks occur on campus, administrators can track who had access to the affected areas of the campus including buildings, vehicles, and equipment. Contact tracing using key control can reduce potential disease transmission by identifying and limiting the footprint and movement of infected individuals – helping to stop the spread. By conducting an audit of movement within the campus, security and facilities administrators can determine what parts of the building need to close and who needs to be quarantined before accessing other areas or campus buildings.
Security and facilities management during Covid is complex, along with other challenges such as making sure campus police and fire crews can unlock or lock doors in the event of a fire or a serious campus threat. Morse Watchmans is the original developer and global leader of electronic key control, and the KeyWatcher Touch is a favorite industry standard among security professionals around the world. What more, the KeyWatcher Touch provides reliable and convenient assistance during the challenges of the Covid pandemic.