Hardening Your Most Vulnerable Area on Campus: Glass Windows and Doors
The right window safety and security provider can help you select the best product for your application, ensure it's installed properly and even provide you with assistance in finding funding for your project.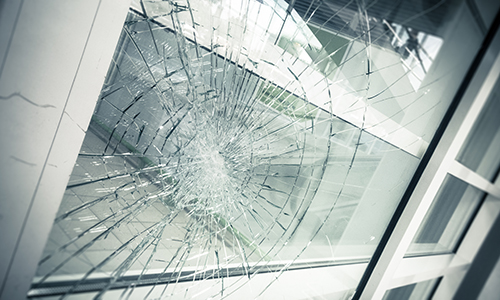 There is no time like the present for schools, institutions of higher education, healthcare facilities and other organizations to bolster the security of their glass windows and doors, which are some of the most vulnerable areas on campus.
Window safety and security film, as well as other types of solutions that reinforce glass in windows and doors, can slow down or in some cases even stop entry by thieves, vandals, rioters, looters, active shooters and other criminals. Reinforced glass can also reduce the accuracy of gun fire; limit criminals' ability to see into a building while allowing building occupants to see out of their windows; and mitigate damage caused by bomb blasts.
These products not only provide greater security, they can also protect campus communities from flying debris during high-wind events such as hurricanes, and even protect pedestrians from falling debris in seismic events. Other benefits include noise reduction and energy conservation. Additionally, these solutions can improve building aesthetics and support campus branding, as well as promote learning in schools and healing in hospitals with images, logos, mascots and other information printed on window safety and security film.
To top it all off, window protection solutions are relatively inexpensive to install and maintain, offering a good return on investment.
The benefits of window safety and security products are many. However, if the wrong product is selected or if a solution is installed incorrectly or in the wrong location, a campus won't get the most out of its investment. Even worse, it could be wasting its precious resources. That's why it's critical for a campus to select the right vendor to help properly select and install its window security and safety products.
How to Select the Right Vendor
School, hospital and university officials must verify the credentials of any window security/safety vendor it is considering. Does the company have references? Have the products they are representing been tested, and are they appropriate for a particular application? Is the company an authorized dealer/installer for the manufacturer's products they are selling? Have they been awarded and successfully completed government contracts or contracts for other K-12 districts, institutions of higher education or healthcare facilities?
NGS Films and Graphics (NGS) has the expertise, experience and comprehensive set of tools to help schools, colleges, hospitals and other organizations select and install the right window protection products. The company offers multiple tiers of solutions and leverages its expertise to recommend and install only the right products for its customers.
NGS' lowest recommended tier is a 3M Ultra 800 8mil thick micro-woven layer of film installed on the inside surface and attached with the 3M Impact protection adhesive that adheres to the inside of the glass. Tier one is designed to slow people down from unauthorized entry, meet small missile impact and stop window fragmentation. It is recommended to add an additional exterior weatherable 3M S70X 7mil on the exterior for maximum protection from an applied film application.
The company's highest tier is its "Riot Glass," which is an access denial product that is virtually impenetrable and has been HP white tested (passed) and passed large missile impact testing for Miami Dade protocol. NGS also offers a wide range of products in between its lowest and highest tiers to address the unique needs of each campus it serves.
Type of Window Glass Product Installed Depends on Location
NGS staff are keenly aware that the location where a window security and safety product is installed is critical. One product is often not appropriate for all locations on campus. For example, the company's Riot Glass, which is often installed in secure front vestibules, might not be appropriate for classrooms.
With school buildings, NGS utilizes a "zoned" approach to application that mirrors the Federal Commission on School Safety's guidance. In essence, entrances are the highest risk and thus ZONE 1. Other exterior glazing for non-entrance areas are ZONE 2, and interior door windows are ZONE 3. This approach helps facilities and security professionals identify where the highest priority areas are and where to prioritize the budget.
The company can also help campuses address installation and structural challenges in older buildings. For example, K-12 schools, many of which were built 40-50 or more years ago, often have wooden door and window frames, which can affect the performance of glass protection products. NGS frequently encounters these types of situations and can recommend mitigation solutions.
NGS Helps Clients Find Funds for Upgrades
Another significant issue that campuses experience is funding for their security and safety projects. NGS helps their campus clients with this challenge by constantly monitoring the grants that are currently available. Those grants might be federal, state or local. Additionally, foundation grants and other types of grants can often be applied to window security and safety products as well.
"We really are an advocate trying to find money for the district because we know that every K-12 campus could use a security improvement on some level," says NGS Managing Partner Beale.
NGS also helps their clients with their grant narratives.
"There have been districts we've worked with on grants like the Homeland Security grant that is pending right now," says Brian Hudley, NGS' manager of government programs. "That is a terrorism-focused grant. It addresses domestic and international terrorism. While it relates to schools and school shootings, active shooter situations are viewed as a domestic terrorism issue. We really key in on those topics that are going to give our customers the best opportunity to actually receive those grants."
For a free assessment and consultation on your campus glass windows and doors, visit NGS online at filmsandgraphics.com or email [email protected].