Wire Guards 101: What Are They and Why are They Needed?
In busy environments, it is easy for important safety equipment installed on the walls and ceilings to get damaged, vandalized, or stolen. Broken equipment can be a danger to students, staff, and visitors.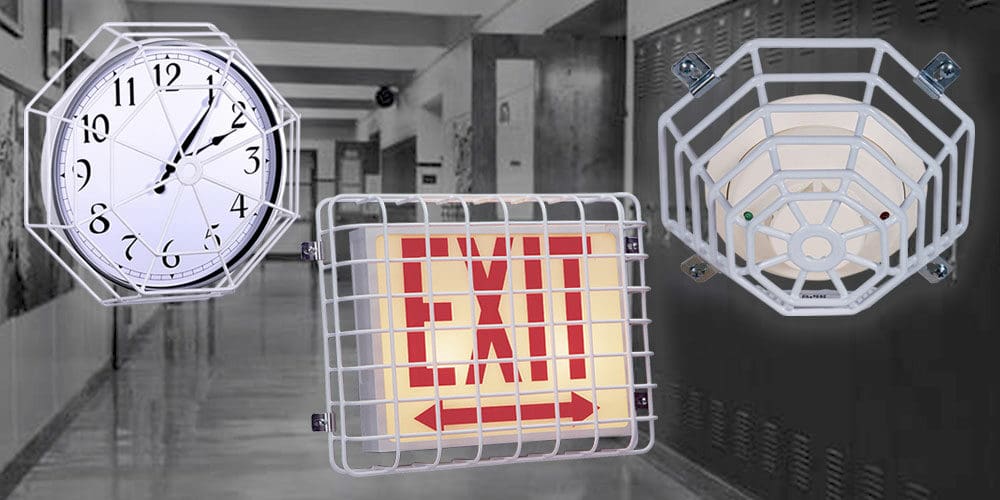 With safety being a main concern in today's world, it is vital to protect important building equipment against impairment. Campuses have a responsibility to keep visitors secure, and a failure of that obligation can put everyone involved at risk.
Providing a safe environment for students, teachers, or guests when they enter an educational institution is paramount. The assumption is no longer that they are protected from hazards or are in a secure environment. There are several situations and instances that can put innocents in danger, and if a safety-related incident occurs, these factors are magnified.
Broken equipment can pose an increased threat to buildings and a guest's wellbeing. A few easily maintainable building upgrades can help make these safety concerns avoidable.
Wire guards can protect appliances from being broken and therefore they remain functioning and continue to enhance the protection of individuals. The cages are available in several sizes, shapes, and styles to suit a range of specific applications.
Uses for Wire Guards
Wire cages can serve a different function based on its unique design. The most significant benefit of guards is that they keep safety devices protected from vandalism, accidental damage, and theft while also ensuring they remain operational and accessible to authorized personnel.
Smoke Detectors
Installing a metal guard over smoke detectors help protect both the smoke detector from damage and individuals occupying the school or university. If a smoke detector is purposely or accidently hit with a stray object, it could break or get damaged. The outcome may cause the smoke detector to malfunction or become inoperable, placing occupants in danger. Ensure any guard used for fire safety equipment is tested, approved, and listed by UL.
Exit Signs
Exit signs are often illuminated so visitors can locate an exit in the case of an emergency. If they are broken (by vandalism or accidentally) and not operating correctly, it could pose a threat to an individual's safety and wellbeing. While protecting these costly signs, you must also ensure they are legible and visible. Protective wire guards are the perfect durable but non-obstructive solution to keep exit signs safe from vandalism and accidental damage while also ensuring they remain operational.
Horns/Strobes/Speakers/Beacons
Protecting horns, strobes, speakers, and beacons with a wire guard helps provide maximum protection for these important notification appliances. They guard against vandalism and accidental damage and ensure they are operational when needed to alert of an emergency.
Clocks
Clocks are a fragile but necessary device that has great potential to get broken. Often mounted high on a wall, an investment in protective cages for clocks in gymnasiums, auditoriums, and facilities will help save time and money by avoiding the difficult and time-consuming replacement before it is necessary.
Motion Detectors
PIRs and motion detectors serve a key purpose in monitoring areas and buildings at risk of potential harmful situations. Protecting these devices is vital to building security and safety. Protective wire guards help reduce the resulting malfunctions.
Decrease the threat of equipment impairment with STI's extensive line of highly durable wire guards. The cages help offer excellent protection to vulnerable devices and help prevent vandalism, accidental damage, misuse, and theft.
Constructed of tough, 9-gauge steel wire coated with corrosion resistant polyester, stainless steel, or cold-rolled steel, STI's cages help ensure protected devices are operational and increase the productivity of the units. They also help decrease maintenance costs, reduce time spent replacing broken or stolen units, and waiting for parts to arrive.
STI offers wire guards in numerous models and sizes to protect smoke detectors, horns/strobes/speakers, clocks/bells, exit signs, motion detectors, clocks, speakers, and much more. Several units are UL/cUL Listed.
Rely on STI® for covers, cages, alarms, and buttons. For more information on Safety Technology International's solutions to school and university campus problems, visit their website www.sti-usa.com/cs96 or call 248-673-9898.