Video: 2 Ex-Police Officers Charged After Confrontation with Student
The video shows one officer hurling the Brusly middle schooler to the ground and the other slamming him against a desk during an arrest.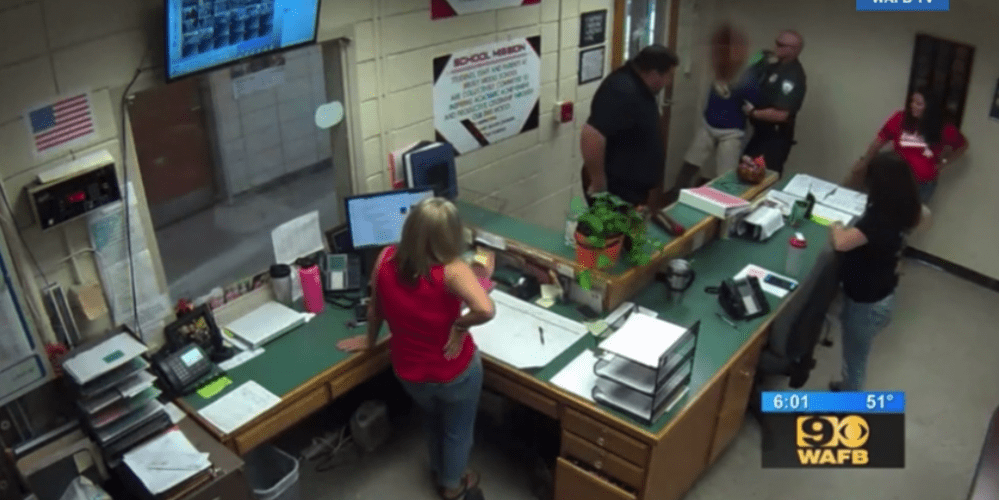 A grand jury in West Baton Rouge (La.) indicted former Brusly police officers Dan Cipriano and Anthony Dupre after a video of them being violent with a middle-schooler was leaked.
Cipriano was charged with simple battery and Dupre received a charge of malfeasance in office for their actions when arresting the student, reports CBS News.
Simple battery could lead to six months in prison or a fine of up to $1,000, according to the Washington Post. Malfeasance in office is punishable by up to five years in prison or a fine of up to $5,000.
Video surveillance from Oct. 5 shows one officer wrestling with the 14-year-old boy at Brusly Middle School and slamming him to the ground. The second officer enters to assist in handcuffing the student and hurls the student against a desk.
Staff members seem to be in panic during the incident and one woman is shown covering her face with her hands.
While it is still unknown why the officers reacted with such force, the boy admitted to reaching for Dupre's gun at one point.
The video shows a staff member picking one of the officer's unholstered guns from the floor and putting it on the table.
Both officers resigned in November upon the request of Brusly Police Chief Jonathan Lafeaux. He felt the officers would face difficulties if they continued to work in the community.
Family members of the teen feel that more severe charges are warranted, especially with the video evidence.
"They feel the DA's office did an adequate job by bringing it quickly to the people but feel it was a slap on the wrist based on the tape and what they saw done to their grandson," said Kwame Asante, the student's attorney.
According to the student's grandmother, he was left with bruises on his face and cut on his chin, but she fears for the possible psychological effects he could face.
"Since the incident, he went in the hospital with more trauma," she said.
(Video Source: The Washington Post)