Flu Epidemic Closes Schools in at Least 14 States
One elementary school in Oregon was closed for a week after 43 percent of its students and staff were affected by the flu.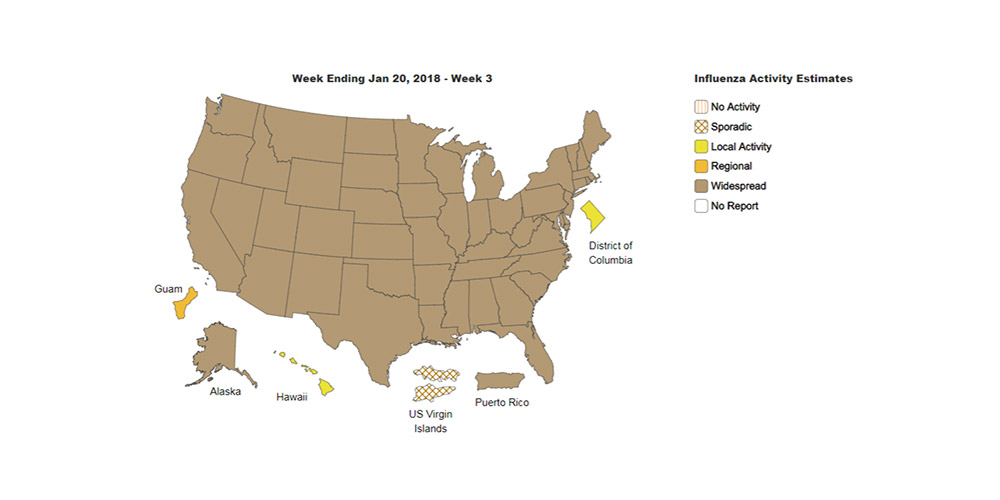 Schools and school districts across the country have shut down for up to a week at a time to help impede the spread of the flu virus.
Classes at Bishop Lynch High School in Dallas resumed on Monday after it closed last week to allow work crews to disinfect the campus, reports CBS News.
"This year it really is unprecedented," said school nurse Patty Barton. "I probably saw about 30 kids here on Monday and sent 10 home."
Saint Thomas Aquinas, also in Dallas, was closed on Monday after more than 10 percent of its 815 students contracted the flu.
"Even if we miss anything, the kids will have a chance to go home, get healthy and hopefully not bring that virus back to school," said Superintendent Matthew Vereecke.
Two other Texas school districts were closed for a week in mid-January. Last week, 20 Oklahoma school districts and three Tennessee school districts closed. An elementary school in Oregon closed its doors this week after 43 percent of its students and staff were affected by the flu.
Additional states that have closed schools include Alabama, Arkansas, Florida, Idaho, Illinois, Michigan, Missouri, North Carolina, Ohio and Virginia.
According to the Centers for Disease Control and Prevention, the 2017 to 2018 flu season is listed as "moderately severe", roughly comparable to the 2014-15 outbreak but more severe than last year. Forty-nine states have seen especially high flu activity which has remained at the same level for three weeks in a row.
The second week of January marked the first time in 15 flu seasons that all states in the continental U.S. recorded widespread flu activity simultaneously, reports Newsweek.
Dr. Daniel Jernigan of the CDC says the H3N2 flu is hitting patients over 65 hard, but other strains are affecting droves of younger patients. Thirty-seven children have succumbed to the virus.
"Since the winter holidays, we've seen kids are really making up the predominant amount of influenza," said Jernigan. "They're taking that back to school, getting transmitted there. I think that's really what's driving a lot these visits to the outpatient clinic."
Flu-related child deaths reported to the CDC during regular flu seasons since 2004 have ranged from a low of 37 deaths during the 2011-12 season to a high of 171 deaths during the 2012-13 season.
By the end of last week, more than six percent of all people going to clinics and emergency departments had flu-like symptoms, which is the highest level of activity since the deadly swine flu pandemic nearly 10 years ago.