Product Spotlight Sponsored Content
StudentSafeTM – Empower Staff, Help Students, and Reduce Violence
Revolutionary software platform combines low-level concern documentation, BTA workflows, and case management to develop holistic view of individual students.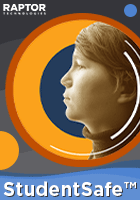 Raptor StudentSafeTM is a revolutionary new software platform that helps schools recognize, document, support, and manage individual student well-being. With StudentSafe, your entire staff is empowered to catalog low-level concerns so you can help students earlier when their challenges are more manageable.
StudentSafe combines a proven solution for documenting low-level student concerns with robust Behavioral Threat Assessment (BTA) workflows and case management features, for a complete solution that enables schools to get a complete view of a student.
If a student crosses certain behavioral thresholds, then the Threat Assessment Team can access a well-documented chronology of concerns, including any prior interventions and results. This critical information can lead to better outcomes for the student.
StudentSafe is easy to use with customizable categories, alert options & data privacy permissions.