Securitech Debuts Hands-Free Solution for Operating Door Levers
Ayzre™ can be retrofitted onto existing door levers and is designed to be operated with an elbow or an arm.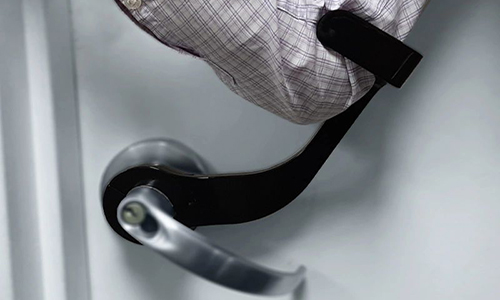 Securitech, a lock manufacturer, introduces Ayzre™, a hands-free solution for operating door levers.
Developed in response to the call for infection control and the prevention of community spread of COVID-19, the door opener extends above the lever, allowing latch retraction and pushing or pulling without the use of hands.
"While arm and foot pulls may be added to push/pull doors and automatic opening features can be added to create powered door openings, there was no simple, hands-free solution to open doors with levers and latches, which are quite common because they are required for fire-code compliance," reads a press release from the company. "Understanding this, as well as the need to reduce the community spread of germs, Securitech rose to the challenge of creating a cost-effective way to allow hands-free operation of these doors."
Ayzre is antimicrobial, ADA-accessible, fire-rated and designed for use with Grade 1 cylindrical level locks, many mortise lever locks, and exit device lever trim. It can be retrofitted onto existing door levers and does not mar the door with new drill holes. It can also be removed without any visible door alteration.
The mechanical hands-free attachment, which allows users to instinctively operate the door with an elbow or arm, can be installed in under 10 minutes and comes with various inserts to ensure a tight fit to any door handle.
"We pride ourselves on our customer focus and the needs of our end-user. While we've built a reputation for our forced-entry and locking products, we are a solution-focused company at the end of the day," says CEO Mark J. Berger. "Deep down, after the storm passes, we all want to return to normal, but we also want a safer, more hygienic normal. That's why we invented Ayzre. And an unintended benefit is that we've also created a terrific, long-term aid for people with disabilities to open door levers easily."
To learn more about Ayzre or to see a brief product demonstration, visit Securitech.com/Ayzre.