Alarm Lock Releases Keyless School Security Solution for Lockdowns
Alarm Lock's ArchiTech wireless access locks allow for remote keyfob-activated lockdown to secure a single lock or a global group.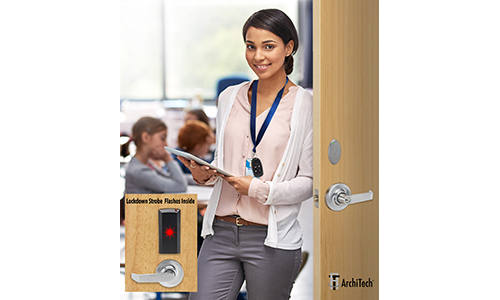 The Alarm Lock division of Napco Security Technologies introduces its ArchiTech wireless access locks, a keyless school security measure for controlling access to classrooms, or any doors, in an emergency.
The ArchiTech allows for remote keyfob-activated lockdown, securing one lock or a global lock group. Once lockdown is activated, a bright red strobe light is illuminated on the inner door to give occupants, i.e., sheltering in place, greater peace of mind that the door is securely locked down, according to the company.
ArchiTech wireless access locks can retrofit any standard door lock and come with customizable choice of lever-handle, multi-technology ID reader shape and finish, provide keyless access for up to 5000 users, plus 500 auto lock/unlock event schedule and nearly 40K time-/date-stamped/user log of activity.
ArchiTech Networx LocDown N90L Series wireless access control locks are easily, securely networked spanning a few doors or campus-wide, via 802.11 or Ethernet and Gateways (controlling up to 63 locks each for hardware savings), according to the company.
Locks can be programmed and log-queried with free Alarm Lock software, or in real-time applications, using optional Enterprise software platforms, from integration partners: Continental Access CA4K, Lenel OpenAccess Alliance (OnGuard) and Connected Partner for Software House.
The press release was originally published in July 2018.