Aiphone Announces New JO Series Video Intercom for Visitor Surveillance
The updated JO Series allows for superior access control and front-door access onsite from virtually anywhere using a mobile app.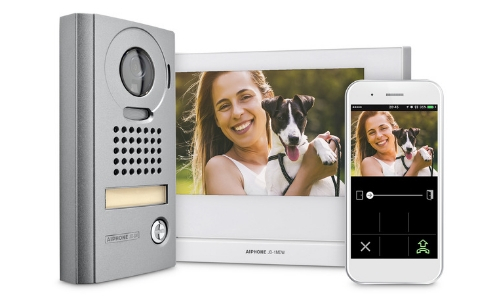 Aiphone, a manufacturer of intercom and security communication products, announced the updated JO Series video intercom to enable access control and surveillance from virtually anywhere using a Cloud-based mobile app. The new entry-level unit also has built-in options for recording visitors at an entrance point.
The updated JO Series provides door access using either a hard-wired, in-home master station with a 7-inch screen or wireless control inside or outside a home or business via the mobile app.
"Regardless of internet availability or speed, our on-site monitor ensures calls from the door can be answered", says Dana Pruiett, marketing manager, Aiphone. "Whether it's a package delivery, a child's play date or an unexpected visitor, users will always be able to see, talk and then decide whether or not to unlock."
Aiphone says the monitor acts like a video answering machine with built-in memory to store up to 10 audio and video recordings. If more memory is needed, there is space to add up to a 32GB Micro SD card. There are no other storage or access fees.
Up to eight smart devices can be connected to a single JO Series system. The app gives users the ability to see and talk with visitors and unlock their door from both Apple or Android devices.
The app requires the user to use a sliding motion to unlock a door in order to prevent accidental unlocking. This added layer of security is well-suited for opening the door for any visitor or even a delivery person, according to the company.
"The JO Series system is ideal for busy families wanting to control entry into their home or for roaming business staff and guards needing to remain connected to answer visitor calls and unlock doors," says Pruiett. "And these simple-to-use stations have the same professional quality and reliability customers expect from the Aiphone brand."