3xLOGIC Announces VISIX Facial Recognition Camera
When using 3xLOGIC's app, you will be able to capture facial images and choose persons of interest to place on a watch list within the camera.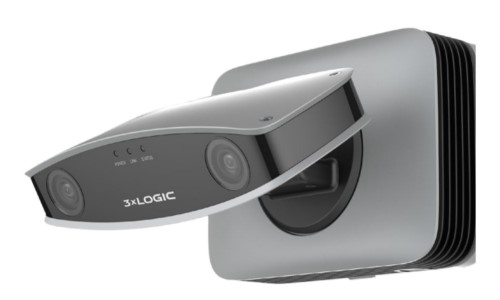 3xLOGIC, a provider of integrated, intelligent security solutions, releases the VISIX facial recognition camera, a low-cost, dual-lens 2MP camera for instant face detection, identification and notification of persons of interest.
Using camera-based analytics and 3xLOGIC's exclusive facial recognition application and mobile app, users can review facial images captured by the camera and choose persons of interest to place on a watch list within the camera, according to the company.
The selected individuals can then be securely communicated via standard AES encryption to the VIGIL TRENDS Cloud portal and responsible parties can be notified locally on-site via WiFi using the 3xLOGIC facial application (iOS or Android) or via the VIGIL server or client.
3xLOGIC says VIGIL TRENDS can automatically synchronize all sites with new persons of interest so users have the latest images. Watch lists can be easily managed through any web browser with internet access to add additional details or make adjustments.
VIGIL TRENDS also features an advanced searching feature that can show events when a specific person of interest on the watch list was detected across multiple sites.
3xLOGIC VISIX Facial Recognition Camera Specs:
Image Sensor: 1/2.8 inch Progressive Scan CMOS x 2
Range: 10 meters
Lens: 4.0mm, 6.0mm, 12.0mm x 2
Working Temperature: -10⁰C ~ 40⁰C (-14⁰F ~ 104⁰F)
Communication: 1 RJ45 10M/100M/1000M self-adaptiveEthernet port, 1 RS-485 interface
Audio Input: 1 audio input (line in)
Audio Output: 1 audio input (line in), 1 audio output (line out), mono soundtrack
Alarm Input: 1
Alarm Output: 1 output (up to 24 VDC 1 A or 110 VAC 500 mA)
You can learn more about the product here.
---
This article originally ran in Campus Safety's sister publication, Security Sales & Integration.