Solving School Communication Challenges with Mass Notification Software
Communication and security are top priorities for K-12 districts and higher educational institutions. In this article, we'll cover eight ways schools can use mass notification software to solve communication and security challenges.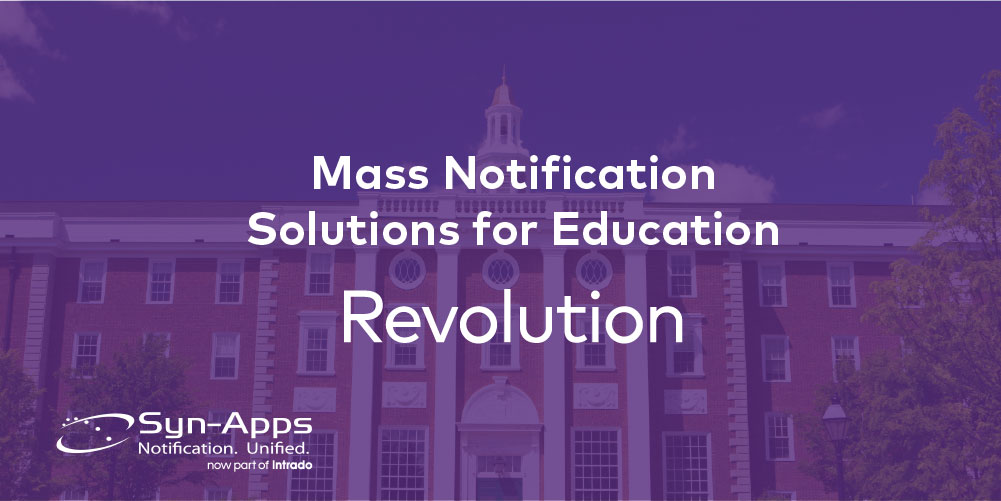 Communication and security are top priorities for K-12 districts and higher educational institutions. There are numerous communication methods and various processes that need to be followed to respond accordingly but without the right systems and processes, schools may face challenges that could result in devastating outcomes in the event of an emergency.
Intrado Revolution is an emergency mass notification platform that enhances physical security and improves day-to-day communication by integrating with existing network infrastructure to provide a unified solution to manage emergency and non-emergency communication.
Revolution* streamlines hardware, software, cabling costs, and optimizes the entire notification management process to rapidly deliver information in a timely manner to keep faculty, students, and security personnel safe and informed while they're on school grounds.
In this article, we'll cover eight ways schools can use Revolution to solve their communication and security challenges.

Eight Ways Your School Can Use Notification Software:
Campus Lockdowns– Rapidly initiate lockdown procedures by integrating panic buttons or dialing a predefined phone extension to quickly secure building entry points. This process can simultaneously deliver emergency alerts to a variety of endpoints to notify faculty, students, and campus security.
Weather Emergencies– Alert students and faculty of severe weather emergencies with real-time alerts from the National Weather Service. Share pertinent information such as where to seek shelter, evacuation procedures, or school closure information with people located on or off-premise.
Smart Building Detection– Connect smart-building systems like access control systems, fire alarm panels, and cameras with Revolution. This integration can be used to activate strobe lights, alarm bells, and initiate auto-conference calls with school security in the event of improper building entry, motion detection, theft, fire, or other hazardous conditions occur.
Mobile Notifications– You never know where people will be located when an emergency strikes, which is why it's important to arm faculty and students with tools like Revolution Mobile to ensure they receive alerts even if they're outside of the building (e.g., playgrounds, parking lots, or off-campus entirely).
Dial Monitoring– Notify faculty and safety resources when someone dials a specific number, such as 911, from a phone on your network using Revolution's Dial Monitoring feature. Dial Monitoring helps schools stay in compliance with Kari's Law by alerting internal personnel when 911 is dialed and knowing exactly which classroom or office the call was placed from. This visibility helps faculty quickly respond to the situation before first responders arrive.
Incident Management & Reunification– Revolution can trigger Intrado's Safety Shield to activate incident response protocols for safety events. Safety Shield initiates automated workflows, provides faculty members with digital checklists, and reunification tools. In addition, Safety Shield can deliver important information about the situation in-line with a 9-1-1 call directly to the appropriate Public Safety Answering Point (PSAP) call taker, dispatcher, and first responder. Together, Revolution and Safety Shield provide real-time collaboration between school leaders and first responders.
Scheduled Bells & Automated Alerts– Revolution's Scheduler tool helps districts manage school bells and automated alerts (e.g., routine fire and lockdown drills). Consolidating bells, clocks, and PA systems with Revolution helps cut down costs, saves time, and maximizes the use of your school's existing communication equipment.
School Paging & Broadcast Announcements– Broadcast live, pre-recorded, or text-to-speech alerts across overhead speakers, IP phones, digital signs, and more to quickly inform people within your building.
Revolution unifies disparate technology systems to provide reliable communication and improve safety outcomes. Request a demo to learn how Revolution can help your school.
*Syn-Apps was acquired in September 2020 by Intrado and its Revolution software is now part of Intrado's Life and Safety product portfolio.

Read More Articles Like This… With A FREE Subscription
Campus Safety magazine is another great resource for public safety, security and emergency management professionals. It covers all aspects of campus safety, including access control, video surveillance, mass notification and security staff practices. Whether you work in K-12, higher ed, a hospital or corporation, Campus Safety magazine is here to help you do your job better!
Get your free subscription today!