When Should Your Campus Adopt Wireless Access Control?
Depending on the application, a wireless access control system can allow a campus to achieve wired solution functionality at a lower cost.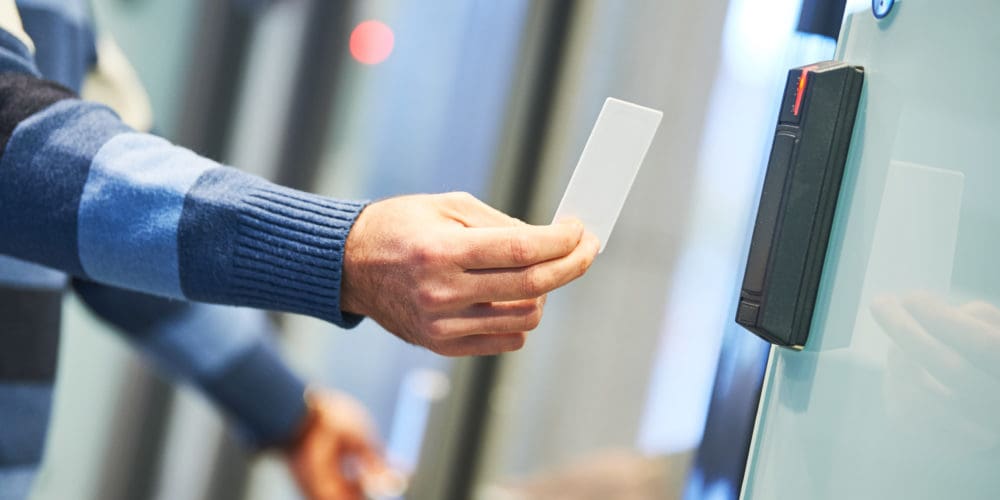 Wireless systems are proving to work with practically all of today's access control systems, so it's no surprise that they're quickly becoming an attractive alternative to traditional hardwired solutions.
Wireless access control systems deliver the same benefits as wired ones without the cost of hardwired systems. Additionally, much less time is spent on installation. Also, wireless readers are not limited to doors, as wireless solutions exist for exit devices, gates and elevators.
How Wireless Works
Simply stated, "A wireless system is a platform that allows system data to transmit back to the main panel over wireless signals instead of transmitting over hardwiring," says Brach Bengtzen, marketing manager for ProdataKey.
A wireless solution can be broken into three sections, notes Jack Lewis, technical services manager for Camden Door Controls. The first is between separate controllers. The second is from the controller to the door access location and the third, from the reader at the door to the credential device the user is carrying.
"A wireless solution between access control panels must be bidirectional with much more stringent requirements for throughput, latency, plus encryption," says Lewis. "A wireless solution for peripheral devices that includes a request-to-exit device, door position switch and card reader wired to an access control panel is usually unidirectional, sending a short momentary signal. And a wireless solution between the reader at a door to the user's credential must be encrypted and secure."
There are several different technologies used in wireless access control deployments, and of course not all of them are equal. So says Lisa Corte, director of product management, Access and Egress Hardware Group, ASSA ABLOY Opening Solutions Americas.
"Wireless electronic access control technologies are often categorized by their frequency band. Today, access control systems predominantly reside on either 2.4GHz or 900MHz bands," she says. "Many manufacturers offer their own variations within these broad RF categories, making for a highly diverse selection of individual technologies. For example, some offer alternative versions of open-architecture, secure WiFi-based wireless electronic access control in the 2.4GHz range, using either open or proprietary standards. Others offer open or proprietary ZigBee or ZigBee-based technologies in the 2.4GHz band. There are also proprietary 900MHz solutions that have been on the market for more than a decade."
She adds that WiFi access solutions can generally be installed and deployed in much less time than traditional wired openings.
"WiFi locks are offline most of the time, 'coming to life' briefly when a credential is presented, to announce user-specified alarm conditions, and at regular intervals to update access rights and transmit audit trails," she says. "With intelligent WiFi locks, access rights are stored in the lock itself, protecting it from a network or power failure and eliminating the need for access control panels."
Corte recommends such locksets for openings that have relatively stable access rights — residence halls, classrooms or office applications, for example.
Wireless Vs. Cloud & Mobile
Wireless is very different from Cloud and mobile, Bengtzen emphasizes. Wireless is simply a form of communication from one device to another, he says, while Cloud is referring to the ability to manage, configure and update systems remotely from any device.
Mobile, he adds, is all about managing, configuring and using the system from a smartphone or similar mobile device.
"Mobile apps for access control systems may communicate over WiFi, but this type is not what we're talking about when we refer to a system as 'wireless,'" he says.
While wireless, Cloud and mobile all offer many of the same benefits, they are used in very different ways, Corte echoes. Wireless typically refers to the way access control devices connect to the host system.
Cloud-based services, she notes, allow you to store data on servers owned and maintained by a third party, rather than having to assume responsibility for the cost and maintenance of onsite support, such as anti-virus software, patches, updates, backup and HVAC cooling. Cloud services can be very beneficial, Corte contends.
"Mobile can include the use of a smartphone as a credential or the use of a phone to commission access control locks in the field," she says. "More commonly, it is referring to the use of mobile credentials. All three technologies make access control easier, more affordable and more scalable, though they are used in different aspects of a deployment."
All or Nothing?
David Price, vice president corporate communications and business development for Camden Door Controls, explains that wireless access control should allow for hybrid systems to offload some of the more costly wireless devices when they are not required.
"If all the access controllers are in close proximity, it would be preferred to hardwire-network the devices, as a hardwired connection for transfer of large digital files across a network would ensure timely, reliable data transfer," he says.
Price adds that peripheral devices requiring their signals reach a control panel can benefit from wireless since controlled doorways tend to change over the life of a building.
Bengtzen also believes there are scenarios where hybrid systems are a better solution. Some forms of construction prevent strong wireless communication signals and are perfect examples where using a combination of wireless and Ethernet-connected devices can build the strongest system possible.
Conversely, he notes, there are scenarios where a customer might prefer to install a hardwired system, but there are a few locations on the property where running cabling would be either extremely expensive or even impossible. For those spots, wireless can often be used.
Wise to Be Wary?
Bengtzen cautions that many things can cause wireless signals to diminish in strength, including steel, vegetation, thick concrete, rebar and even water. It's wise to be mindful of the construction of a building and the environment around the facility.
Manufacturers that offer wireless systems should provide guidance on the correct placement of nodes and the distances they can support so as to provide needed coverage.
The flexibility of self-healing wireless mesh networks, where signals are automatically routed in the most efficient manner, may provide the most reliable performance. Bengtzen cautions that many people remain wary of wireless, and some prefer not to install it at all.
"They believe that wireless is less reliable; that interference can cause communication errors and result in system failures," he says. "In most scenarios, these are not legitimate concerns."
There is still often great concern about the risk of transmitting data wirelessly. However, according to Corte, there's been a tremendous effort to protect against such dangers.
"Wireless electronic access control technology is highly secure, capable of using AES 128- or 256-bit encryption for protection of data based on user needs," she says.
There's also been some concern over battery life, but today's energy-efficient locksets are designed to last for years on standard sources, such as inexpensive AA or camera-type batteries. Most are designed to start giving tiered warnings through the access control software and/or at the door as batteries age and voltage drops.
"Also," Corte adds, "in practice, most users maintain a program of preventive maintenance to replace batteries at regular intervals, optimizing reliability as well as cost savings."
Price agrees that, if the wireless devices are battery-powered, building owners/ managers may be worried about product dependability or the need to change batteries. These are valid concerns, he feels, and the campus will be able to get answers from the manufacturer on how their system works in their offline network condition.
"If the remote device is battery-less, such as is the case with Camden's Kinetic wireless door control system, all their questions about ongoing battery maintenance and hazardous waste disposal do not apply," he notes.
Lewis adds that wireless has limits regarding signal congestion and range. Adding physical barriers such as walls or floors can reduce range and signal strength.
"In those instances when the shared airspace is known to have a high degree of RF noise or where power cannot be provided, wireless may not be the best solution," Lewis advises.
Making the Transition
Many integrators are considering making the move to wireless installations, if they haven't already. So what specific skillsets are needed to install wireless?
"It depends on what type of wireless technology is being used," Price says. "With common signal wireless devices, no training is required. The integrator simply wires a receiver module in place of the peripheral device."
However, he adds, most manufacturers' solutions using Zigbee or WiFi require mandatory product training on antennas, addressing, configuration and testing gear to reduce technical support calls.
Campuses wanting to go the wireless route should select integrators that have educated themselves on how wireless works.
Integrators should "Know where it can thrive and know where it has its limitations," says Bengtzen. He further advises that integrators should always conduct range tests prior to an installation.
"Range tests can tell you exactly where wireless signals are the strongest," he adds. "That way you will be able to maximize the level of signal strength."
Campuses should work with their integrators to help them understand how they could better secure their facility at a lower cost than they may be expecting. Integrators can help identify openings on campus that are good candidates for wireless equipment.
"With wireless access control locks becoming so feature rich, combined with the flexibility of the types of wireless systems available, this type of system can be a fit for nearly any application," Corte says.
Erin Harrington has 20+ years of editorial, marketing and PR experience within the security industry. This article originally appeared in CS sister publication Security Sales & Integration. It has been edited.