Schools, Colleges React to COVID Surge with Online Classes, Revised Rules
In response to the huge spike in coronavirus cases, many campuses and districts are temporarily switching back to distance learning and mask mandates.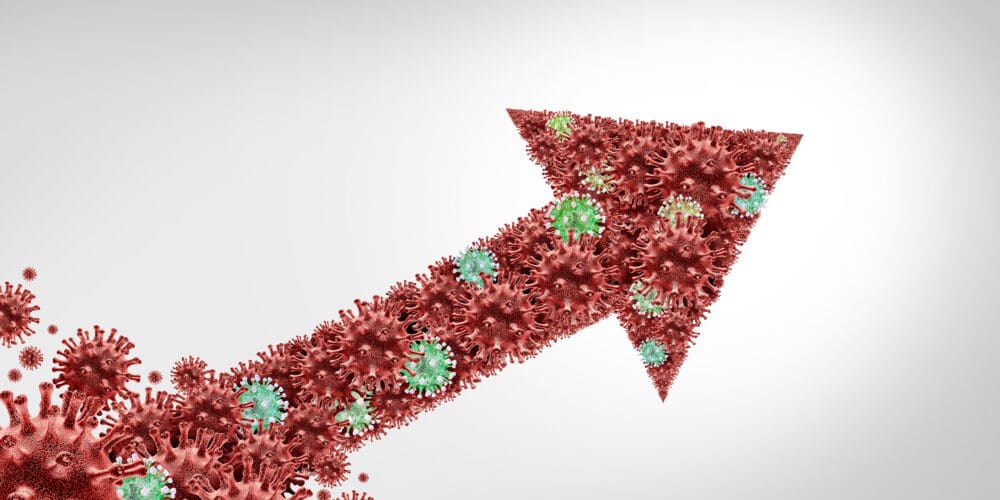 The current massive surge of COVID-19 cases is prompting K-12 schools and universities across the country to quickly adapt. Some have temporarily gone back to distance learning while others are requiring students, faculty and staff to wear face masks again.
District and college campus officials are applying the lessons they've learned about previous coronavirus surges so that the measures they implement aren't as painful. That said, the fact that more children are now in the hospital due to COVID is making many nervous.
Fortunately, on Monday the FDA announced that it has approved Pfizer boosters for children as young as 12. Additionally, the agency said it would allow boosters for children 5 years or older with compromised immune systems. The time between the second and third doses of Pfizer COVID vaccines was also shortened from six months to five months.
Numerous studies have found that vaccinations and especially third doses (boosters) are very effective at reducing the risk of severe infection or death from COVID-19 and the Omicron variant.
K-12 Schools and Districts
With K-12 schools and districts, the response to the recent surge in COVID cases has been varied. New York City Schools will use 2 million at-home test kits to increase testing for the virus, reports the Associated Press. Additionally, teachers there have advised Mayor Eric Adams to revert to distance learning, while a group of teachers has filed a temporary restraining order to make instruction remote, reports NBC New York.
On Thursday, Michigan's health and education departments urged schools to postpone or make virtual large gatherings, including sporting events, reports US News.
Meanwhile, Dalles ISD said its mask requirement will remain in place at least until spring break, reports WFAA. KVUE is reporting that a group of parents is pushing Austin ISD for stricter COVID protocols, including outdoor lunches; a delayed start to classes; requiring students, faculty and staff to wear higher-quality masks; virtual learning options; access to testing before students return to class and more.
The Germantown Municipal School District in Tennessee will require students and staff to wear masks after the winter break, reports ABC24.
In Chicago, the teachers union said its members might strike if the district doesn't meet their demands for negative COVID tests for all students – or a two-week return to remote learning, reports Fox News.
An increase in COVID cases has prompted East St. Louis School District 189 to switch to remote learning January 4-18, reports MSN, while public schools in Newark, New Jersey will switch to virtual classes January 3-14. Yonkers (New York) Public Schools are also opting to go remote, reports News12 Connecticut.
Higher Education
Many U.S. institutions of higher education are also switching to online classes due to the spike in COVID-19 cases.
In New Jersey, Princeton University will delay the date when students can return to school and stagger those returns, reports Yahoo News. The College of New Jersey will be holding remote classes for the upcoming winter session. Ramapo College will allow non-essential employees to work remotely.
College campuses are going remote in other parts of the nation too. Harvard is adopting the distance learning model for the first three weeks of January, reports the Associated Press. The start of the new term at the University of Chicago is being delayed, and the first two weeks of classes will be held online.
George Washington University is going remote, as are Stanford University, the University of Illinois Urbana-Champaign and Kean University, reports NPR.
The University of California (UC) will be starting its new term remotely as well. UC Santa Cruz announced before Christmas that students will attend virtual classes for the first two weeks of the quarter. The school expects students will be able to return by Martin Luther King Jr. Day.
Michigan State University will also start the upcoming semester online. Classes begin on January 10 and will be virtual for at least three weeks, reports ClickOnDetroit. Residence halls, dining halls and the library will be open for students and staff who are on campus.
The University of Texas at San Antonio will hold its classes remotely January 3-17. "Meetings and events should be held virtually, and only essential services should take place on campus," the school said in an announcement.
Duke University announced on Friday that all undergraduate, graduate and professional school classes will now be remote until Tuesday, January 18 instead of January 10, as the school had announced previously. No hybrid or in-person classes will be permitted.
In Boulder, Colorado, which has been affected by the recent COVID spike as well as the historic Marshall Fire, CU Boulder announced it will hold virtual classes for the first two weeks of the spring term.