Ohio Congressman Jim Jordan Accused of Ignoring Abuse at OSU
Former wrestlers say it was common knowledge that a team doctor showered with students and touched them inappropriately.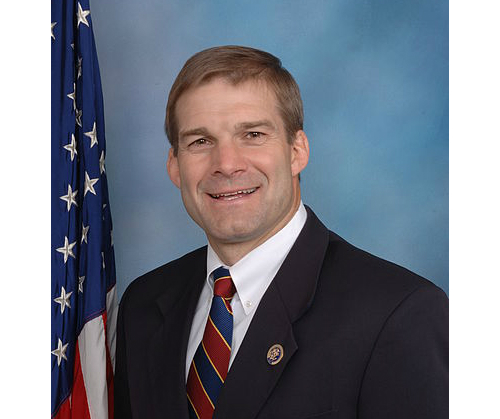 U.S. House Representative Jim Jordan is being accused by former wrestlers of ignoring abuse as an assistant coach with the Ohio State wrestling team for nearly a decade.
Jordan, a prominent member of the Republican Party who has been discussed as a possible replacement for House Speaker Paul Ryan, has been accused by four former wrestlers of knowing about the abuse of Dr. Richard Strauss when Jordan served as assistant coach from 1986 to 1994.
Jordan has denied those allegations, saying he knew nothing about the abuse until former students spoke out recently, reports NBC News.
"Congressman Jordan never saw any abuse, never heard about any abuse, and never had any abuse reported to him during his time as a coach at Ohio State," Jordan's spokesman Ian Fury told NBC News.
Alleged victims claim Strauss abused members of the wrestling team from the mid 1970s to the late 1990s. Ohio State launched an internal investigation into Strauss's conduct at the school in April.
One former wrestler, Mike DiSabato, claims Strauss sexually assaulted or raped a minimum of 1,500 student athletes between 1978 and 1998. Strauss died in 2005.
Stories Contradict Jim Jordan's Statements
Three former wrestlers said it would've been impossible for Jordan not to know that Strauss showered regularly with students and inappropriately touched them during appointments.
Former wrestler Dunyasha Yetts claims that he and others told Jordan about Strauss' conduct numerous times in 1993 and 1994.
"For God's sake, Strauss's locker was right next to Jordan's and Jordan even said he'd kill him if he tried anything with him," Yetts said.
Yetts, who served 18 months in prison for an investment scam, described Jordan as "a great guy" but described the congressman's denials as "sad".
DiSabato echoed those remarks.
"I considered Jim Jordan a friend," DiSabato said. "But at the end of the day, he is absolutely lying if he says he doesn't know what was going on."
Russ Hellickson, who served as Ohio State wrestling head coach during Jordan's time at the university, warned Strauss about being too "hands on" with students and says he told school administrators about Strauss' conduct.
Fury says Jordan will cooperate with the law firm conducting Ohio State's investigation.
"He has not been contacted by investigators about the matter but will assist them in any way they ask, because if what is alleged is true, the victims deserve a full investigation and justice," Fury says.