Visitor Management Systems for Hospitals: Balancing Security with Patient Satisfaction
Visitor management systems should be able to integrate security systems like access control to maintain hospital security and a welcoming atmosphere.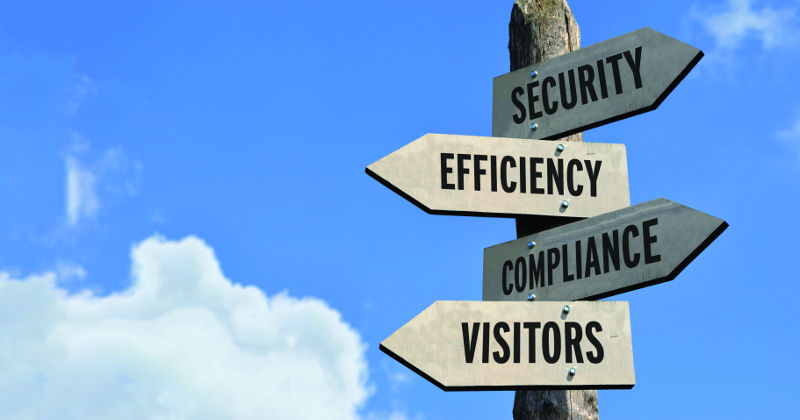 Combining high-level integration with automation also creates a powerful tool for ensuring and demonstrating compliance, which is currently performed with labor-intensive, time-consuming and error- prone manual processes.
For example, hospitals with multiple campuses or that are affiliated with a university's medical school can program various access levels and permissions onto a single ID badge for physicians and students. Additionally, any action, event or status from any point in an identity's lifecycle is reportable and auditable. Should a vulnerability or abnormality in behavior be identified, hospital security and administration can review and take any necessary action to correct procedures and/or activities.
An Integrated Visitor Management System Helps with Compliance
Not only is adherence to rules and regulations established by state and federal agencies mandatory, it also conforms with best practices related to hospital security and safety. Compliance with these mandates is an important element of risk management, but is not easy for many organizations.
The combination of siloed organizational structure and disparate systems inherent to most organizations makes auditing and validating access rights a daunting, nearly impossible task. In these complicated environments, the process of conducting manual audits is largely inefficient. This is especially the case with high-security areas like maternity wards, data rooms and pharmacy storage cabinets.
However, because non-compliance is not an option, these manual visitor management processes are a necessary evil for hospital security departments. Failure to meet the requirements of HIPAA, Joint Commission, the Drug Enforcement Agency (DEA) and other regulatory entities is costly in terms of fines and expenses associated with business disruptions, lost productivity, and revenue loss from closures and damage to a healthcare institution's reputation.
For example, the HL7 regulation outlines specific standards for exchanging, integrating, sharing and retrieving electronic health information. When integrated with a patient's Electronic Health Record (EHR), the aggregated information provides medical professionals with a more holistic view. All information pertaining to patient identity, including visitors, dietary restrictions, medical attendees and more, is tied together in policy- based workflows.
The Joint Commission oversees accreditation for the healthcare industry to ensure compliance with patient and personnel safety standards. Among the many requirements for accreditation are prerequisites for healthcare facilities to identify sensitive securi
ty locations within a hospital that may require unique security protection. Hospitals without controlled access rights to those areas risk losing both accreditation and funding.
Additionally, the Centers for Medicare and Medicaid Services (CMS) conduct their own inspections, which can affect a facility's accreditation. Compliance with regulatory mandates is an important element of risk management, and PIAM software can enable these initiatives through automation and real-time audits.
With a PIAM system, a healthcare organization can create an identity for every individual who needs to be on the premises. By connecting diverse existing physical security, IT and other systems, these solutions can centralize control and enable the real-time automation of compliance with regulations.
With visitor management system automation, PIAM creates more effective and efficient compliance- related processes, significantly reducing the risk of non-compliance. Additionally, any activity, event or status at any point in the identity lifecycle is reportable and auditable. If a vulnerability is identified, hospital administrators can review and take any necessary action to rectify the situation and ensure continued compliance with rules and regulations.
Integrated Visitor Management Systems Help Hospital's Bottom Line
While physical security plays a vital and important role in reducing risk, in many cases it is viewed negatively by organizations' employees, contractors, visitors and others who see it as an inhibitor that only serves to slow people down and make it harder to do their jobs. This is why it is so common for employees to find ways to circumvent those security processes they feel are difficult, time-consuming and cumbersome.
This doesn't necessarily require high-tech tools and methods, either. Consider how easy it is for an employee to use tape to prevent a lock from latching on a high-traffic door to eliminate the need to continually present their badge at the card reader.
It is also fairly common for contractors to share badges rather than visiting the security office to be properly onboarded out of fear that the process will take too long. The negative attitude stemming from this misconception of hospital security as an inhibitor comes at a very real cost.
Today's [hospital] security needs to change its reputation as an inhibitor to become service-oriented.
When employees override hospital security policies, they are putting the entire organization at risk of a costly incident that might result in a damaged reputation and even loss of accreditation. Therefore, the ultimate effectiveness of security departments to increase security and ease the burden of demonstrating regulatory compliance depends largely on shifting its perception as a cost center and inhibitor toward a more valuable, service-oriented organizational partner.
Traditionally, security has focused on reducing risk and making the organization secure, even if that can result in less efficient operations and employee frustration. However, today's security needs to change its reputation as an inhibitor to become service-oriented.
By reducing inefficiencies through the implementation of a PIAM solution, security can lower the cost of labor-intensive processes in visitor management while contributing to the organization's overall bottom line. PIAM technology collects and analyzes vast amounts of data from multiple security and non-security systems to deliver actionable intelligence about threats, potential cost savings and more.
Furthermore, a PIAM solution enhances security's new role as a service- oriented department by automating many of the security tasks that employees, visitors and contractors request while also helping them initiate and track their own requests.
PIAM technology provides a more cost-effective approach while ensuring a higher level of customer service. The many threats healthcare organizations face underscore the vital need for strong access control and visitor management systems so hospitals can maintain tighter security in an open and safe environment, while also easing operations.
PIAM solutions allow healthcare organizations to more effectively and efficiently manage access to ensure that the right individuals have the access they need. The combination of strong policies and automation provided by PIAM solutions can effectively relieve the heavy burden security departments face in meeting organizational, security and compliance goals in environments that are dominated by siloed systems and manual operations.
Janette Andler is the senior director of healthcare strategic sales for Quantum Secure.